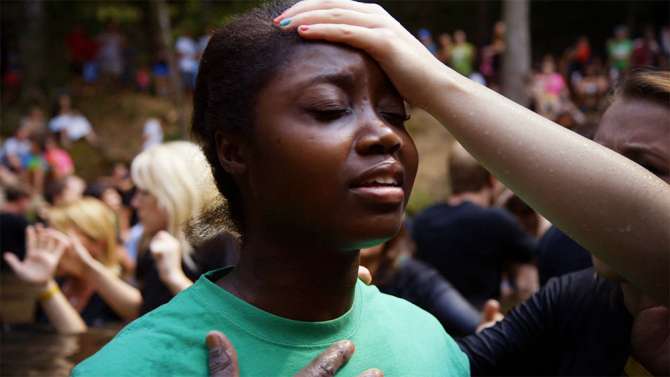 "You get enlightenment! You get enlightenment! You get enlightenment!" Oprah Winfrey's guided tour to world religion "Belief" (OWN, 8 p.m.) isn't quite like that. She's thinking more of "Planet Earth" and returns to the same narrator position to guide different vignettes from around the world meant to elicit wonder. First up is a student who hopes an evangelical retreat will heal her rape, an Indian-American splits Chicago to dip into the Ganges for Kumbh Mela, an engaging lad gets bar mitzvah in the tiny Jewish community re-emerging in Budapest and in the most fascinating story, an aboriginal elder with the last knowledge of the old ways, tries to pass them on to his grandson before he dies. The seven night series continues all week.
The ninth film in the Tom Selleck-starring series of Robert B. Parker adaptations, "Jesse Stone: Lost in Paradise" (Hallmark, 8 p.m.), the first in three years, is also the first to debut on cable. It may seem odd duck on the home of happy romances, but it's good to find the droll small-town police chief back at all. Once again, it's all about the offhand dialog and a pretty strong cast that includes William DeVane, Leslie Hope and Luke Perry, in his least attractive role, perhaps ever. The case itself isn't so much, but that hardly matters.
Sunday Night Football has New England at Indianapolis (NBC, 8:30 p.m.). Earlier, it's Washington at Jets (Fox, 1 p.m.), Cincinnati at Buffalo (CBS, 1 p.m.), and Baltimore at San Francisco (CBS, 4:25 p.m.).
A look at what Amy Brenneman's character has been up to finally comes on "The Leftovers" (HBO, 9 p.m.).
His film "The Leisure Class" is already scheduled to premiere on HBO Nov. 2, so I guess everything turns out on "Project Greenlight" (HBO, 10 p.m.).
Noah is served legal papers on a new episode of "The Affair" (Showtime, 10 p.m.).
In its season two finale, "Doll & Em" (HBO, 10:30 p.m.), more revisions precede the curtain opening.
Carrie is a little shocked she's on people's death list on a new "Homeland" (Showtime, 9 p.m.).
British and Irish artists display their skills as they compete for "Portrait Artist of the Year" (Ovation, noon).
There's a Camelot flashback on "Once Upon a Time" (ABC, 8 p.m.).
Superman and Batman cavort on a special "Robot Chicken" (Cartoon Network, Midnight).
"Bob's Burgers" (Fox, 9 p.m.) has been renewed for a couple more seasons.
Claire finally goes on a date with Spencer on "Home Fires" (PBS, 8 p.m., check local listings).
Silent films once thought lost forever live again, restored, on Turner Classic Movies tonight. The biggest find may be the 1919 murder mystery "The Grim Game" (8 and 11:45 p.m.) starring none other than Harry Houdini. It's being presented with two different scores tonight, one by Brane Ivkovic, given its world premiere at the TCM Classic Film Festival in March, and another by Steve Sterner. The two screenings are accompanied by a 1916 version of "Sherlock Holmes" (9:30 p.m.) starring William Gillette, and two Fatty Arbuckle shorts, "The Round-Up" (1:15 a.m.) and the eerily titled "The Life of the Party" (2:30 a.m.).
Hockey has Minnesota at Anaheim (NHL, 8 p.m.).
In preseason basketball, it's Philadelphia at Brooklyn (NBA, 1 p.m.) and Cleveland at Toronto (NBA, 7:30 p.m.).
Sunday Talk
ABC: Bernie Sanders, Ben Carson, Reps. Adam Kinzinger and Tulsi Gabbard. CBS: Reps. Trey Gowdy and Elijah Cummings. NBC: Ted Cruz, Reps. Adam Schiff and Mike Pompeo. CNN: Mitt Romney. Fox News: Donald Trump.