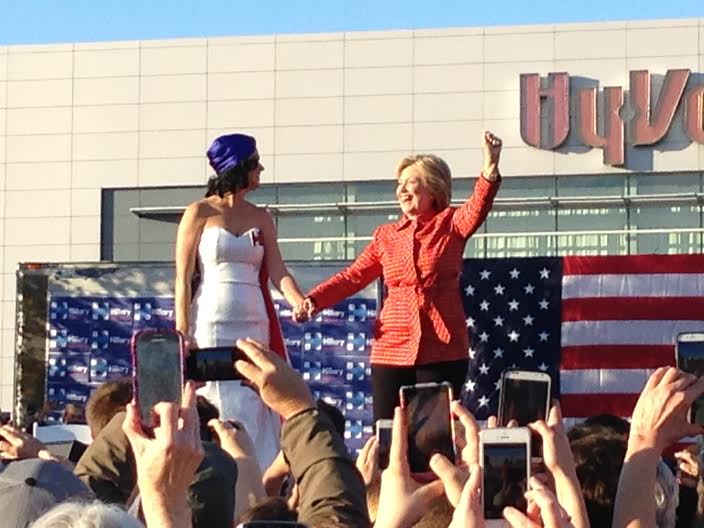 So much of politics is pageantry, and rarely is it in play as much as at the annual Jefferson Jackson Day dinner in Des Moines the year before a Presidential Election.
If the caucuses in Iowa is the first test of the presidential primaries, then, for the Democrats, the JJ Dinner is the place where the candidates head to head can coalesce their campaign or rise above the pack. This year, it also was the turning point for some other candidates with three dropping out before the event Saturday at the Iowa Events Center. Jim Webb and Lincoln Chaffe dropping out, and Joe Biden's decision not to join in, left only three candidates in the arena.
So Hillary Clinton, Bernie Sanders and Martin O'Malley each had time to expand their speeches — all far exceeding the time limits on discreet clocks on the center stage, and whip up their fans in the stands. Sanders came first with a variation of his populist stump speech that turned up the direct criticism of Clinton without saying her name. His supporters, along one end of the cavernous room, cheered loudly, some holding light up letters that spelled his first name. They had begun their chants while waiting to get through the metal detectors, "This is what democracy looks like!" (Gridlock?).
Sanders was already being heckled by somebody who noted that he had never been a Democrat until he announced his candidacy. His supporters didn't seem to be party loyalists either; most of them fled after his speech, a JJ Dinner no-no in this polite state.
O'Malley, for his part, came out with his jacket off and sleeves rolled up — image is everything. But he was strong on anti-NRA rhetoric on which Sanders was light. His supporters were in a section half as big as Sanders. Likewise, the light-up letters were reduced to O'M including the apostrophe.
Clinton organizers had really turned out people (and I'm not just saying this because my daughter — full disclosure — is on staff). Fully half the stands were packed with people wielding light-up sabers, wearing T-shirts that were handed out at a big pre-dinner rally in a parking lot nearby that featured pop star Katy Perry.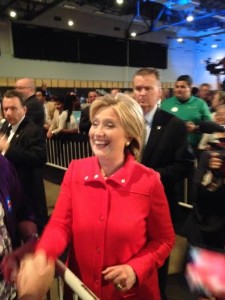 Maybe these things go on every day in Iowa, but I couldn't imagine a political rally going better, starting off with the former President Bill Clinton, doing his first political stumping of the campaign for his wife. "I've never been the opening act for Katy Perry before," he said. Also: "I'm tired of the stranglehold women have had on the position of presidential spouse."
Then came Perry, dressed like Lady Liberty herself, in a white spangly gown topped with a stars and stripe cape. It was all hits from her, "Roar," which has practically been the soundtrack for Clinton's campaign, followed by "Wide Awake," turned into another topical message ("wake up, America!") and "Firework," completing the patriotic tableau.
What could top that? The candidate herself, in orange pantsuit joining the singer and the ex-President for a short wave. Cell phones aloft all drained their power capturing the image.
And then the organizers expertly wrangled the crowd by saying: Let's go on a march! Who wants to march? Suddenly, big towers of Clinton signs were distributed; thousands took to the streets, turned the corner and were led directly into the Events Center where they would be invited to pack the stands.
Little girls who sang along loudly to the empowering songs of  their favorite singer just earlier, were suddenly marching atop the shoulders of their parents, who may well have been persuaded by the empowering message of the sponsoring candidate.