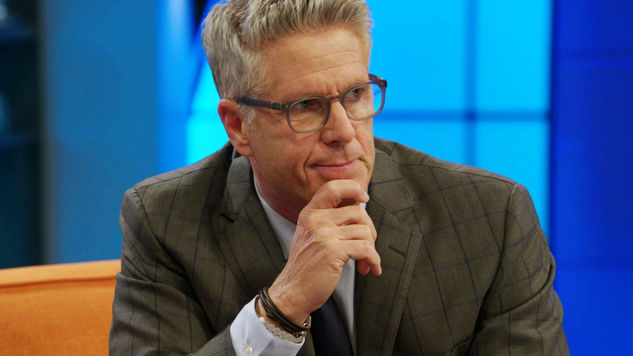 More than once somebody refers to Donny Deutsch as Donny Douche in his ruthlessly unfunny new sitcom "Donny!" (USA, 10:30 p.m.). It's not far off the mark. What the boorish business host imagines as his own "Curb Your Enthusiasm" is really only a self-indulgent sitcom that sees him as a talk show host — that original TV format that's the basis for "Blunt Talk and even "The Muppets." He's also a rich lothario whose family and underlings don't like him. And now viewers too.
Rick Burns' new film for Veterans Day looks at stories of several disabled veterans in U.S. history in "Debt of Honor: Disabled Veterans in American History" (PBS, 9 p.m., check local listings. It follows another documentary, "Iwo Jima: From Combat to Comrades" (PBS, 8 p.m.) about World War II vets from both sides who reunite decades later. Ryan Phillippe narrates.
Check the room temperature! The latest Republican Debate (Fox Business, 9 p.m.), co-sponsored by the Wall Street Journal is moderated by Neil Cavuto with Maria Barroom and Gerard Baker. They've adjusted the seating a bit. While nobody has dropped out, they've removed a couple of seats, musical chairs-like. And instead of 10 candidates talking over one another, there will be eight at the two hour debate from Milwaukee
Humiliatingly, Govs. Chris Christie and Mike Huckabee have been moved to the kid's table debate at 7 alongside Bobby Jindal, Rick Santorum. What could be worse than that? Well, Lindsay Graham and George Pataki has been kicked off the kids table. What's lower than the kids' table? The dog dish? At any rate, it's not on television, so it's tantamount to dinner with Jim Gilmore (a GOP candidate with support so low he's yet to be on any major TV debate).
Three sommeliers prepare for their test on the new reality series "Uncorked" (Esquire, 10 p.m.).
A new series about astronauts and their stories gets the unnecessarily dramatic title "Secret Space Escapes" (Science, 10 p.m.).
Eddie plans his own 12th birthday on "Fresh Off the Boat" (ABC, 8:30 p.m.) but doesn't put his parents on the guest list.
Inventors Thomas Edison and Alexander Graham Bell have their stories told, with hiccups, on a new "Drunk History" (Comedy Central, 10:30 p.m.).
Jason Bateman wonders what he's doing on "The Muppets" (ABC, 8 p.m.).
Reporters ask questions on a new "Manhattan" (WGN America, 10 p.m.).
It's a "Full House" reunion of sorts when Dave Coulier joins John Stamos on "Grandfathered" (Fox, 8 p.m.).
The month-long Tuesday night Turner Classic Movies showcase of Norma Shearer's film work moves to the talkies, with "Private Lives" (8 p.m.), "A Free Soul" (9:30 p.m.), "Let Us Be Gay" (11:15 p.m.), "The Divorcee" (12:45 a.m.), "Their Own Desire" (2:15 a.m.) and "The Last of Mrs. Cheyney" (3:30 a.m.).
Hockey action includes Buffalo at Tampa (NBC Sports, 7:30 p.m.). Basketball has Oklahoma City at Washington (NBA, 7 p.m.).
In college football, it's Toledo at Central Michigan (ESPN2, 8 p.m.) and Kent State at Ohio (ESPNU, 8 p.m.).
Daytime Talk
Kelly & Michael: Jennifer Connelly, Rainn Wilson, James Bay. The View: Elizabeth Hurley, Katie Van Syckle. The Talk: Maura Tierney, Kevin Frazier, Chi-Lan Lieu. Ellen DeGeneres: Rob Lowe, Kellie Pickler, Ed Sheehan, Jamie Lawson, Justin Bieber.  The Real: Debbie Allen, Chanda Walls. Meredith Vieira: Cedric the Entertainer.
Late Talk
Stephen Colbert: Aziz Ansari, Shonda Rhimes, Bruce Campbell, Lucy Lawless. Jimmy Kimmel: Anthony Anderson, Jena Malone, Chris Cornell. Jimmy Fallon: Daniel Radcliffe, Chris Packham, Ellie Goulding, Christian McBride. Seth Meyers: Rainn Wilson, Elizabeth Hurley, Seal, Jeremy Gara. James Corden: Anna Paris, Joshua Jackson. Carson Daly: Rodrigo Santoro, Sylvan Esso, Yo La Tengo. Tavis Smiley: Paul Bettany, Anthony Mackie. Trevor Noah: Dan Price. Larry Wilmore: Bill Nye, Bridget Everett. Conan O'Brien: Chiwetel Ejiofor, Phil Rosenthal, Sean Donnelly.