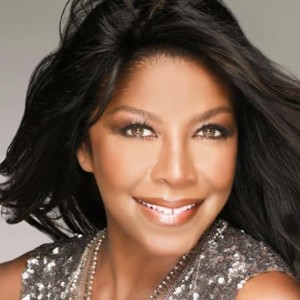 Natalie Cole, who died New Year's Eve at 65, had a solid R&B career going before she decided to get into the kind of standards popularized by her famous father, Nat "King" Cole. It was an album of such songs that included a made-in-the-studio duet that made her a superstar.
"I had been doing `Unforgettable' in live performances over a number of years," Cole told me in 1991. She even used a tape recorder with her father's voice. But never with a remastered version. "The fidelity is really incredible," she said.
And so are versions of favorites associated with Nat "King" Cole, who died in 1964, when she was 14.
"I feel like I've had a chance to emotionally get the release that I've been looking for for all these years, because when my father died I wasn't even there," Cole said. "That was painful not being able to see him. I've been looking for ways of self-healing that weren't working. Music was connection."
Natalie Cole, of course, had her own R & B credentials. Her 1975 album "Inseparable" won a gold record and two Grammys, including one for best new artist. Songs like "This Will Be," "I've Got Love on My Mind" and "Our Love" kept her in the Top 10. Her dance version of Bruce Springsteen's "Pink Cadillac" did better than his.
Growing up, Cole thought of singing as a hobby. "I never seriously thought I'd make a living at it. Singing was something I always let my father do. I wasn't anxious to step into those shoes. So when I started my career, I purposely ended up going to the other end of the scale musically, because the comparisons were always inevitable."
She was able to take on his songs in 1991 because of maturity, she said. "I was finally getting comfortable with my own work."
From the beginning, she had included a jazz approach on her otherwise pop albums. She even recorded one of his songs before — "When I Fall in Love" on the "Everlasting" album — albeit in a contemporary mode.
Doing her father's songs with traditional orchestration was an idea she had tried at previous record companies, which always dissuaded it.
"They felt either the time wasn't right, or it wouldn't sell or that I should wait a little longer, or wait until I had a hit record," Cole says. "My feeling became: What if I don't have another hit record?"
With enthusiastic response from Elektra, everything went smoothly — from the songs to the arrangements to the recording.
"We don't treat it like it's some sacred religion," she said of the treatment. "It's done with lightheartedness."
And it sold big, topping charts, selling 11 million copies, besting the likes of Van Halen and Metallica and bringing back listeners who hadn't bothered with popular music for decades.
"I actually met a lady who said she hadn't bought a record in 20 years until this one. I had heard similar reports from different record outlets, but they were hard to believe until I met that woman. I was absolutely flabbergasted. That was really something terrifically special and significant. She didn't have an analytical reason for not buying a record for all these years. But she said she heard the single, `Unforgettable,' and it touched her and it reminded her of when she was young."
"Another story I heard [was about] a 20-year-old in line, next to a 50-year-old, buying the same album," Cole said. "It makes me feel good. It reaffirms my feeling … music touches the heart no matter what the age."