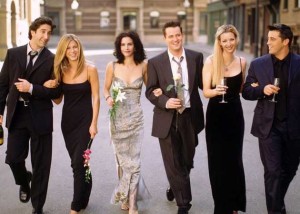 The breathless news out of the TV Critics Association winter press tour Wednesday was something about a "Friends" reunion, though it's really hardly that.
An all-star tribute to the sitcom director Jimmy Burrows Feb. 21 on NBC will feature some of the stars of the sitcoms he's directed from "Cheers" and "The Mary Tyler Moore Show," "Taxi," "Frasier," "Big Bang Theory" and "Friends."
"For the tribute, we're bringing back stars from many of his great shows, most of which were on NBC," said NBC Entertainment president Robert Greenblatt, who added the tease, "You'll see many of the cast of your favorite shows reunited, including six of our favorite friends."
Pressed on this apparent reference to Lisa Kudrow, Matt Le Blanc, David Schwimmer, Courteney Cox, Matthew Perry and Jennifer Aniston reuniting,  he added, "I'm hoping that all six of them will be in the same room at the same time, but I'm not sure of that. I'm not sure if we can logistically pull that off. But I think it's safe to say that all six of them will be there."
But they may not appear together or on the same piece of tape. Said NBC exec Paul Telegdy, "They will be there in one form or another."
So, a little less than a "Friends" reunion.
For his part, Burrows recently shot his 1,000th sitcom episode, Greenblatt said. "It was actually an episode of our new show 'Crowded.'"
In other news, Greenblatt said the next NBC live musical will be "Hairspray" in December and that Seth Meyers has been signed to the network through Feb. 2021 and will be bringing "Late Night" to Washington later this year.