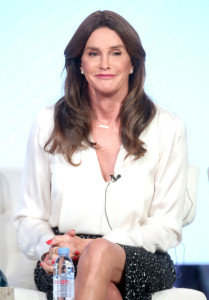 The first season of "I Am Cait" was one of E!'s biggest hits last year, only in part because it was one of the least expected spin-offs of "Keeping Up with the Kardashians."
What to do in season two? Road Trip!
At one of the bet-attended panels at the TV Critics Press Tour Thursday, Caitlyn Jenner recalled the big bus trip she took with some of her trans sisters, Candis Cayne, Jennifer Finney Boylan, Chandi Moore, as well as a new pal Ella Giselle, just out of high school.
"We went to some of the greatest truck stops in America, and we were welcomed everywhere, weren't we?" Jenner said.
Producer Andrea Metz helped her out.
"We started in Los Angeles and went to the Grand Canyon," Metz said. "Then we went to Santa Fe, New Mexico. We went to Tulsa, Oklahoma. Cait flew off to New York for her "Glamour Woman of the Year" and then came back and met us in Chicago. We went to Iowa, Kansas City, St. Louis, and New Orleans.
"Along the way," she added, "we were meeting members from the LGBT community who are in smaller towns, smaller communities, are not as big, and just kind of talking to them about what their life is like."
But Boylan remembered it differently. "Well, we weren't welcomed everywhere. Speaking of truck stops, do you remember that one where they didn't want they didn't want us in there?"
"Well, okay. I'll give you that one," Jenner said, quickly adding, "All of the truckers were great."
"We never felt physically in danger," Cayne said.
"No, never," Jenner said.
Generally, Cayne said, "People all over the United States, be it gay or straight, come up to Caitlyn and want to talk to her and want a picture, and so it's kind of amazing because she's bridging the communities together in that way."
That's how life has been for Jenner since she so publicly transitioned.
"Every day of my life since I came out, somebody comes up to me and says, 'I have a trans cousin.' 'I have a relative.' All of a sudden, it's okay to talk about this issue. That was, by far, the most probably important thing I think we did in season one.
"For me, the experience has been, yes, we opened up this conversation, but in opening it up, there are so many issues in this community that we really need to deal with and to talk about in the future, and that's what Season two is. We wanted to go out and meet the people."