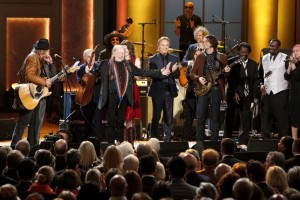 Neil Young, Paul Simon, Rosanne Cash, Alison Krauss, Edie Brickell, Raul Malo and Cyndi Lauper are among the performers gathering to celebrate "Willie Nelson: The Library of Congress Gershwin Prize for Popular Song" (PBS, 9 p.m., check local listings) when the country mainstay won the lifetime achievement prize in November. It also includes performances by Leon Bridges Ana Gabriel and Buckwheat Zydeco. Nelson uses his D.C. perch to retell his poignant tale of immigration, "Promiseland." And it's timely: Nelson's next album covers Gershwin.
The mythical Canadian school introduces yet another generation in the online variation, "Degrassi: Next Class" (Netflix, streaming).
The 14th season of "Real Time with Bill Maher" (HBO, 10 p.m.) returns just in time to benefit from Thursday's Republican debate. His guests include Al Gore, John Krasinski, Ralph Reed, Nicole Wallace and Cornel West.
"Hell's Kitchen" (Fox, 9 p.m.) returns for its 15th season of cooking and yelling, immediately after Gordon Ramsey is kinder and gentler on "MasterChef Junior" (Fox, 8 p.m.).
Jay Leno guest stars as a car mechanic who advises Eve on "Last Man Standing" (ABC, 8 p.m.).
Elizabeth's "Reign" (The CW, 8 p.m.) is threatened.
"Say Yes to the Dress: Atlanta" (TLC, 9 p.m.) has its first fitting for a transgender bride.
An engineer is killed on a new "Unforgettable" (A&E 8 p.m.) followed by two episodes of "What Would You Do?" (A&E, 9 and 10 p.m.). Both shows began life on broadcast TV.
Claire Trevor is the star of the night on Turner Classic Movies in "Stagecoach" (8 p.m.), "Murder, My Sweet" (10 p.m.), "Raw Deal" (midnight), "The Amazing Dr. Clitterhouse" (1:30 a.m.), "Dead End" (3:15 a.m.) and "Texas" (5 a.m.).
Men's college hoops tonight include Akron at Toledo (CBS Sports, 7 p.m.), George Washington at Dayton (ESPN2, 7 p.m.), Evansville at Illinois State (ESPN2, 9 p.m.) and Monmouth at Iona (ESPNU, 9 p.m.).
In women's games, it's DePaul at Butler (Fox Sports 1, 7 p.m.).
In pro basketball, it's Minnesota at Oklahoma City (ESPN, 7 p.m.) and Cleveland at Houston (ESPN, 9:30 p.m.).
College hockey has Merrimack at Notre Dame (NBC Sports Network, 7:30 p.m.).
Daytime Talk
Kelly & Michael: Khloe Kardashian. The View: Rashida Jones. The Talk: Ice Cube. Ellen DeGeneres: John Krasinski, Ken Jeong, Bob Harper. Wendy Williams: Chloe Grace Moritz. The Real: Atticus Schaffer, Vivica Fox. Meredith Vieira: Sarah Michelle Gellar.
Late Talk
Stephen Colbert: Scott Kelly, Abby Wambach, Maria Bamford. Jimmy Kimmel: Kathy Griffin, Aaron Sorkin, the Internet (rerun). Jimmy Fallon: Ray Romano, Lucy Hale, Brandi Carlile. Seth Meyers: Christian Slater, Retta, Sam Hunt, Matt Sorum (rerun). James Corden: Taye Diggs, Amy Landecker, 5 Seconds of Summer (rerun). Carson Daly: Amy Landecker, Miami Horror, Wild Child (rerun). Tavis Smiley: Connie Rice, Khalil Gibran Muhammad, Ben Harper.