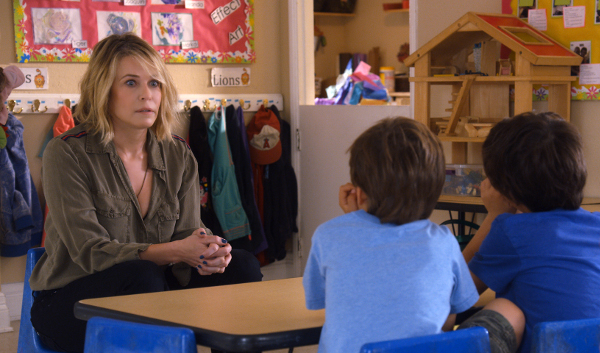 "Chelsea Does…" (Netflix, streaming) is a series of four documentaries in which comedian and former talk show host Chelsea Handler investigates various topics  haphazardly, and sometimes only so she can throw in her own opinions and snarky humor. Marriage, racism, drugs and Silicon Valley are subjects in the four hour long films.
Her investigations come out of curiosity borne of dinner parties; a lot of laughter is involved even if it is occasionally only her's. Much credit goes to the filmmaker Morgan Neville ("Twenty Feet from Stardom") to make these things look stylish and interesting.
One of Handler's pals has a standup special tonight, "Whitney Cummings: I'm Your Girlfriend" (HBO, 10 p.m.).
The old English class staple "Beowulf" (Esquire, 10 p.m.) gets a remake in a new 13-episode series starring Kieran Bew in the title role and William Hurt as king of Danes and Joanne Whalley as his wife.
The third season starts for "Black Sails" (Starz, 9 p.m.) with John Silver still no closer to his franchise restaurant success.
Prime time has the extremes of sports, maybe. Figure Skating (NBC, 8 p.m.), with the U.S. championship women's free skate in St. Paul, plays opposite Boxing (Fox, 8 p.m.) with Danny garcia vs. Robert Guerrero. But there is also NBA action with Chicago at Cleveland (ABC, 8:30 p.m.).
Your only non sports on broadcast? Reruns of "NCIS: Los Angeles" (CBS, 8 p.m.) and a pair of "48 Hours" (CBS, 9 and 10 p.m.), the latter of the two new.
It's fitting that the movie for "Entourage" (HBO, 8:15 p.m.) comes back to the network that spawned it. Not received well at theaters, it may do better back at premium cable, there the season ran for x seasons. Vinnie Chase and his pals.
Lex Scott Davis stars as the singer in the new docudrama "Toni Braxton: Unbreak My Heart" (Lifetime, 8 p.m.) looks at the career of the singer turned reality star, with Gavin Houston as Babyface followed by the actual occurrences in "Beyond the Headlines" (Lifetime, 10 p.m.).
A straight documentary is "Whitney & Bobby: Addicted to Love" (Reelz, 9 p.m.), chronicling the decline of both as remembered by employees.
Another made for TV movie tonight "Unleashing Mr. Darcy" (Hallmark, 9 p.m.) has little to do with Jane Austen except ripping off her story. It concerns a woman (Cindy Busby) who enters her pet into a dog show, only to encounter a snobby judge (Ryan Paevey) whose name is Darcy. Wonder what will happen next.
Nate Berkus, Dorothy Hamill, Lisa Leslie and Dick Van Dyke are interviewed in the high season premiere of "Oprah: Where Are They Now?" (OWN, 10 p.m.).
Rev Run and Tyrese Gibson talk about the differences between the genders on "It's Not You, It's Men" (OWN, 9 p.m.).
"Mythbusters" (Discovery, 8 p.m.) look into cannon-fired shrimp.
Men's college hoops (scheduled before the blizzard) are Georgetown at Connecticut (CBS, noon), Providence at Villanova (Fox, noon), Oklahoma at Baylor (ESPN, noon), Northwestern at Indiana (ESPN2, noon), Davidson at Richmond (NBC Sports, 12:30 p.m.), West Virginia at Texas Tech (ESPNews, 1 p.m.), Duke at North Carolina State (CBS, 2 p.m.), Texas at Kansas (ESPN, 2 p.m.), Michigan at Nebraska (ESPN2, 2 p.m.), LSU at Alabama (ESPNU, 2 p.m.), Navy vs. Army (CBS Sports, 2 p.m.), St. Bonaventure at VCU (NBC Sports, 2:30 p.m.), Vanderbilt at Kentucky (ESPN, 4 p.m.), UCLA at Oregon (CBS, 4 p.m.), Louisville at Georgia Tech (ESPN2, 4 p.m.), Iowa State at TCU (ESPNU, 4 p.m.), South Florida at Houston (CBS Sports, 4 p.m.), Utah State at San Diego State (CBS Sports, 6 p.m.), Oklahoma State at Kansas State (ESPNU, 6 p.m.), Maryland at Michigan State (ESPN, 6:30 p.m.), Butler at Creighton (Fox Sports 1, 7:30 p.m.), Marquette at St. John's (CBS Sports, 8 p.m.), Arizona at California (ESPN, 8:30 p.m.) and UNLV at Nevada (ESPNU, 10 p.m.).
Women's games have Baylor at Iowa State (Fox Sports 1, 1:30 p.m.).
Hockey has Montreal at Toronto (NHL, 7 p.m.).
Round of 16 play begins in the Australian Open (Tennis Channel, 7 p.m.; ESPN2, 9 p.m.).
The actor Charles Coburn is featured tonight on Turner Classic Movies in "The More the Merrier" (8 p.m.), "The Green Years" (10 p.m.) and "Gentlemen Prefer Blondes" (12:15 a.m.). Then comes a couple of horror films, "The Church" (TCM, 2 a.m.) and "The Devil's Bride" (TCM, 4:15 a.m.).
Angelique Kidjo plays a new "Austin City Limits" (PBS, 11 p.m.).
Ronda Rousey hosts a new "Saturday Night Live" (NBC, 11:30 p.m.) with musical guest Selena Gomez.