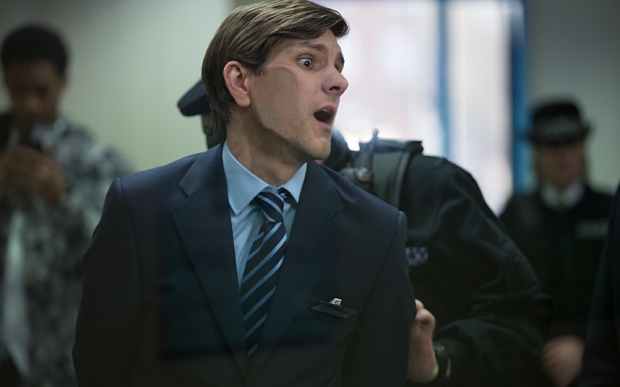 Things are wide open enough on broadcast TV today to even accommodate something as odd as "You, Me and the Apocalypse" (NBC, 8 p.m.) an internationally-made kind of adventure/comedy thing that focuses on a handful of disparate characters in different parts of the world (they keep zooming in on the globe) and tying them into one big event triggered by the impending doom of the planet (a meteor is on its way).
Mathew Baynton stars as a banker in Slough (a town name that is supposed to elicit laughs of Brits right off the bat) who is drawn into the event while looking for his missing wife. Baynton is the rubber-faced comic who starred with James Corden in "The Wrong Mans" (which is probably better and worth seeking out). But another is Jenna Fischer of "The Office" of all people, thrown into prison for taking the rap for some hacking her son was doing. There she meets an unrecognizable Megan Mullally, looking as if she's auditioning for a white supremicist on "Orange is the New Black."
Even less well-fitting is Rob Lowe, in his second current broadcast comedy on as many networks, as an unlikely priest who has an earnest protege played by Gaia Scodellaro. At first it seems to be taking too long to connect all of these people, few of which are even likable. And the input from the Americans who helped write it was to insert the word "penis" as often as possible to ensure the lowbrow laughs. Still, you have to marvel at how weird they allowed it to be, on a night that also gives us J-Lo as a cop in "Shades of Blue" (NBC, 10 p.m.).
Donald Trump made more news vowing to stay out of the Republican Presidential Debate (Fox, 9 p.m.) in Des Moines tonight because he's afraid of Megyn Kelly thane ever would have made staying in it. But that says more about the news media than it does about his attempts at attention-getting (or fear or female reporters). Now all the other candidates can appear and be asked what they think of Trump.
"Redneck Island: Battle at the Lake" (CMT, 10 p.m.) is a drunken competition involving people associated with "Party Down South" (CMT, 9 p.m.) or at least familiar with it. Both start new seasons.
Hollywood Week gets a full showcase on a two hour "American Idol" (Fox, 8 p.m.).
Two more hours of reality TV tonight: "My Diet is Better Than Yours" (ABC, 9 p.m.).
"Beyond the Tank" (ABC, 8 p.m.) determines whatever happened to the Squatty Potty.
The second half of the two-part premiere of "DC's Legends of Tomorrow" (The CW, 8 p.m.) wraps up.
Katie's first mission happens on "Colony" (USA, 10 p.m.).
Two of TV's best current comedies are directed by Jonathan Krisel and they both play opposite one another: the new "Baskets" (FX, 10 p.m.) and "Portlandia" (IFC, 10 p.m.). It's the reason DVRs were made.
The month-long showcase of work by art director William Cameron Menzies on Turner Classic Movies winds up with "Ivy" (8 p.m.), "The Black Book" (9:45 p.m.), "The Whip Hand" (11:30 p.m.), "Around the World in 80 Days" (1 a.m.), "Deadline at Dawn" (4:15 a.m.) and "Mr. Lucky" (5:45 a.m.).
NBA action includes New York at Toronto (TNT, 8 p.m.) and Chicago at Lakers (TNT, 10:30 p.m.).
Men's college hoops include Iowa at Maryland (ESPN, 7 p.m.), Notre Dame at Syracuse (ESPN2, 7 p.m.), Cincinnati at Connecticut (ESPNU, 7 p.m.), Robert Morris at Mount St. Mary's (CBS Sports, 7 p.m.), UAB at Western Kentucky (Fox Sports 1, 7 p.m.), Michigan State at Northwestern (ESPN, 9 p.m.), Richmond at George Washington (ESPNU, 9 p.m.), Oregon at Arizona (ESPN2, 9 p.m.), Southern Missouri State at SIU Edwarsville (CBS Sports, 9 p.m.), Washington at UCLA (Fox Sports 1, 10 p.m.) and Loyola Marymount at BYU (ESPNU, 11 p.m.).
In tennis the Australian Open (Tennis, 11 p.m.) reaches the mixed doubles semifinal and women's doubles final.
Daytime Talk
Kelly & Michael: Josh Brolin, Lili Taylor. The View: Stacy London. The Talk: Vanessa Hudgens. Ellen DeGeneres: Channing Tatum, Troye Sivan. Wendy Williams: Jerry O'Connell. The Real: Smokey Robinson, Adam Housley (rerun). Meredith Vieira: Jennifer Beals, Rocco DiSpirito (rerun).
Late Talk
Stephen Colbert: Josh Brolin, John Dickerson, Erin Brockovich, Aubrie Sellers. Jimmy Kimmel: Ewan McGregor, Hannibal Buress, Tory Lanez. Jimmy Fallon: Billy Joel, J.K. Simmons (rerun). Seth Meyers: James Spader, Jenna Fischer, Gad Elmaleh, Josh Freese (rerun). James Corden: Billy Crystal, One Direction (rerun). Carson Daly: Rachel Bloom, Houndmouth, Lena Waithe (rerun). Tavis Smiley: Geoffrey Cowan. Trevor Noah: Ryan Lizza. Larry Wilmore: Chris DiStefano. Conan O'Brien: Jack Black, Rob Kazinsky, Ty Dolla $ign.