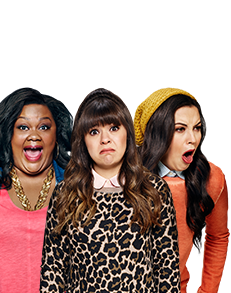 Networks have found it tough to compete with the 41-year stranglehold on Saturday night sketch comedy by "SNL." But here comes another stab — a trio of women: Nicole Byer of MTV's "Girl Code," Jessica McKenna of "Riot" and former "SNL" writer Alison Rich in "Party Over Here" (Fox, 11 p.m.), a sketch show produced by former "SNL" star Andy Samberg (who is the current Fox comedy star of "Brooklyn Nine Nine") and his buddies at Lonely Island, Akiva Schaffer and Jorma Taccone, along with comic Paul Sheer. The female approach ought to give it a fresh perspective. And just for the record, it has no intention of competing with "SNL" — it's over at 11:30 in time to switch channels.
Audra McDonald reprises her Tony-winning role as Billie Holiday in a filmed version of the 2014 play "Lady Day at Emerson's Bar & Grill" (HBO, 9 p.m.). Set in a 1959 Philly performance before her death, a number of her classic songs are included.
And you thought all the slime was in the Republican debates! A bunch of it is loaded and ready for sliming in The 2016 Kids' Choice Awards (Nickelodeon, 8 p.m.) which, since it is hosted by Blake Shelton, is also being simulcast (slime-ulcast?) on CMT. Performers include Wiz Khalifa, Silento, DNCE and Charlie Puth.
The annual event is surrounded by some other major Nick programming — with Betty White guest starring on "SpongeBob SquarePants" (Nickelodeon, 7:30 p.m.) and a new series based on the beloved film "School of Rock" (Nickelodeon, 9:30 p.m.).
In NBA action, Oklahoma City at San Antonio (ABC, 8:30 p.m.) gets a prime time showcase.
Penn & Teller and Bernie Mac's widow are among those who catch up on "Oprah: Where Are They Now?" (OWN, 10 p.m.).
Another blended family goes wrong in the made for TV thriller "Stepchild" (Lifetime, 8 p.m.) with Sarah Fisher as a teen traumatized by her father's murder and wary of her stepmom's new partner, played by Paul Johansson. With Lauren Holly.
The ghost story "Insidious: Chapter 3" (Cinemax, 10 p.m.) makes its premium cable debut.
A whole lot of championship games in men's college basketball today with Vermont at Stony Brook (ESPN2, 11 a.m.) in the American East championship, Hampton vs. South Carolina State (ESPN2, 1 p.m.) in the MEAC championship; Texas A&M vs. LSU (ESPN, 1 p.m.) and Kentucky vs. Georgia (ESPN, 3 p.m.) in the SEC semifinals; Michigan vs. Purdue (CBS, 1 p.m.) and Michigan State vs. Maryland (CBS, 3:30 p.m.) in the Big Ten semifinals; Dayton vs. Saint Joseph's (CBS Sports, 1:30 p.m.) and Virginia Commonwealth vs. Davidson (CBS Sports, 4 p.m.) in the Atlantic 10 semifinals; Old Dominion vs. Middle Tennessee (Fox Sports 1, 2:30 p.m.) in the Conference USA championship; Temple vs. Connecticut (ESPN2, 3 p.m.) and Tulane vs. Memphis in the American Athletic Conference semifinals; Villanova vs. Seton Hall (Fox, 5:30 p.m.) in the Big East championship; Kansas vs. West Virginia (ESPN, 6 p.m.) in the Big 12 championship; Jackson State vs. Southern (ESPNU, 6:30 p.m.) in the Southwest Athletic Conference championship; Akron vs. Buffalo (ESPN2, 7:30 p.m.) in the MAC championship; Montana vs. Weber State (ESPNU, 8:45 p.m.) in the Big Sky championship; North Carolina vs. Virginia (ESPN, 9 p.m.) in the ACC championship; Texas A&M-CC vs. Stephen F. Austin (ESPN2, 9:30 p.m.) in the Southland championship; Oregon vs. Utah (Fox Sports 1, 10 p.m.) in the Pac 12 championship; CSU Bakersfield vs. New Mexico State (ESPNU, 11 p.m.) in the Western Athletic Conference championship; and Hawaii vs. Long Beach State (ESPN2, 11:30 p.m.) in the Big West championship.
Hockey action includes Rangers at Detroit (NHL, 2 p.m.) and St. Louis at Dallas (NHL, 9 p.m.).
Spring baseball includes Miami vs. Boston (MLB, 1 p.m.).
Vampire Weekend and Grizzly Bear perform on a 2013 replay of "Austin City Limits" (PBS, 11 p.m., check local listings)
There will  be singing and donut licking when Ariana Grande hosts and is musical guest on a new "Saturday Night Live" (Saturday, 11:30 p.m.). The 10 p.m. cutdown rerun is hosted by Robert Downey Jr., with Fiona Apple as musical guest and Bob Dole and Evander Holyfield doing cameos.