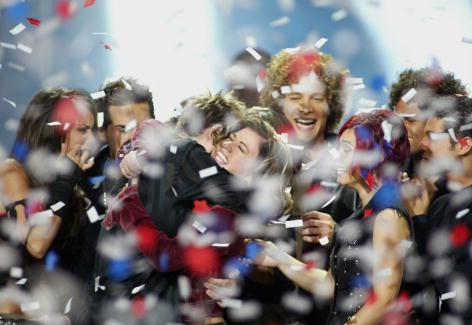 You'll want to watch the finale "American Idol" (Fox, 8 p.m.), not for the nail-biting over who will win — La'Porsha vs Trent is no Kelly vs. Justin — but for the fact this will be the last episode ever for the show, which, we can all agree, has run its course.
For the celebration, we'll hope for the return of the original judges, who gave the show its flavor, and some of the biggest stars to emerge from the first 14 seasons, including Miss Clarkson. But I also want to see some of the celebrated duds, from Sanjaya to William Hung, who perhaps can explain to me why I bought his novelty album back in the day.
Katharine McPhee, who was only a second place winner on "Idol," (losing to Taylor Hicks, which was the beginning of the end of the show for me), can later be found on a new "Lip Sync Battle" (Spike, 10 p.m.), going up against Jason Derulo.
Soon after releasing its movie into sitcom remake "Rush Hour" (CBS, 10 p.m.) the same network reminds us of another disappointing variation of the past that it has inexplicably kept around. "The Odd Couple" (CBS, 8:30 p.m.) with Matthew Perry as Oscar and Thomas Lennon as Felix returns for a second season.
The comic David Walliams, once half of "Little Britain" celebrates his favorite children's author who brought us "Charlie and the Chocolate Factory," "James and the Giant Peach," "The Fantastic Mr. Fox," "Matilda" and the soon to be adapted "BFG" in "The Genius of Roald Dahl" (Ovation, 7 p.m.).
Not sure this has ever been broadcast before: "The WWE Hall of Fame Induction Ceremony" (USA, 10 p.m.) from Dallas will honor The Godfather, Snoop Dogg and Sting. I think it's the same Snoop Dogg we all know, but it's definitely a different  Sting. On the other hand, Joan Lunden also gets recognized at the event taped Saturday. It follows the usual "Super SmackDown Live!" (USA, 8 p.m.).
"Fluffy Breaks Even" (Fuse, 10 p.m.), a show in which comedian Gabriel Iglesias and his crew eat a lot of food and then try to work the calories off, returns for a second season with two episodes, the first in Hawaii, the second in Bakersfield.
A nuclear disaster is imminent on "The Blacklist" (NBC, 9 p.m.) and so is Liz' wedding.
The metaphor of killing baby Hitler comes up on "DC's Legends of Tomorrow" (The CW, 8 p.m.).
Meredith is off to get a transplant heart for a patient on "Grey's Anatomy" (ABC, 8 p.m.).
Extreme as it may be, the election on "Scandal" (ABC, 9 p.m.) can't hope to match what's happening in the real world.
The 10th season of "Mysteries at the Museum" (Travel, 10 p.m.) begins with a story about an electric chair used in a crime.
A new "Archer" (FX, 10 p.m.) promises the best voicemail ever.
They didn't have polling in the time of "Vikings" (History, 10 p.m.), but if they did, Rangar's would be down, following their defeat.
No surprise in the 31st season of "The Real World" (MTC, 10 pm.): jealousies abound.
Kristin Cavallari stops by on a new "Project Runway All Stars" (Lifetime, 9 p.m.).
The long and short games of "The Catch" (ABC, 10 p.m.) couldn't be more obvious.
A five-film salute to director Blake Edwards includes "The Days of Wine and Roses" (8 p.m.), "The Party" (8 p.m.), "S.O.B." (12:15 a.m.), "Victor Victoria" (2:30 a.m.) and "Breakfast at Tiffany's" (5 a.m.).
Baseball today includes Dodgers at San Francisco (MLB, 4:30 p.m.) and Boston at Cleveland (MLB, 7 p.m.).
NBA action has Chicago at Miami (TNT, 8 p.m.) and San Antonio at Golden State (TNT, 10:30 p.m.).
Hockey has Detroit at Boston (NBC Sports, 7 p.m.).
In golf, it's first round action in The Masters (ESPN, 3 p.m.).
And the NCAA men's hockey Frozen Four has Boston College vs. Quinnipiac (ESPN2, 5 p.m.) and Denver vs. North Dakota (ESPN2, 8:30 p.m.).
Daytime Talk
Kelly & Michael: Naomi Watts, Ashley Greene, Mark Consuls. The View: Alyssa Milano. The Talk: Thomas Lennon, Michael Yo. Ellen DeGeneres: Nicki Minaj, Brandy Clark. Wendy Williams: Tavis Smiley, Zanna Roberts Rassi. The Real: Gagi Gregg. Meredith Vieira: NeNe Leakes (rerun).
Late Talk
Stephen Colbert: Mindy Kaling, Tituss Burgess, Ken Burns. Jimmy Kimmel:  Ted Cruz, Mike Epps, St. Lucia (rerun). Jimmy Fallon: Russell Crowe, Jonathan Groff, the Lumineers, the Sugarhill Gang. Seth Meyers: Bernie Sanders, Savion Glover, Brandi Carlisle, Brann Dailor. James Corden: Gerard Butler, Will Forte, M. Ward (rerun). Carson Daly: Anthony Anderson, Dream Junkies, Steve Kornacki. Tavis Smiley: Viet Thanh Nguyen, Ben Harper. Trevor Noah: Juan Williams. Larry Wilmore: Jake Tapper. Conan O'Brien: Paul Reubens, Liam Cunningham, Michael Kiwanuka.