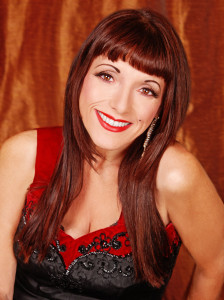 The year took another musician Friday as Candye Kane, the big blues singer died at 50, following a long bout with pancreatic cancer.
The singer, who released dozens of albums and racked up a number of Blues Music Award nominations over the years, first announced her cancer in 2008 and was thought to have beaten it. But she announced in 2012 it had returned.
Yet it didn't slow her down much, playing an estimated 250 dates a year all over the world.
She began her career in music by overcoming a sidetrack to quite another career direction —pornography.
"Certainly, I've had some opposition and some hurdles to jump to prove I'm worthy — and I welcome them,'' she told me when I interviewed her in 1995. "And every once in a while, someone will slip out an old magazine cover for me to sign.''
Skepticism usually faded once people heard her sing, a voice B.B. King called  a " big, brassy voice that has authority and sass; the kind of thing men like because its seductive and women like because its powerful."
Singing was always her goal even as a child. Inspired by the show tunes her parents would play as she grew up in East Los Angeles, she sang on both Ted Mack's Original Amateur Hour and on "The Gong Show" as a child (where she performed "Cabaret").
When she became an unmarried teenage mother at 17, she said, "It meant doing a lot of different jobs to make ends meet." A friend told her about a phone sex company, which led to stripping and nude modeling.
"It was really good money," she said. "Being a girl from East L.A., I had never heard of such wonderful, notable publications like Juggs and Hustler."
By capitalizing on her physique, "I was propelled to a certain amount of cult fame," she says. "I thought I was really famous."
But whatever sleazy exploitation was going on, it was good for her self esteem.
"Part of it was that I was a large-size woman," Kane said. "I didn't get a lot of feedback on attractiveness before, and I started feeling confident, getting fan letters and marriage proposals."
"It wasn't hard to leave behind," she said of the porn world. "But it set me free in so many ways."
She had been singing all along; –in Los Angeles, she'd play on bills with the Blasters, Dwight Yoakam, X, Black Flag and the Circle Jerks in the early '80s.
Still, she said, "It started getting hard. It was a real dichotomy being in different cities where I had been nude, coming back being on stage singing. In San Francisco, I attempted to play guitar topless, and the manager said, `Put that guitar down!' "
At that point, her strip career ended. "I had ridden the wave as far as I could, so I stopped."
In the 1980s, she came close to a major- label country contract but refused to go along with a campaign that portrayed her has a born-again Christian.
She turned to the blues after discovering singers in the record collection of her boyfriend (turned husband) Tom Yearsley, bassist for the Palladins.
"I really loved the blues," she said. Besides, it's a field that has embraced a number of big-size women, from Big Maybelle to Big Mama Thornton.
What's more, she added, "The blues don't care about my past. They forgive me for my past."
She kept the country feel in one of her most autobiographical songs, "Dance Hall Girls," on her 1994 "Home Cookin' " album. A Tex-Mex flavor belies the serious story in "She Wore a Red Carnation," about a back- alley abortion.
And "The Toughest Girl Alive," the title of a 2000 album, was also the title of a play about her life that played in San Diego and New York. Her other albums have included "Whole Lotta Love," "Sister Vagabond" and the live "Coming out Swingin'" in 2013.
The addition of guitarist Linda Chavez to her band added more female power to an act that was all about empowerment and entertainment. As the disease made its progress it reduced her curves to a size 8. But it never reduced her vocal power. Kane leaves two sons.