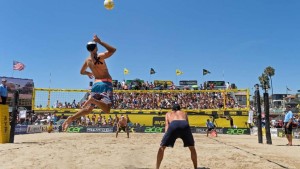 The 2016 Rio Olympics  (NBC, 8 p.m.) begin with dozens of events all day, all over the television on 10 different channels.
The main event tonight in prie time has men's gymnastics, men's and women's swimming and women's beach volleyball, with Kerri Walsh Jennings and her new partner April Ross against the Australian team of Artacho Del Solar and Laird.
There's a lot more on nine other channels listed below. It will be hard to keep track of everything.
Meanwhile, take a time trip back 80 years to "The Nazi Games: Berlin 1936" (PBS, 10 p.m.). The path to the 2012 Paralympic Games in London is chronicled in the documentary "My Way to Olympia" on "POV" (PBS, 9 p.m., check local listings).
Last year's CGI "Peanuts Movie" (HBO, 7 p.m.) makes an early debut on premium cable with Charlie Brown's perfectly rounded head.
Jason Sudekis plays a writer collaborating with a grieving widow (Rebecca Hall) to write a biography of her folk singing husband in "Tumbledown" (Starz, 9 p.m.)
When the family of a party-minded prince hires a PR consultant to rein him in, romance blooms on the made-for-TV "My Summer Prince" (Hallmark, 9 p.m.) with Taylor Cole, Jack Turner, Marina Sirtis and Lauren Holly.
"Sorority Nightmare" (Lifetime, 9 p.m.) is sort of self-explanatory. It stars Kathie Lee Gifford's daughter, Cassidy Gifford, with Sierra McCormick, Kathe Sarife and Anthony Del Negro.
Maybe there's been too many "Sharknado" movies. Here is a sequel to last year's  "Lavantula" (Syfy, 7 p.m.), which concern, yes, trantulas from volcanoes, in "2 Lava 2 Lantula!" (Syfy, 9 p.m.), exclamation mark and all.
A man drowning in a frigid river is rescued by a married EMT team on "Boston EMS" (ABC, 10 p.m.).
A burned-off episode of the canceled "Rush Hour" (CBS, 8 p.m.) involves a hostage situation at a concert.
Two episodes of  "Wayward Pines" (Fox, 8 and 9 p.m.) gets a replay.
Elijah reports bullying on "Flex & Shanice" (OWN, 9 p.m.).
Pity there's no loss of cases to full an eighth season of "Snapped: Killer Couples" (Oxygen, 9 p.m.).
"Ghost Adventures" (Travel, 9 p.m.) goes to a Las Vegas museum.
Edward James Olmos guest stars on a new "George Lopez" (TVLand, 8 p.m.).
Montgomery Clift is the star on Turner Clasic Movies all day with "The Defector" (6 .m.), "The Big Lift" (8 a.m.), "Lonleyhearts" (10 p.m.), "Suddenly, Last Summer" (11:45 a.m.), "The Misfits" (1:45 p.m.), "The Search" (4 p.m.), "Wild River" (6 p.m.), "Red River" (8 p.m.), "A Place in the Sun" (10:30 p.m.), "From Here to Eternity" (12:45 a.m.) and "Raintree County" (3 a.m.).
Brett Favre, Ken Stabler, Marvin Harrison, Kevin Greene, Orlando Pace, Dick Stanfel, Tony Dungy and Eddie DeBartolo Jr. are all inducted in this year's "Pro Football Hall of Fame Enshrinement Ceremony" (ESPN, NFL, 7 p.m.) from Canton, Ohio.
Arena football playoffs include Jacksonville at Orlando (CBS Sports, 7 p.m.) and Portland at Arizona (CBS Sports, 10 p.m.).
How about some Mexican football? It's Leon vs. Monterrey (Univision, 8 p.m.).
Baseball includes the senior league championship game with Clear Ridge, Ill., vs. Australia (ESPN, 2 p.m.) from Bangor, Maine, and the Cal RipkinW orld Series championship game of Kennewick, Wash. vs. Japan (Fox Sports 2, 8 p.m.) from Aberdeen, Md.
In major league baseball, it's Boston at Dodgers (Fox Sports 1, 4 p.m.).
In golf, third round play begins in the Travelers Championship (Golf, 1 p.m. and CBS, 3 p.m.) from Cromwell, Conn.
NASCAR has the Zippo 200 at the Glen (CNBC, 2 p.m.) from Watkins Glen, N.Y.
Earlier events in the Olympics (NBC, 8 a.m.) has rowing, men's cycling, U.S. vs. Croatia in water polo, men's cycling, swimming qualifying heats, rowing qualifying heat, men's beach volleyball with a U.S. team vs. Quatar and in women's volleyball, U.S. vs. Puerto Rico.
After midnight it's more men's gymnastics at 12:30 a.m. on NBC.
NBC Sports Network is active at 9 a.m. with archery; women's shooting,;beach volleyball preliminaries; U.S. vs. Fiji in women's rugby; in men's basketball, Australia vs. France and U.S. vs. China.; it's Spain vs. Italy in water polo; U.S. vs. France and Brazil vs. Sweden in women's soccer; gold medal finals in women's weightlifting and judo; first rounds of table tennis; and elimination boxing.
MSNBC from noon to 5 p.m. has more beach volleyball, Norway vs. Brazil in women's handball and a gold medal final in men's archery.
The USA Network has equestrian events, U.S. vs. Argentina in field hockey, a gold medal final in women's fencing and more preliminary beach volleyball.
CNBC has U.S. vs. Columbia in women's rugby at 5 p.m. with Germany vs. Australia in women's soccer.
There's tennis on Bravo for nearly 12 hours today starting at 9:30 a.m., and boxing, volleyball, swimming and, yes, more beach volleyball at 11 a.m. on Telemundo.
There is something called the NBC boxing channel dedicated to that sport with Australia vs. France, China vs. U.S., Venezuela vs. Servia, and among women, Turkey vs. France, China vs. Canada, Brazil vs. Australia vs. Japan and Belarus vs. Japan.
There is also an NBC Soccer Channel where starting at 2 p.m. there will be women's games with Canada vs. Zimbabwe, U.S. vs. France, Russia vs. China, Germany vs. Australia, Brazil vs. Sweden, Columbia vs. New Zealand.
Lauryn Hill plays "Austin City Limits" (PBS, 11 p.m.) in a show from earlier this year.
There is no "Saturday Night Live" rerun tonight.