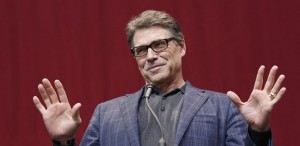 "Dancing with the Stars" is increasingly the rehabilitation camp for personalities we'd rather see fade away. The 23rd season of the show will include former governor and presidential candidate Rick Perry, the first Texas politician to put on dancing shoes for the show since Tom DeLay.
But it will also include Ryan Lochte, who recently tarnished his Olympic gold where he lied about being mugged.
The recent Olympic star likely to get more audience support will be gymnast Laurie Hernandez.
The new cast will include old-time TV Stars, from Maureen McCormick — Marcia on "The Brady Bunch" — to Marilu Henner of "Taxi."
There will be some interesting body types — from Terra Jole of "Little Women: LA" to former Kanye West squeeze Amber Rose.
The rapper getting celebrity rehab is Vanilla Ice; also doing some dancing will be producer Kenny "Babyface" Edmonds.
The requisite former NFL star will be Calvin Johnson; the former race car driver, James Hinchcliffe. And Jake T. Austin of "Wizards of Waverly Place" is the required Disney Channel star.
Sometimes rehabilitation is required for participation. So country singer Jana Kramer joined the cast only days after announcing a split from her husband.
Among the pro dancers on the show, some of whom are more famous than the "stars" they are paired up, both Derek Hough and Cheryl Burke will be returning. The show returns Sept. 12