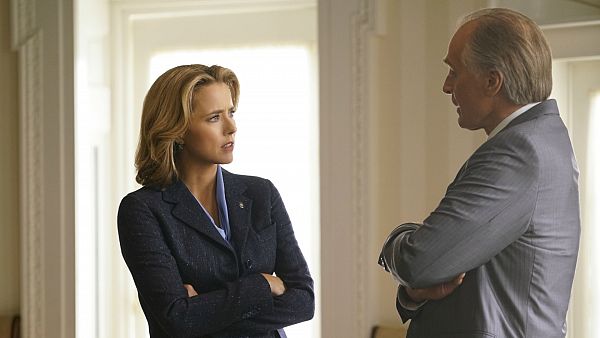 Network series are still in the process of returning for new fall seasons.
"Madam Secretary" (CBS, 9 p.m.) is back on the job, in a season premiere directed by Morgan Freeman, who also plays Chief Justice in this political world. It's election year, there too, as Elizabetheh asks President dalton to risk change after a storm destroys a naval base in Bahrain.
Also back for a new season is Sherlock Holmes in "Elementary" (CBS, 10 p.m.), with Nelsan Ellis of "True Blood" joining as Shinwell Johnson.
The underrated "Shameless" (Showtime, 9 p.m.) begins its seventh season with Frank waking from a month-long coma, and Lip completing rehab.
The second season of the bloody, over the top "Ash vs. Evil Dead" (Stars, 8 p.m.) begins with Bruce Campbell's Ash joining forces with Lucy Lawless. And Lee Majors joins the cast as Ash's father.
A second season also starts for "Blunt Talk" (Starz, 8:35 p.m.), the Patrick Stewart comedy about a news anchor who tonight rekindles a romance with a former flame investigating an important story.
And there seems to be an endless array of home movies of kids falling down. Hence, the 27th season of "America's Funniest Home Videos" (ABC, 7 p.m.).
Sunday Night Football has Kansas City at Pittsburgh (NBC, 8:30 p.m.). Earlier games start so early that "Face the Nation" is pre-empted by Indianapolis at at Jacksonville (CBS, 9:30 p.m.). Then: Cleveland at Washington (CBS, 1 p.m.) and Dallas at San Francisco (Fox, 4 p.m.).
The spinoff "WAGS: Miami" (E!, 10 p.m.) moves its attention to Florida wives an girlfriends of sports stars.
"Basketball Wives LA" (VH1, 8 p.m.), meanwhile, prepare for a trip to Portugal.
A trip to Vermont is not working out that well for "The Real Housewives of New Jersey" (Bravo, 8 p.m.).
In the new series "Kevin Hart: Hart of the City" (comedy Central, 11:30 p.m.) the diminutive comic is on the search for new comedian.
In the new last episode of "The Circus: Inside the Greatest Political Show on Earth" (Showtime, 8 p.m.) for a few weeks, they look inside the newsrooms of those who cover the campaigns.
An abduction case is investigated while the team at "NCIS: Los Angeles" (CBS, 8 p.m.) is down two people.
The second season finale of "Fear the Walking Dead" (AMC, 9 p.m.) comes after two episodes, with Nick deciding whether to stay with Luciana. Then they talk about it on "Talking Dead" (AMC, 11 p.m.).
Belle turns to Hook for assistance on "Once Upon a Time" (ABC, 8 p.m.), which sounds like a bad idea.
Burns enlists "The Simpsons" (Fox, 8 p.m.) to play his virtual-reality game.
Sooni confronts Aafrin on "Indian Summers" (PBS, 10 p.m., check local listings).
There may be a key party on "Masters of Sex" (Showtime, 10 p.m.).
Zorn is riled by stolen hot sauce from the break room on "Son of Zorn" (Fox, 8:30 p.m.).
Abby is served a subpoena on "Chesapeake Shores" (Hallmark, 9 p.m.).
The newlyweds are fighting on "Manzo'd With Children" (Bravo, 9 p.m.).
"Ozzy and Jack's World Tour" (History, 10 p.m.) ends its first season in Memphis.
"The Strain" (FX, 10 p.m.) has moved uptown, apparently, in the episode titled "The Battle of Central Park."
The late Frank Sinatra Jr. is somehow part of the comedy on "Family Guy" (Fox, 9 p.m.). Too soon.
George tries another tack against Ross on "Poldark" (PBS, 9 p.m., check local listings).
"Rob & Chyna" (E!, 9 p.m.) try bondage.
Alex and Ryan navigate their new relationship on "Quantico" (ABC, 10 p.m.).
What? This is not over? Apparently not. "The Killing of JonBenet: Her Father Speaks" (A&E, 9 p.m.).
Hosts Duff Goldman and Lorraine Pascale begin their search on the new spinoff "Worst Bakers in America" (Food, 10 p.m.).
Cultural differences are part of the problem for some of the couples on "90 Day Fiance" (TLC, 9 p.m.).
Winter preparations send Atz Zee to the hospital on "Alaska: The Last Frontier Exposed" (Discovery, 9 p.m.).
There's 29 days to go, but "Halloween Wars" (Food, 9 p.m.) starts its sixth season of decorating competitions.
Things are already Halloween-themed on "Guy's Grocery Games" (Food, 8 p.m.).
It's Halloween, too, on "K.C. Undercover" (Disney, 8 p.m.).
But if October means horror films, Turner Classic Movies has found enough Frankenstein movies to fill a month of Sundays. It starts tonight with the 1931 "Frankenstein" (8 p.m.) with Boris Karloff, followed by the whole family: "Bride of Frankenstein" (9:30 p.m.) and "Son of Frankenstein" (11 p.m.).
The silent movie is a rarity: the 1925 "The Wizard of Oz" (TCM, 1 a.m.) with Oliver Hardy as the Tin Woodsman. It's followed by Fellini's "Juliet of the Spirits" (TCM, 2:15 a.m.) and Val Lewton's "The Curse of the Cat People" (TCM, 4:45 a.m.).
The final games of baseball's regular season include Toronto at Boston (TBS, 3 p.m.).
In the WNBA semifinals, it's Los Angeles at Chicago (ESPN, 3 p.m.) and Minnesota at Phoenix (ESPN, 5 p.m.).
Preseason hockey has Chicago at Detroit (NHL, 6 p.m.); preseason basketball has Shanghai at Houston (NBA, 8 p.m.).
Golf's Ryder Cup (NBC, noon) moves to day three.
Sunday Talk
ABC: Sen. Bernie Sanders, Rudy Giuliani. NBC: Giuliani, Robbie Mook. CNN: Sanders, Giuliani. Fox News: Sen. Claire McCaskill, Gov. Chris Christie.