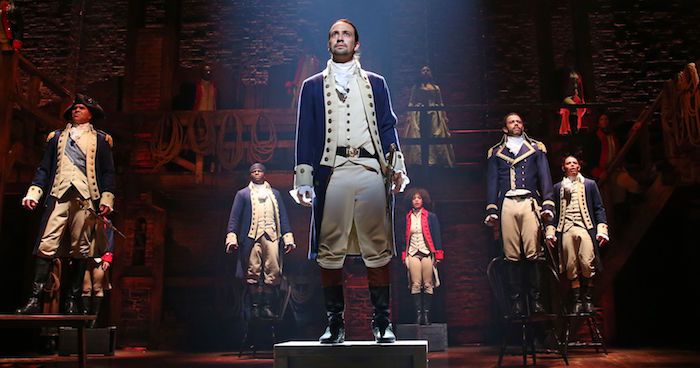 After a bestselling soundtrack, coffee table book, and record breaking run on Broadway, where it's won 11 Tony Awards and the Pulitzer Prize, the much lauded "Hamilton" also now has a documentary worthy of it.
"Hamilton's America," making its debut on "Great Performances" (PBS, 9 p.m., check local listings) has the advantage of telling the entire story of the phenomenon, from when it first popped into Lin-Manuel Miranda's head to when he teased the first song at the White House in 2009, to writing it song by song while ensconced in historic locations that inspired him, such as Aaron Burr's Manhattan bedroom.
His devising of the musical wasn't as easy as it looks as he struggled to shape the story and compose new songs.
That director Alex Horowitz was an old friend at Wesleyan gained him entry to these early struggles, but the film also excels in giving a context to Hamilton's story through a dizzying array of interviews with not only Ron Chernow, whose book inspired the musical, but various historians, secretaries of the treasury and two Presidents — George W. Bush and Barack Obama.
Miranda's fame gets him audiences with anyone, it seems, from Stephen Sondheim to Nas — both of whom are influences.
The film is also injected with many scenes from the musical — as close as many of us will get to the work in several years — as well as insightful interviews with the original cast, who also go visit key places in their character's lives.
Christopher Jackson, who plays George Washington, visits Mount Vernon and Valley Forge; Leslie Odom Jr., who won a Tony for his role as Burr, goes to the Museum of American Finance to get insight on fiscal thoughts of the Founding Fathers.
"Hamilton" heads will of course cherish the documentary as those who haven't had the theatrical experience will begin to understand what all the fuss is about.
The road from inspiration to Tony dominance is not one often told in a single film about a Broadway work, and that it's about one as special as "Hamilton" makes this a standout not only for PBS, but for any network that would have wanted to acquire it.
For Miranda, it's a reunion of sorts with sponsoring station WNET of New York.
"My first job was as an intern at WNET back when it was on 58th street, between 8th and 9th grade," he said in a message to writers at the TV Critics Association summer press tour. "The film is very special to me. It's not so much behind the scenes of the making of the musical, as it is an explanation of Alexander Hamilton's life, and how that was cultured through the musical. When you see it, I think you'll note the strong parallels to America today."
Horowitz said he came up with the idea of filming the process of whatever Miranda was coming up with — "it might be a concept album, it might be a show" — when he saw how different it was going to be. "I saw what he was doing to dramatize history, to musicalize history, to make history alive in a way I'd never seen before, and that that was the hook," he said.
Even after spending so much time depicting his making of "Hamilton," Horowitz said there's still a mystery about how exactly his old college roommate did it.
"I don't know that I've cracked exactly how Lin's alchemy is working, why a debate in hip hop form about the assumption of state's war debt is the most exciting thing to happen to theater maybe ever," he said. "I just know that it works."