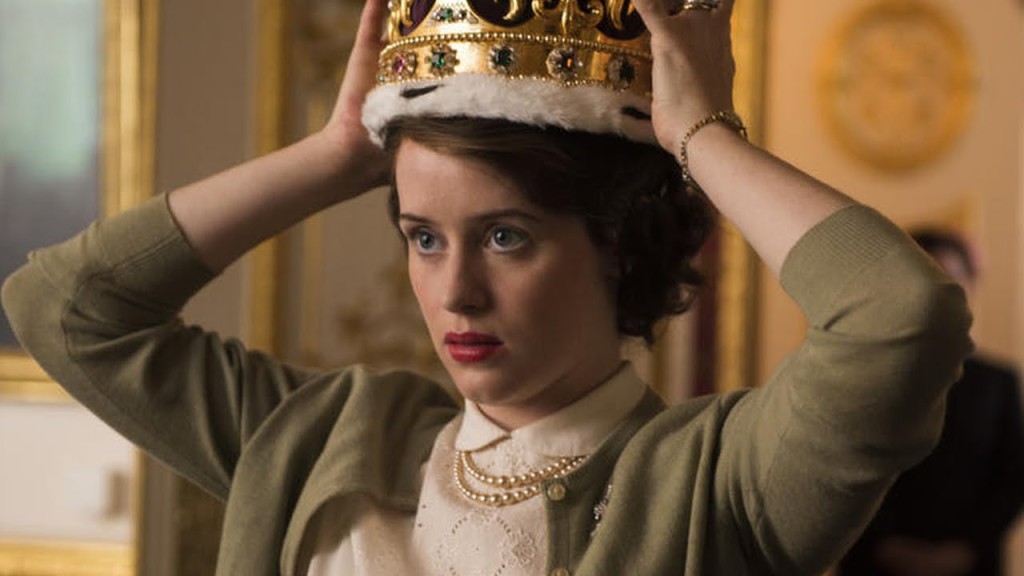 Those who are astounded that Netflix will spend nearly $5 billion this year developing programming — more than any one of its competitors — will certainly see where its money is put while watching its  gilded new 10-episode series on the early beginnings of Elizabeth II, "The Crown" (Netflix, streaming).
Its sets are lavish, settings often exotic, its cast first rate and they've got someone who can solidly write a drama, Peter Morgan, who did "Frost/Nixon" and bases this on his award-winning play "The Audience."
Claire Foy plays the young Elizabeth, who seems unsure to take on her duties at first when her father King George VI (Jared Harris) dies; Matt Smith, a recent Doctor Who, is just right as her husband Prince Philip. As with "Downton Abbey" you'll want to pause to luxuriate in the settings, but the story is well paced and absorbing with surprising turns such as John Lithgow's as Winston Churchill. A fine work.
The other end of Elizabeth II's career is covered, meanwhile, on "The Queen at 90" (Smithsonian, 9 p.m.).
A new documentary "The Ivory Game" (Netflix, streaming) looks deep into the ugly trade in elephant poaching, from the black market in China to burning tusks in Africa to protect the endangered animals.
President Obama finally sits down for an interview for "Real Time with Bill Maher" (HBO, 10 p.m.), but Maher has to travel to the White House to do so, before he convenes his panel of Martin Short, Jennifer Granholm and David Frum. Maher's been peeved the President hadn't come on his show, especially since he donated $1 million to his campaign four years ago. But here he is, although "Full Frontal with Samantha Bee" got to Obama first earlier this week — and "Jimmy Kimmel Live" (ABC, 11:35 p.m.) reruns its recent Obama episode tonight.
A new standup special from the former "Saturday Night Live" cast member, "Dana Carvey: Straight White Male, 60" (Netflix, streaming).
The journey of top 2016 NBA draft pick is chronicled in the documentary "One & Done / Ben Simmons" (Showtime, 9 p.m.).
The special "Alvin Ailey American Dance" (PBS, 9 p.m., check local listings), the company performs its signature "Revelations" and three other pieces.
The Chandra Levy case gets another look on "20/20" (ABC, 10 p.m.). The death of a husband and father is tied to a love triangle on "Dateline" (NBC, 9 p.m.).
"Tracey Ullman's Show" (HBO, 11 p.m.) includes more of her impersonations of Dame Judi Dench, Angela Merkel and Camilla, Duchess of Cornwall.
Rebecca is torn between Josh and Greg on "Crazy Ex-Girlfriend" (The CW, 9 p.m.).
"MacGyver" (CBS, 8 p.m.) goes undercover in a prison.
Lauren Lapkus of "Orange is the New Black" is guest on "Hell's Kitchen" (Fox, 8 p.m.).
McGarrett's mother is captured on "Hawaii Five-0" (CBS, 9 p.m.).
Damon is on a downward spiral on "The Vampire Diaries" (The CW, 8 p.m.).
Casey's story becomes a media frenzy on "The Exorcist" (Fox, 9 p.m.).
On "Blue Bloods" (CBS, 10 p.m.), Jamie responds to an attempted suicide call.
A gap year is eye opening for Eve on "Last Man Standing" (ABC, 8 p.m.).
"Dr. Ken" (ABC, 8:30 p.m.) learns Korean.
Axel leads surviving members of his group to his old military base on "Van Helsing" (Syfy, 10 p.m.).
"Diners, Drive-Ins and Dives" (Food, 9 p.m.) goes from Portsmouth, N.H. to Portland, Ore.
A second season starts for "Treasure Quest: Snake Island" (Discovery, 10 p.m.), with clue leading them to the Paraguayan jungle.
One couple is caught cheating on "Marriage Boot Camp: Reality Stars" (WE, 9 p.m.).
The rappers 2 Chainz and Tyga are customers on the wretchedly titled "Tanked: Sea-lebrity Edition" (Animal Planet, 7 p.m.).
That time it rained fish is recalled on "Mysteries at the Museum" (Travel, 9 p.m.).
Newlyweds are spooked on "A Haunting" (TLC, 9 p.m.). Which is normal, I guess.
If the commercials haven't tipped you off, it's on: "A Wish for Christmas" (Hallmark, 8 p.m.).
With the Series over, Bill Murray is back to Wes Anderson movies, with "The Life Aquatic with Steve Zissou" (TMC, 8 p.m.).
Turner Classic Movies begins a month-long Friday night showcase of movies starring Natalie Wood, starting with work she did as a child in "Tomorrow is Forever" (8 p.m.), "Chicken Every Sunday" (10 p.m.), "The Green Promise" (midnight), "The Silver Chalice" (1:30 a.m.), "The Star" (4 a.m.) and "No Sad Songs for Me" (5:45 a.m.).
The World Series Victory Parade (WGN America, 11 a.m.) is extensively covered on the Cubs' flagship network.
NBA action includes New York at Chicago (ESPN, 8 p.m.) and Golden State at Lakers (ESPN, 10:30 p.m.).
Hockey has Winnipeg at Detroit (NHL, 7:30 p.m.).
In college football, it's Central Michigan at Miami, Ohio (CBS Sports, 6 p.m.), Temple at Connecticut (ESPN2, 7 p.m.) and San Jose State at Boise State (ESPN2, 10:15 p.m.).
Daytime Talk
Kelly Ripa: Kyra Sedgwick, Josh Radnor, Christian Slater. The View: Chris Wallace. The Talk: Erinn Hayes, Nina Parker. Chelsea Handler: Mary McCartney, Stella McCartney, Kimbal Musk, Miranda Sings. Harry Connick: Chris Noth, Pamela Adlon, Chris Gerhard. Ellen DeGeneres: Justin Timberlake, Bagrielle Union. Wendy Williams: Common. The Real: Kandi Burruss, Eve.
Late Talk
Stephen Colbert: Viggo Mortensen, Patton Oswald, Maz Jobrani. Jimmy Kimmel: President Barack Obama, Will Ferrell (rerun). Jimmy Fallon: Dana Carvey, Alicia Keys, Young M.A. Seth Meyers: Joel Egerton, Evan Rachel Wood, Ina Garten (rerun). James Corden: Lea Michele, Norm MacDonald, Nothing But Thieves (rerun). Carson Daly: Alan Cumming, Banks & Steelz, Lucy Albar (rerun).