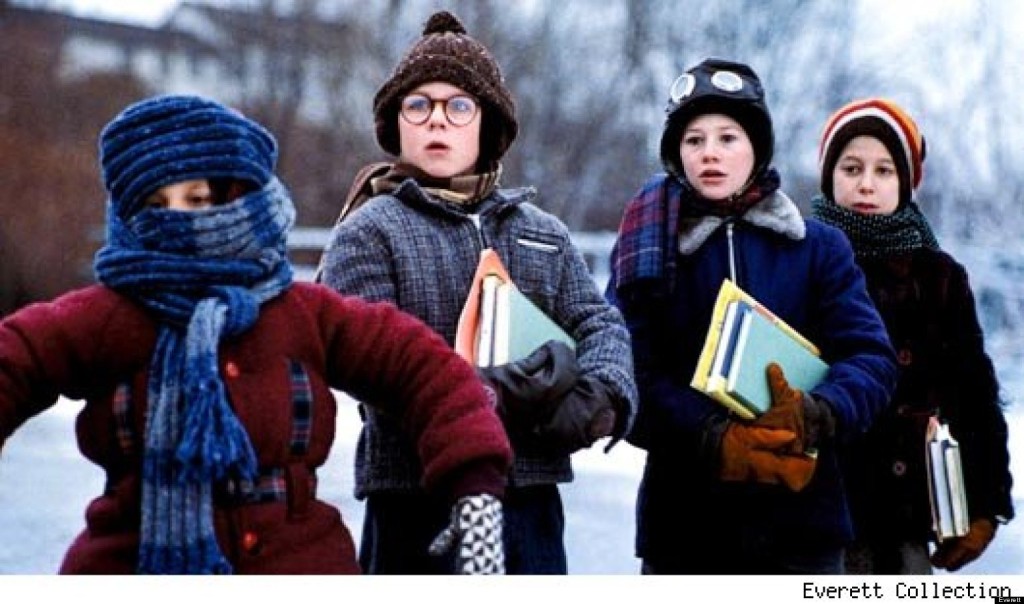 The annual 24 hours of "A Christmas Story" (TBS, TNT, 8 p.m.) may seem like overkill, as Ralphie relives his holiday woes a dozen times, but at least it's not overplayed during the rest of the season.
There's also a mini marathon (only eight hours) of the much inferior 2012 sequel, "A Christmas Story 2" (CMT, 3 p.m.)
"It's a Wonderful Life" (NBC, 8 p.m.) gets another go-round. Here's a more meta idea: Find out what life would be like without "It's a Wonderful Life" one year, when it and all the movies based on it disappear.
Despite the never ending spout of Trump gaffes to parody, there's no "SNL" tonight, new or old. Instead, Live! from Rome! It's "Christmas Eve at St. Peter's Basilica" (NBC, 11:30 p.m.) with your host, Pope Francis.
Put another way: "Navidad Mexicana en el Vaticano" (Univision, 9 p.m.).
A kind of puppy bowl for Christmas, with kittens climbing Christmas trees and puppies in the show is on a new hour long special called "Too Cute! #merrycuteness" (Animal Planet, 8 p.m.).
Not quite holiday fare, but there you go: A replay of "First Lady Michelle Obama Says Farewell to the White House: An Oprah Winfrey Special" (CBS, 8 p.m.), which is also repeated on OWN at 9 p.m., after "Christmas at the White House: An Oprah Primetime Special" (OWN, 8 p.m.).
The "CMA Country Christmas" (ABC, 9 p.m.) is repeated, as are the animated "Disney Prep & Landing" (ABC, 8 p.m.) and "Prep & Landing: Naughty vs. Nice" (ABC, 8:30 p.m.).
Worst broadcast programming on Christmas Eve ever: brutal, ugly prime time UFC Fights (Fox, 8 p.m.).
The Cohen Brothers' entertaining Hollywood tale, "Hail, Caesar!" (HBO, 8 p.m.) gets a premium cable premiere.
On "48 Hours" (CBS, 9 p.m.) a federal prosecutor recalls being kidnapped at gunpoint on his birthday.
Chapter six of the reconstituted "Doctor Who: The Power of the Daleks" (BBC America, 11 p.m.) gets a viewing before tomorrow night's new special.
Holiday movies, of course, abound with "Christmas in Vermont" (Ion, 7 p.m.),"Love Actually" (E!, 7 and 10 p.m.), "A Christmas Carol" (FXM, 7 and 8:49 p.m.), "Every Christmas Has a Story" (Hallmark, 8 p.m.), "The Flight Before Christmas" (Lifetime, 8 p.m.), "Santa Hunters" (Nickelodeon, 8 p.m.),  "A Golden Christmas" (ION, 9 p.m.), "A Very Harold & Kumar Christmas" (FXX, 9 and 11 p.m.). "The Santa Clause 2" (FX, 9 and 11 p.m.), "A December Bride" (Hallmark, 9:30 p.m.), "National Lampoon's Christmas Vacation" (Freeform, 9:45 p.m.), "A Gift Wrapped Christmas" (Lifetime, 10 p.m.) and "Christmas List" (Hallmark, 11 p.m.).
Robert Osborne gets to pick tonight's final round of Christmas fare on Turner Classic Movies. His choices come largely from the 1940s with "Christmas in Connecticut" (8 p.m.), "The Dolly Sisters" (10 p.m.), "In the Good Old Summertime" (midnight), "The Man Who Came to Dinner" (2 a.m.) and "Bell Book and Candle" (4 a.m.).
But there's good stuff on earlier, too, with Frank Capra's "Wonderful Life" opposite, "Meet John Doe" (8:15 a.m.), "Scrooge" (10:30 a.m.), "It Happened on 5th Avenue" (12:30 p.m.), "Holiday Affair" (2:30 p.m.), "The Shop Around the Corner" (4:15 p.m.) and "Meet Me in St. Louis" (6 p.m.).
A surprising amount of NFL action today includes Washington at Chicago (Fox, 1 p.m.), Indianapolis at Oakland (CBS, 4 p.m.), Tampa Bay at New Orleans (Fox, 4:25 p.m.) and Cincinnati at Houston (NFL, 8:25 p.m.).
In college football, there is the Hawaii Bowl, with Hawaii vs. Middle Tennessee (ESPN, 8 p.m.).
And in rugby, Wasps vs. Bath (NBC Sports, 9 a.m.).
A nice gift from "Austin City Limits" (PBS, 11 p.m., check local listings): A full 1978 performance from Tom Waits that includes "Christmas Card from a Hooker in Minneapolis."