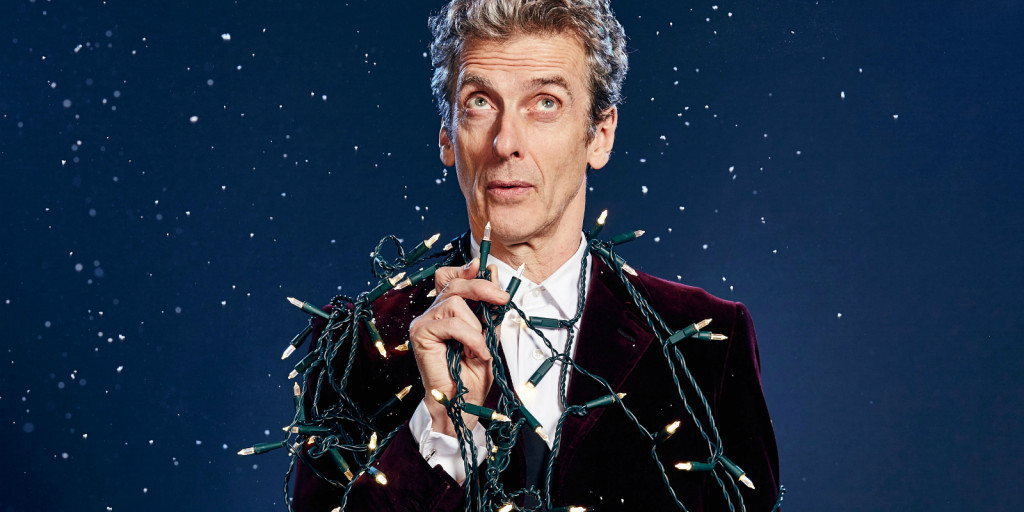 The British tradition of big TV specials on Christmas hits home with simultaneous presentation of "Doctor Who" (BBC America, 9 p.m.), a feature length episode in which the doctor teams up with an investigative journalist and the superhero Doctor Mysterio (which is also the name of Doctor Who in Mexico) to save New York.
There is also  the "Call the Midwife Holiday Special 2016" (PBS, 7:30 p.m., check local listings) in which the Nonnatus House family travels to South Africa to help a needy hospital.
Hallmark gets into the act with its own two hour "When Calls the Heart" (Hallmark, 8 p.m.) Christmas special, two months before the start of the third season of the romantic frontier drama.
Benedict Cumberbatch stars as the short-lived king in "The Hollow Crown: Richard III" on "Great Performances" (PBS, 9 p.m., check local listings) with quite an incredible cast, including Judi Dench as Cecily, Duchess of York and Sophie Okonedo as Queen Margaret wrapping up the series that adapted Shakespeare's history plays.
The animated "Beauty and the Beast" (ABC, 8 p.m.) gets a prime time showcase, perhaps to hype the upcoming live action adaptation.
CBS brings back both of its colorized classic sitcom specials, "I Love Lucy" (CBS, 8 p.m.) and "The Dick Van Dyke Show  – Now in Living Color" (CBS, 9 p.m.).
Sunday Night Football has Denver at Kansas City (NBC, 8:20 p.m.). But the only other NFL game on is Baltimore at Pittsburgh (NFL, 4:30 p.m.).
Instead, the holiday is something of an NBA showcase with games all day with Boston at New York (ESPN, noon), Golden State at Cleveland (ABC, 2:30 p.m.), Chicago at San Antonio (ABC, 5 p.m.), Minnesota at Oklahoma City (ESPN, 8 p.m.) and Clippers at Lakers (ESPN, 10:30 p.m.).
On the made for TV "Stalked by My Mother" (Lifetime Movie Network, 8 p.m.), an overprotective mother is a suspect when her daughter's new boyfriend is murdered. Jennifer Taylor, Danielle Chuchran and Spencer Neville star.
A three hour Christmas special for "Tanked" (Animal Planet, 8 p.m.) is sub-titled "Merry Fishmas."
They've stretched a clip show of "Sister Wives" (TLC, 8 p.m.) into three hours too.
Kids take on adults in a "Holiday Baking Championship" (Food, 9 p.m.).
"The Librarians" (TNT, 8 p.m.) try to crack the Bermuda Triangle.
Last chance for Christmas movies includes "Santa Hunters" (Nickelodeon, 7 p.m.), "Dear Santa" (Lifetime, 7 and 11 p..m.), "National Lampoon's Christmas Vacation" (Freeform, 7:45 p.m.), "Good Luck Charlie, It's Christmas" (Disney, 8 p.m.), "The Best Man Holiday" (FXX, 8 and 10:30 p.m.), "Tyler Perry's a Madea Christmas" (USA, 9 p.m.), "Christmas with the Cranks" (Lifetime, 9 p.m.), "Crown for Christmas" (Hallmark, 9:30 p.m.), "Scrooged" (Freeform, 9:55 p.m.), "Deck the Halls" (Sundance, 10:30 p.m.), "A Christmas Detour" (Hallmark, 11:30 p.m.), "Four Christmases" (Sundance, 12:30 a.m.) and "Prancer" (Sundance, 2:30 a.m.).
The 1951 "A Christmas Carol" (FXM, 3 p.m.) with Alastair Sim gets a 12 hour marathon; the 1984 one with George C. Scott is also on Sundance at 8 p.m.
Turner Classic Movies pits the movies of Frank Capra against those of Preston Sturges. Films of the former include "Mr. Deeds Goes to Town" (8 p.m.), "It Happened One Night" (11:45 p.m.) and "Meet John Doe" (3:30 a.m.). From the latter, "Sullivan's Travels" (10 p.m.), "The Palm Beach Story" (1:45 a.m.) and "Hail the Conquering Hero" (5:45 a.m.).
In the Diamond Head Classic men's college basketball tournament it's Southern Mississippi vs. Hawaii (ESPNU, 12:30 p.m.) in the seventh place game, Utah vs. Stephen F. Austin (ESPNU, 2:30 p.m.) in the fifth place game, Tulsa vs. Illinois State (ESPN2, 6 p.m.) in the third place game, and San Diego State vs. San Francisco (ESPN2, 8 p.m.) in the championship.
Sunday Talk
It's a Christmas miracle: Nobody was booked for the morning shows.