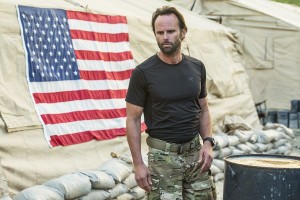 The History channel lurches further into scripted drama with Walter Goggins leading the Navy SEAL Team Six in the new series "Six" (History, A&E, Lifetime Movie Network, 10 p.m.). The target is an American citizen among the Taliban but also involves a foray into the Boko Haram.
In addition to the combat, though, David Broyles, who wrote the series with his father William Broyles, says there is a domestic side as well.
"We've seen SEALs shows and movies on the combat side, but we haven't seen what happens when they come home," he said at press tour last week. "A lot of this show is about the tension between those two families, the SEAL family, brotherhood, which you're seeing, and the home family. How do they travel in between those, and how does it push and pull between their worlds? It's also about the cost of war. We are — the guys we're portraying and others in the military have been at war for 15 years, and that exacts a price."
Joel McHale hosts the 43rd People's Choice Awards (CBS, 9 p.m.) honoring the year's movies, music and TV. Blake Shelton and the newly downsized Fifth Harmony perform.
It's the last day of the eight year administration of Barack Obama, which is marked on cable news with the documentary "The End: Inside the Last Days of the Obama White House" (CNN, 9 p.m.). On public TV, it's reflected into the splits on part two of the "Divided States of America" report on "Frontline" (PBS, 9 p.m., check local listings).
Gladys Knight portrays herself, giving advice on "Star" (Fox, 9 p.m.). "Now that was something else," she told me last week. "That was really fun. I enjoy acting but I want to get more proficient in it." More of my interview is here.
It's Chinese New Year on "Fresh Off the Boat" (ABC, 8 p.m.).
On "Black-ish" (ABC, 9:30 p.m.) Dre agrees to anger management therapy.
Maya gets sick on "Speechless" (ABC, 8 p.m.).
The CEO of Coffee Bean goes back to making lattes on "Undercover Boss" (CBS, 8 p.m.).
A tattoo leads to a biker gang on "Blindspot" (NBC, 8 p.m.).
On "Frequency" (The CW, 9 p.m.) Rainy and Frank make a breakthrough.
Andy Richter, Bellamy Young and Neil deGrasse Tyson play "Match Game" (ABC, 10 p.m.).
Abby deals with losing her job on "Girlfriend's Guide to Divorce" (Bravo, 10 p.m.).
A billionaire is on trial for rape on "Law & Order: Special Victims Unit" (NBC, 9 p.m.).
Damian Chazelle, the writer-director of "La La Land,"  is guest programmer on Turner Classic Movies. His choices: "It's Always Fair Weather" (8 p.m.), "The Umbrellas of Cherbourg" (9:30 p.m.), "Meet Me in St. Louis" (11:45 p.m.), "City Lights" (2 a.m.) and "Rebel Without a Cause" (3:45 a.m.).
Men's college hoops today includes Temple at Cincinnati (CBS Sports, 7 p.m.), Oklahoma at West Virginia (ESPN2, 7 p.m.), Missouri at Alabama (ESPNU, 7 p.m.), TCU at Texas Tech (Fox Sports, 7 p.m.), Tulane at Tulsa (ESPNews, 7:30 p.m.), Illinois State at Bradley (CBS Sports, 9 p.m.), Kansas State at Oklahoma State (ESPNU, 9 p.m.), Colorado State at Fresno State (CBS Sports, 8 p.m.) and Colorado at Washington (ESPNU, 8 p.m.).
NBA action has Milwaukee at Houston (ESPN, 8 p.m.) and Oklahoma City at Golden State (ESPN, 10:30 p.m.).
Hockey has Boston at Detroit (NBC Sports, 8 p..m) and San Jose at Los Angeles (NBC Sports, 10:30 p.m.).
Second round play starts in the Australian Open (ESPN2, 9 p.m., 3 a.m.).
Daytime Talk
Kelly Ripa: Idina Menzel, Nina Dobrev, Charistian Slater. The View: Bryce Dallas Howard, Jerry O'Connell, Rebecca Romijn. The Talk: Jaime Camil, Julissa Bermudez. Harry Connick: Jewel, Patrick Warburton. Ellen DeGeneres: Matt LeBlanc, Deepika Padukone. Wendy Williams: Kirstie Alley, Milly Almoodovar. The Real: Vanessa Simmons.
Late Talk
Stephen Colbert: Rachel Bloom, Louie Anderson. Jimmy Kimmel: Bill Maher, Wendi McLendon-Covey, AFI. Jimmy Fallon: James McAvoy, Nick Offerman, Kings of Leon, Nick Valensi. Seth Meyers: Michael Keaton, Emily Deschanel, Neal Brennan, Leah Shapiro. James Corden: Vin Diesel, Woody Harrelson, Owen Wilson, Deepika Padukone, OK Go. Carson Daly: Eric McCormack, Classixx, Alexa Davalos (rerun). Trevor Noah: Samantha Power. Conan O'Brien: Ted Danson, Gad Elmaleh, Josh Abbott Band.