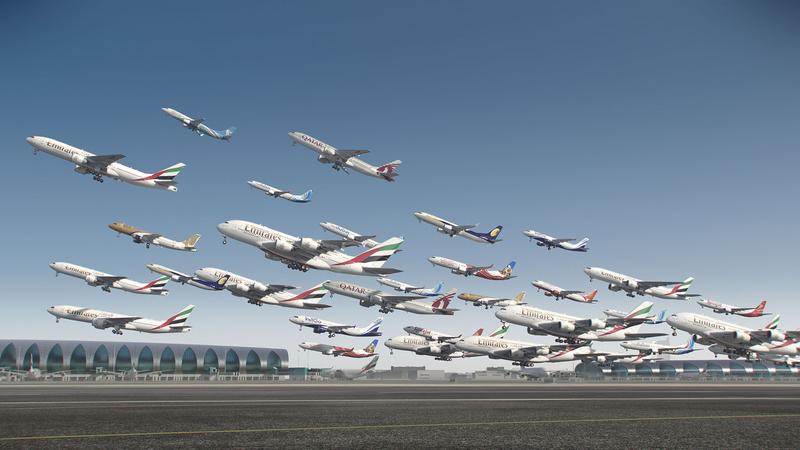 A new three part series on public television, a co-production with the BBC, looks at all that goes into modern air transportation. "City in the Sky" (PBS, 10 p.m., check local listings), so named because at any given time there are about 1 million people in the air, begins with the first part of flight, the departure, and all that goes into it.
More animal spying on "Nature" (PBS, 8 p.m., check local listings).
The new "So Cosmo" (E!, 8 p.m.) follows the unglamorous lives of staffers at Cosmopolitan magazine, endlessly trying to impress boss Joanna Coles.
"Law and Order: Special Victims Unit" (NBC, 9 p.m.) reaches its 400th episode and Mariska Hargitay directs.
Judy Greer, Judah Friedlander, Mekhi Phifer and Vivica A. Fox play the "Match Game" (ABC, 10 p.m.).
A baby is about to be born on "Blackish" (ABC, 9:30 p.m.).
The CDC comes in to help an outbreak on "Code Black" (CBS, 10 p.m.).
The team finds Shepherds's real identity on "Blindspot" (NBC, 9 p.m.).
Adam plays his best friend in tennis on "The Goldbergs" (ABC, 9 p.m.).
"Speechless" (ABC, 8:30 p.m.) has its Valentine's Day.
A tropical storm impedes an escape on "Hunted" (CBS, 8 p.m.).
"Arrow" (The CW, 8 p.m.) and the team go to Russia.
Clarke and Bellamy have tough choices as leaders on "The 100" (The CW, 9 p.m.).
It's fully F movies on Turner Classic Movies' alphabetical 31 Days of Oscar today with "Father of the Bride" (6:30 a.m.), "The Fighting Sullivans" (8:15 a.m.), "Five Graves to Cairo" (10:15 a.m.), "Flight Command" (noon), "For Me and My Gal" (2 p.m.), "Forbidden Planet" (4 p.m.), "A Foreign Affair" (6 p.m.), "Foreign Correspondent" (8 p.m.), "42nd Street" (10:15 p.m.), "The French Connection" (midnight), "Friendly Persuasion" (2 a.m.) and "Fury" (4:30 a.m.).
Men's college hoops today includes DePaul at Xavier (Fox Sports 1, 6:30 p.m.), South Florida at Connecticut (CBS Sports, 7 p.m.), North Carolina State at Florida State (ESPN2, 7 p.m.), Houston at Tulane (ESPNews, 8 p.m.), Providence at Seton Hall (Fox Sports 1, 8:30 p.m.), VCU at George Washington (CBS Sports, 9 p.m.), West Virginia at Oklahoma (ESPN2, 9 p.m.), UCF at Cincinnati (ESPNU, 9 p.m.), UNLV at Nevada (CBS Sports, 11 p.m.) and Stanford at Arizona (Fox Sports 1, 11 p.m.).
NBA action includes Clippers at New York (ESPN, 8 p.m.) and Chicago at Golden State (ESPN, 10:30 p.m.).
Hockey has Chicago at Minnesota (NBC Sports, 8 p.m.).
Daytime Talk
Kelly Ripa: Erika Girard, Holly Holm, Mark Consuls. The View: Tracee Ellis Ross, Reba McEntire. The Talk: LeAnn Rimes, Lindsay Miller. Harry Connick: Colin Hanks, Amanda Tunes, Sullivan Stapleton. Ellen DeGeneres: Jesse Tyler Ferguson, James Corden, Panic! at the Disco. Wendy Williams: Sutton Foster. The Real: Gabrielle Union, Lisa Vidal, Chike Okonkwo, Van Jones, Remy Ma.
Late Talk
Stephen Colbert: Robert De Niro, Jake Tapper, Ezra Edelman, Flo Morrissey, Matthew White. Jimmy Kimmel: Zach Galifianakis, Sean Hayes, Norah Jones. Jimmy Fallon: Seth Meyers, Dev Patel, Kid Cudi. Seth Meyers: Ice Cube, Ruby Rose, Ty Segall. James Corden: Neil Patrick Harris, Sienna Miller, Tom Ford (rerun). Carson Daly: Justin Kirk, DJ Shadow, Olivia Taylor Dudley. Trevor Noah: Tracee Ellis Ross. Conan O'Brien: Anthony Anderson, Michelle Monaghan, Christela Alonzo.