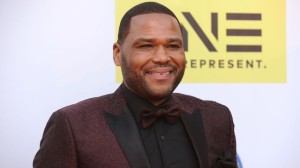 Yesterday, he hosted his first animal talk show. Tonight, Anthony Anderson of "Blackish" is host of The 48th NCAAP Image Awards (TVOne, 9 p.m.) live from the Pasadena Civic Auditorium. Beyoncé, Viola Davis, Regina King, Dwayne Johnson and Chance the Rapper are up for entertainer of the year. Harvard Law Professor Charles J. Ogletree, Jr. will be honored with the NAACP "Chairman's Award" and Lonnie G. Bunch, III will receive the NAACP "President's Award." LeBron James was already presented with the NAACP "Jackie Robinson Sports Award." A 90-minute red carpet special starts at 7:30 p.m.
The story of the Duke University student who turned to porn to pay her tuition is retold in the made-for-TV "From Straight A's to XXX" (Lifetime, 8 p.m.). Haley Pullos of "General Hospital" plays the role previously told in the web series "Becoming Belle Knox." Sasha Clements, Jessica Lu, and most importantly Judd Nelson co-star.
It's quite a different tone on the other made-for-TV film premiering tonight. Jen Lilley plays an aspiring chef joins forces with an executive chef (Brendan Penny) in "A Dash of Love" (Hallmark, 9 p.m.). Peri Gilpin also stars.
The election has made him somewhat of a featured player on "Saturday Night Live" (11:30 p.m.) this season, but Alec Baldwin returns to host the show for a record-breaking 17th time, with Ed Sheeran as musical guest. Of course, he'll do Trump, but I hope he'll do his much better Tony Bennett impersonation. See how he's developed from a 1991 episode of "SNL" rerun at 10 p.m., the second time he hosted, where the musical guest was Whitney Houston and writer Conan O'Brien pops up in the opening monologue.
Houston also appears as one of the classic clips in "A Very Soul Train Valentine's Day 2017" (BET, 10:10 p.m.) a compilation of performances hosted by Bill Bellamy and LeToya Luckett.
A new series "Abstract: The Art of Design" (Netflix, streaming) looks at the influences of design on not only architecture but concert stages and photography.
Alejandro Escobedo and Foals play a new "Austin City Limits" (PBS, 11 p.m., check local listings).
NBA takes prime time with Golden State at Oklahoma City (ABC, 8:30 p.m.).
Good time to catch up with the first two episodes of "24:Legacy" (Fox, 8 and 9 p.m.), which run back to back.
On the only new scripted episode on broadcast TV tonight, a French couple hire Eric to rescue their kidnapped surrogate baby on "Ransom" (CBS, 8 p.m.).
"48 Hours" (CBS, 9 p.m.) comes late to the Robert Durst case.
"Central Intelligence" (HBO, 8 p.m.) with Dwayne "The Rock" Johnson and Kevin Hart, makes its premium cable debut. Elsewhere, Casey Affleck, Kate Winslet, Norman reeds and Chiwetel Ejiofor star in crime caper "Triple 9" (Showtime, 8 p.m.) and Anna Kendrick, Miles Teller, Alison Brie and Bryan Cranston star in the comedy "Get a Job" (Starz, 9 p.m.), shot in 2012 but only released last year.
In its first season finale, "The Guardians" (Animal Planet, 10 p.m.0 go to Louisiana to help livestock after devastating floods.
Poltergeist in an old mining town in Utah attract the team from "The Dead Files" (Travel, 10 p.m.).
Big crowd upend the Ingleside opening on "Welcome to Sweetie Pie's" (OWN, 9 p.m.), which is the kind of thing that can happen if your restaurant is the subject of a national TV series.
Scientists launching the first solar probe into space are followed in the special "The Dark Side of the Sun" (Discovery, 10 p.m.).
A runner is abducted by mountain men on "Your Worst Nightmare" (Investigation Discovery, 10 p.m.).
Climbing a seven-story building with vacuum cleaners is among the tests on "MythBusters: The Search" (Science, 9 p.m.).
Anette Bening, Andrew Garfield, Harriet Harman, Asa Butterfield and Elbow are on a new "Graham Norton Show" (BBC America, 10 p.m.).
Gloria Gaynor, John Amos and Montell Jordan are looked up for "Oprah: Where Are They Now?" (OWN, 10 p.m.).
In case you're mixed up by the new one, the first "Fifty Shades of Black" (Showtime, 10 p.m.).
On Turner Classic Movies' alphabetical 31 Days of Oscar, the Gs turn to Hs with "The Green Goddess" (7 a.m.), "Guess Who's Coming to Dinner" (8:30 a.m.), "Gunfight at the O.K. Corral" (10:30 a.m.), "A Guy Named Joe" (12:45 p.m.), "Gypsy" (3 p.m.), "Hail the Conquering Hero" (6 p.m.), "Hannah and Her Sisters" (TCM, 8 p.m.), "A Hard Day's Night" (10 p.m.), "Harvey" (11:45 p.m.), "The Harvey Girls" (2 a.m.) and "The Hasty Heart" (4 a.m.).
Hockey includes San Jose at Philadelphia (NHL, 1 p.m.) and St. Louis at Montreal (NHL, 7 p.m.).
An overload of men's college basketball today includes Marquette at Georgetown (Fox, noon), Seton Hall at St. John's (CBS Sports, noon), Kansas State at West Virginia (ESPN, noon), Texas A&M at Florida (ESPN2, noon), Minnesota at Rutgers (ESPNU, noon), Kentucky at Alabama (CBS, 1 p.m.), TCU at Baylor (ESNU, 2 p.m.), Kent State at Toledo (CBS Sports, 2 p.m.), Kansas at Texas Tech (ESPN, 2 p.m.), Miami at Louisville (ESPN2, 2 p.m.), Creighton at DePaul (Fox Sports 1, 2 p.m.), Villanova at Xavier (Fox, 2:30 p.m.), Ohio State at Maryland (ESPN, 4 p.m.), Georgia at Tennessee (ESPNU, 4 p.m.), Texas at Oklahoma State (ESPN2, 4 p.m.), Butler at Providence (CBS Sports, 4 p.m.), St. Bonaventure at George Washington (NBC Sports, 4:30 p.m.), Washington at Utah (Fox Sports 1, 4:30 p.m.), Oklahoma at Iowa State (ESPN2, 6 p.m.), Connecticut at UCF (CBS Sports, 6 p.m.), Houston at Tulsa (ESPNU, 6 p.m.), Florida State at Notre Dame (ESPN, 6 p.m.), Davidson at VCU (CBS Sports, 8 p.m.), South Carolina at Mississippi State (ESPN2, 8 p.m.), East Carolina at South Florida (ESPNU, 8 p.m.), Gonzaga at Saint Mary's (ESPN, 8:15 p.m.), California at Arizona (ESPN2, 10 p.m.) and Bradley at Illinois State (ESPNU, 10 p.m.).
Golf has third round play at Pebble Beach (CBS, 3 p.m.).