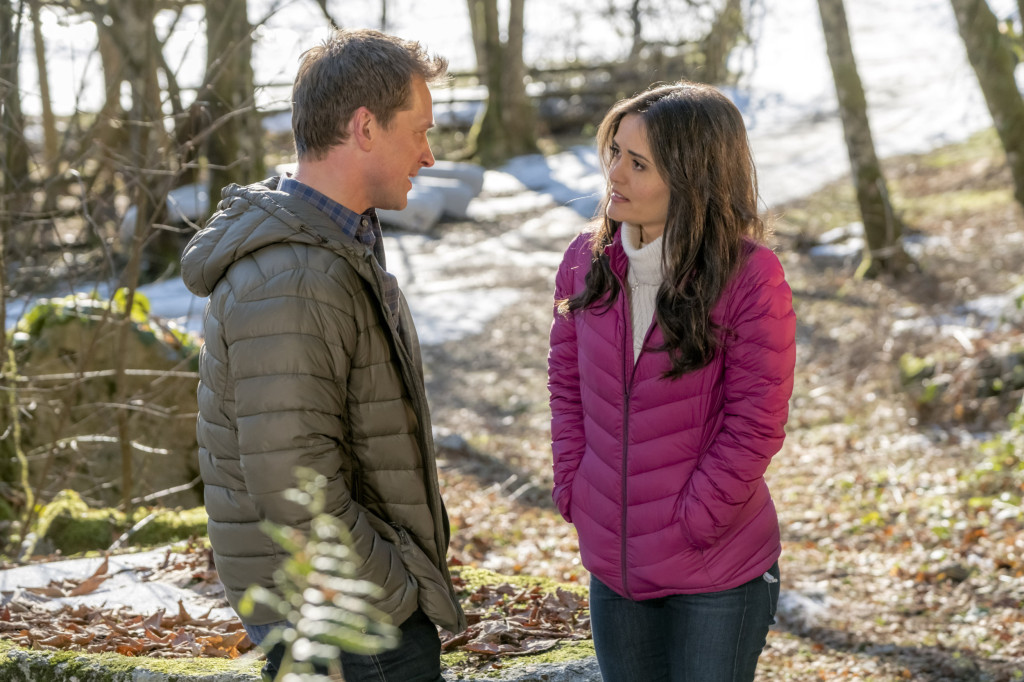 We sit around TV sets, they say, the way ancient man sat around campfires. Campfires play a role in two of the cheesy made-for-TV movies tonight.
Danica McKeller stars as a single mom who bonds a single dad (Paul Greene) while on a winter camping trip with their kids in the romance "Campfire Kiss" (Hallmark, 9 p.m.). Barbara Niven also stars.
A campfire also figures in another made for TV premiering tonight, "Mommy's Little Boy" (Lifetime, 8 p.m.), in which a little boy seeks solace with his baseball coach after his mom drops into depression after the drowning death of his 10-year-old brother. Bree Williamson, Peter DaCunha and Paul Popowich star. It's part of a "Mommy Madness Marathon" with "Double Mommy" (Lifetime, 10 p.m.) in which a student is pregnant with twins by two men, one by rape, and he wants it all to end. Morgan Obenreder, Mark Grossman and Megan Gallaher star.
Last year's "Ice Age: Collision Course" (HBO, 8 p.m.) makes its premium cable debut.
A death on Valentine's Day 2006 involving a former football player is examined on "48 Hours" (CBS, 10 p.m.).
Other non-basketball programming on prime time includes the 2011 Vin Diesel movie "Fast Five" (NBC, 8 p.m.) and the Monster Energy Supercross (Fox, 7 p.m.) from Indianapolis.
On the new "The After Party" (Nickelodeon, 9:30 p.m.), stars from the network's other shows, including "Henry Danger" (Nickelodeon, 8 p.m.), "Game Shakers" (Nickelodeon, 8:30 p.m.) and "Nicky, Ricky, Dicky & Dawn" (Nickelodeon, 9 p.m.) play games and recap episodes.
The death of Beach Boy Dennis Wilson is the focus of "Autopsy: The Last Hours Of…" (Reelz, 8 p.m.).
Randy's mom visits to celebrate her 93rd birthday on a two hour "Say Yes to the Dress" (TLC, 8 p.m.).
Planet markings and other conspiracy theories are advanced on "What On Earth?" (Science, 8 p.m.).
The wildlife of grasslands are observed on "Planet Earth II" (BBC America, 9 p.m.).
A blue penguin is born on "The Zoo" (Animal Planet, 10 p.m.).
"Detroit Steel" (History, 10 p.m.) ends its first season with a 1956 Bel Air station wagon.
Madisonville, Ky., is the setting of "Murder Comes to Town" (Investigation Discovery, 10 p.m.).
RJ tries to pass his drivers test on "For Peete's Sake" (OWN, 10 p.m.).
Paranormal activity in Sedona, Arizona is investigated on "The Dead Files" (Travel, 10 p.m.).
Pets left homeless following floods get help from "Dr. Jeff: Rocky Mountain Vet" (Animal Planet, 9 p.m.).
The NCAA men's basketball tournament moves into second round play with Mississippi at Syracuse (ESPN, noon), Notre Dame vs. West Virginia (CBS, noon), Wisconsin vs. Villanova (CBS, 2:30 p.m.), Northwestern vs. Gonzaga (CBS, 5 p.m.), Xavier vs. Florida State (TNT, 6 p.m.), Middle Tennessee vs. Butler (TBS, 7 p.m.), St. Mary's vs. Arizona (CBS, 7:30 p.m.), Virginia vs. Florida (TNT, 8:30 p.m.) and Iowa State vs. Purdue (TBS, 8:30 p.m.).
It's still the first round in the NCAA women's basketball tournament, though, with Albany at Connecticut (ESPN2, 11 a.m.) the only game getting full attention. Other coverage shifts amid games at 1:30, 4, 6:30 and 9 p.m.
NBA action includes Cleveland at Clippers (ABC, 8:30 p.m.).
Hockey includes Rangers at Minnesota (NHL, 7 p.m.).
Second round play in the world Baseball Classic includes Puerto Rico vs. Venezuela (MLB, 3:30 p.m.) and U.S. vs. Dominican Republic (MLB, 10 p.m.).
In golf, its the third round of the Arnold Palmer Invitational (Golf, 12:30 p.m.; NBC, 2:30 p.m.).
Eric Church performs on a 2014 edition of "Austin City Limits" (PBS, 11 p.m.).
No Angela Merkel skits this week: "Saturday Night Live" (NBC, 11:30 p.m.) is a replay of the Casey Affleck hosted episode last year, with Chance the Rapper as musical guest.