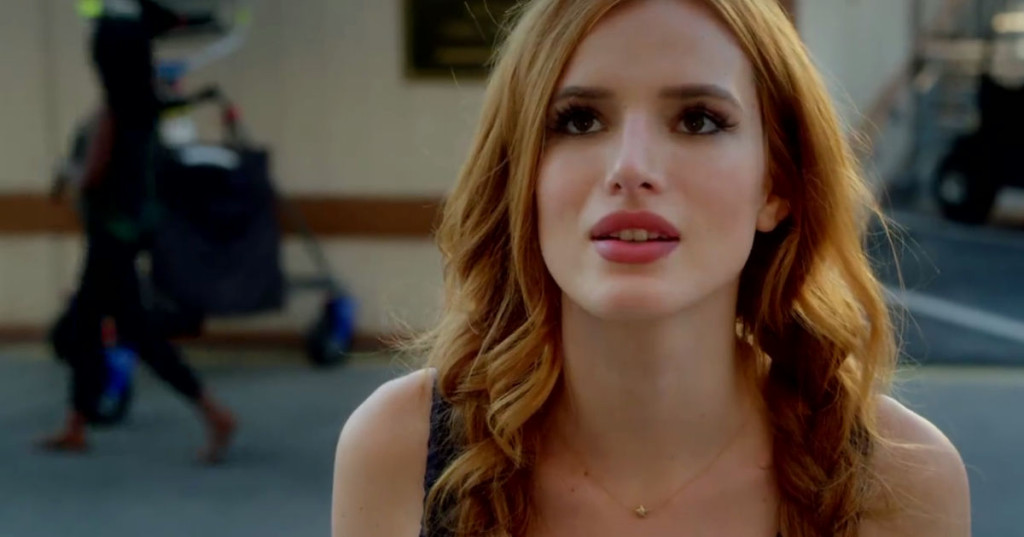 Bella Thorne, from "Shake It Up!" and "Big Love" stars as a college student and occasional actress who shoots to fame after she is discovered by the biggest star of the day, played by Carter Jenkins in the new series "Famous in Love" (Freeform, 9 p.m.). Except for the lack of a Scientology-like religion, it starts almost exactly like E's "The Arrangement." This may be an indication of how few prescribed aspirational roles for young women on soapy romances; the road to fame and flashy dresses may be a narrow one. But those who like it can mov ahead fast — all 10 episodes of season one are streaming on the network website.
"Famous in Love" is from the makers of "Pretty Little Liars" (Freeform, 8 p.m.) which is presenting the first of its final 10 episodes of season seven that will end the series. You can binge it too, but only episodes from the first half of the season, starting today at 11 a.m.
The first of three documentaries this week noting the anniversary of the uprisings that followed the Rodney King trial comes tonight,  "L.A. Burning: The Riots 25 years Later" (A&E, 9 p.m.), executive produced by John Singleton and directed by Erik Parker and One9, whose previous film was "Nas: Time is Illmatic." On April 29, 1992, a jury acquitted officers charged with beating Rodney King, which was widely seen after it was caught on videotape — the precursor to today's cell cameras.
A new "Frontline" (PBS, 9 p.m.) looks at the effects of solitary confinement at one unit of the Maine State Prison, which is trying to scale back on the practice that some compare to torture. More than 80,000 prisoners are believed to be currently kept in solitary.
Another prison story, about a man on death row for the murder of an Oklahoma motel manager who claims his innocence, "Killing Richard Glossip" (Investigation Discovery, 9 p.m.), ends its two night run with a two hour episode.
A new documentary series, "Cooper's Treasure" (Discovery, 10 p.m.) has a fascinating lineage: It follows up on the sunken ships that astronaut Gordon Cooper said he saw from space in 1963.
A new comedian scores his own weekly show, concentrating on internet controversies, "Problematic with Moshe Kasher" (Comedy Central, 10 p.m.).
"Trial & Error" (NBC, 10 p.m.), the nifty mockumentary on true crime films, ends its season by putting Larry on the stand and at 10:30 p.m. announcing the verdict.
A second season starts for "Team Ninja Warrior" (USA, 10 p.m.).
The parents on "Fresh Off the Boat" (ABC, 9 p.m.) want to make their sons the next Tiger Woods.
"Brooklyn Nine-Nine" (Fox, 8 p.m.) investigates a burglary at their favorite detective show.
Like you, "Chopped Junior" (Food, 8 p.m.) deals with leftovers.
A Marine's murder is liked to his dirt bike gang on "NCIS" (CBS, 8 p.m.).
On "The Middle" (ABC, 8 p.m.), Axl shops for suits for his upcoming interviews.
Playoffs continue on "The Voice" (NBC, 8 p.m.).
Stan overplays his hand at the FBI on "The Americans" (FX, 10 p.m.).
The road trip speeds up on "The Detour" (TBS, 10 p.m.), with Robin and Nate speeding from New York to Florida to pick up the kids.
It's a big deal on "American Housewife" (ABC, 8:30 p.m.) that a daughter wants to walk to the library by herself.
"Bizarre Foods: Delicious Destinations" (Travel, 9 p.m.) goes to Asheville N.C. for barbecue. A second episode at 9:30 goes to Buffalo, for wings of course.
"Stranded with a Million Dollars" (MTV, 10 p.m.) nears its end.
On "Bull" (CBS, 9 p.m.), another attorney is on trial for his finance's murder.
Fitz's turn is explained on "Marvel's Agents of S.H.I.E.L.D." (ABC, 10 p.m.).
The mayor is wiretapped on "NCIS: New Orleans" (CBS, 10 p.m.).
One of the final appearances of Alan Thicke may come on "Chopped" (Food, 10 p.m.).
Warming waters cause problems for crab fishermen on "Deadliest Catch" (Discovery, 9 p.m.).
The final four on "Face Off" (Syfy, 9 p.m.) make gargoyles. On "Cosplay Melee" (Syfy, 10 p.m.), it's vigilante superheroes.
T-Bag ambushes Sara on "Prison Break" (Fox, 9 p.m.).
The reunion on "The Real Housewives of Beverly Hills" (Bravo, 9 p.m.) drags on.
Liv gets in the mind of a lifestyle guru on "iZombie" (The CW, 9 p.m.).
Andy looks for a prom date on "Imaginary Mary" (ABC, 9:30 p.m.).
Turner Classic Movies' focus on character actors continues with Ward Bond in "Gentleman Jim" (8 p.m.), Frank Morgan in "The Human Comedy" (10 p.m.), Charles Bickford in "The Song of Bernadette" (12:15 a.m.) and Edward Arnold in "Janie" (3:15 a.m.).
First round NBA Playoff games include Milwaukee at Toronto (NBA, 7 p.m.), Chicago at Boston (TNT, 8 p.m.) and Utah at Clippers (TNT, 10:30 p.m.).
In the Stanley Cup Playoffs first round, it's Montreal at Rangers (NBC Sports, 7 p.m.), Pittsburgh at Columbus (CNBC, 7:30 p.m.) and Edmonton at San Jose (NBC Sports, 10 p.m.).
Daytime Talk
Kelly Ripa: Kristin Chenoweth, Renee Elise Goldsberry, Jussie Smollett. The View: Charlamagne Tha God. Harry Connick: Jax, Robin Lord Taylor. Ellen DeGeneres: Carson Daly, Rob Delaney, Spoon. Wendy Williams: Nature Laughton, Monte Durham. The Real: Iyanla Vanzant, Angela Yee.
Late Talk
Stephen Colbert: Alec Baldwin, Charlamagne Tha God, Moshe Kasher, Taj Mahal and Keb Mo. Jimmy Kimmel: Katherine Heigl, Rob Delaney, Dreamcar. Jimmy Fallon: Kevin Spacey, Sen. Elizabeth Warren, Alt-J. Seth Meyers: Dax Shepard, Hannah Simone, Hey Violet, Charlie Benante (rerun). James Corden: Shania Twain, Tyrese Gibson, Whitney Cummings, Bastille. Carson Daly: Adam Pally, Froth, Fahim Anwar (rerun). Trevor Noah: Rep. Adam Schiff. Conan O'Brien: Christina Applegate, Sherri Sheherd, Car Seat Headrest.