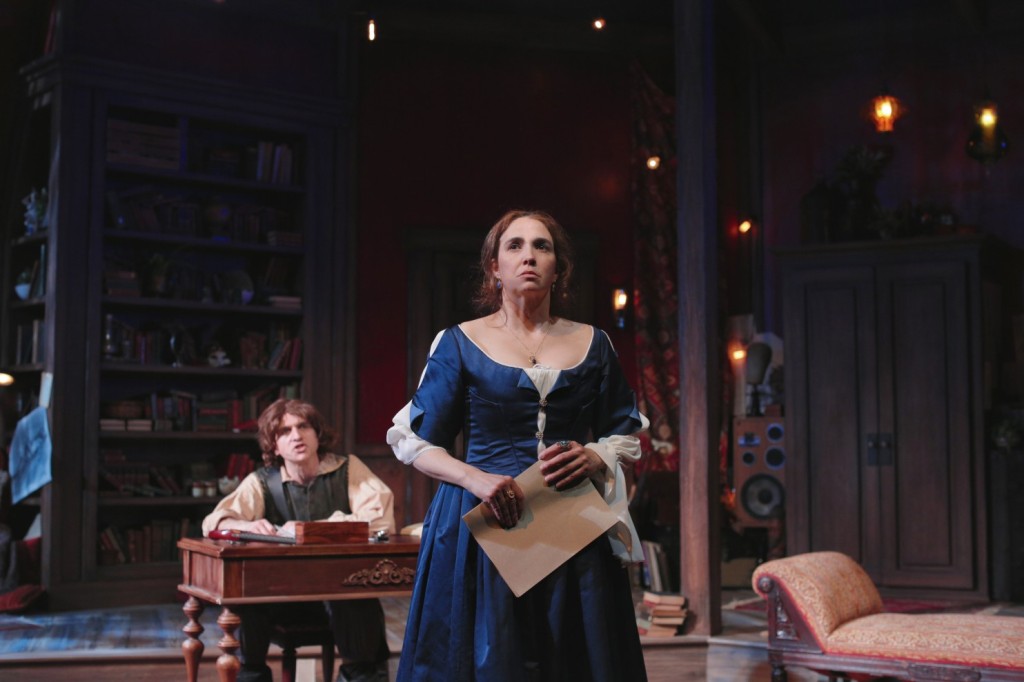 Holly Twyford has a wonderfully blank expression she uses when taking in the madness all around her. She's also very expressive when setting quill to paper in the rare wordless scene of "Or," at the Round House Theatre in Bethesda.
While busy with her pen, she chuckles at a witticism, begins to weep at a sorrowful part and pumps her fist at a powerful passage. That kind of passion is what embodies the early English playwright Aphra Behn, who is at the center of Liz Duffy Adams' clever play. It also provides a rare solace from the words that flood out from her and her two fellow cast mates in a play directed by Aaron Posner that only gets more frantic as it speeds along.
What begins as a musing on life of a rare writer at the dawn of the Restoration, where eloquent characters finish each other's sentences in couplet rhymes, eventually crashes headlong into door-slamming farce as the two other busy cast members Gregory Linington and Erin Weaver rush on and off stage in six different roles among them.
Slam! One ex-lover played by Linington hides in a closet as the current lover, King Charles II of England, also Linington, enters in a flourish the seeming next second.
Weaver's free-spirited actress Nell Gwynne slams her own door into a bedroom of adventure and out comes a dowdy helper woman in another door – or the comically high born benefactor of a play (in equally high platform boots).
As this accelerates in a how-do-they-do-it style, what's left of the literate musing of a female playwright begins to get lost in the increasing chaos of what is essentially a peek-a-boo trick. And while it delights a good part of the audience today as much it did when they were infants, it saps a bit of the play's ambition.
But already Adams' play has not quite been an accurate portrait of Behn, who had an admittedly fascinating life first as a spy, then an inmate in debtor's prison (where we first find her in the play) and then as a celebrated writer – the first woman to earn her living doing so in the 17th century.
While much of her talk is florid and rhyming in the play, she's also given to some modernist vulgarities, which you might at first attribute to Posner, who has added such things to Chekov in his own adaptations such as "Stupid @#$ing Bird." But no, a blurring of time is part of the intent, just as in Paige Hathaway's scenic design – one that look like a 1960s crash pad with big speakers among the books and rock show posters on the wall.
The idea is that boundaries are crashing and liberty is nigh, a heady feeling that also came around in the '60s (though in the 1660s, the government still controlled the theaters, allowing them to reopen). What lines that could be applied to a more repressive regime were emphasized, but "Or," wasn't meant to be that precisely timely.
For D.C. theatergoers, the production is kind of a celebration of these actors, who have appeared in something nearing 100 shows among them (as actors they've been popping up on regional stages as often as their newly costumed characters do in "Or,"). Twyford and Linington just came off playing George and Martha in Ford's "Who's Afraid of Virginia Wolf?" Now they share a real chemistry and seem relieved to not be at each other's throat tooth and nail (though they still are at each other's throat romantically).
Weaver, a familiar sprite on stages who also happens to be Posner's wife, has a lot of fun in each of her roles, though by the third, she's stressing the difference of her accent and cadence so much to differentiate it from the others that it approaches more impersonation than embodiment.
"Or," is kind of an high point for all manner of D.C. theater makers, including Kendra Rai, whose costumes not only had to look elegant but practical enough to be changed at a ridiculous pace.
Presenting it all in 90 minutes without an intermission seems intended in part to keep up the pace, but it's also a ploy to keep everyone in their seats without the possibility of considering their own "Or,"
"Or," runs through May 7 at Round House Theatre, Bethesda, MD.