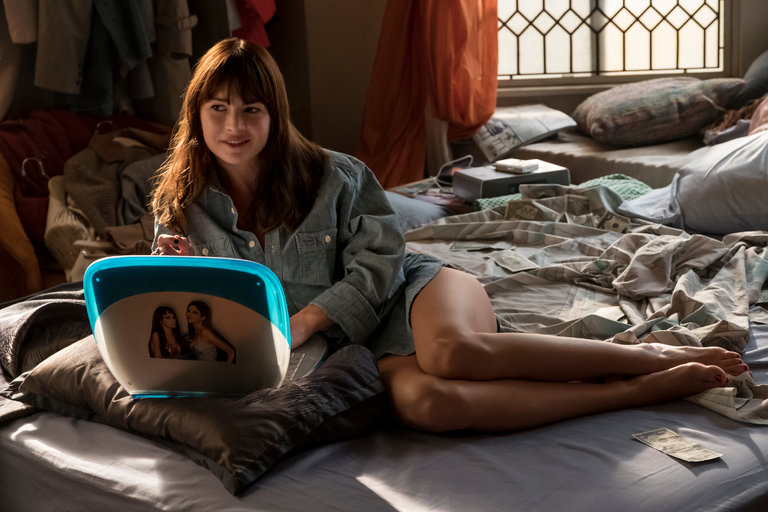 Britt Robertson takes the role of a fictionalized Sophia Amoruso, who rose from the streets to become "Girlboss" (Netflix, streaming) in a new series produced by Charlize Theron, building the online Nasty Girl fashion empire. Initially, at least, it shows how hard it is to come up with something as good as "Girls."
Also new online is the Mr. Science of the 21st century in "Bill Nye Saves the World" (Netflix, streaming) in which he tries to defend scientific fact over climate deniers and flat earthers. The 13-episode talk show involves some celebrity guests including Joel McHale, Tim Gunn, Alton Brown and correspondent Karlie Kloss.
Rashida Jones and her team provide a sequel of sorts to their 2015 documentary of novices finding their way into the porn industry, "Hot Girls Wanted" into a series about the fallout of porn on a six-part series with the overly-charged title "Hot Girls Wanted: Turned On" (Netflix, streaming).
One of the more incendiary documentaries on the occasion of the 25th anniversary of the Los Angeles riots is "Burn Motherfucker, Burn!" (Showtime, 9 p.m.).
A third season starts for the strong adaptation of Michael Connelly detective novels, "Bosch" (Amazon, streaming). Titus Wulliver returns as the noir cop looking into the death of a homeless veteran, the suicide of a suspected serial killer and the murder trial of a Hollywood director this time around, complicated by the fact his teenage daughter (Madison Lintz) is living with him.
Somebody brings a list of dealbreakers on one of the "First Dates" (NBC, 8 p.m.).
Meghan Trainor is a guest judge on "RuPaul's Drag Race" (VH1, 8 p.m.).
Caitlyn Jenner returns to talk to Diane Sawyer on "20/20" (ABC, 10 p.m.), so there must be a new book out.
"Dateline" (NBC, 9 p.m.) can't quite let go of the Laci Peterson case from 15 years ago.
"Yukon Men" (Discovery, 9 p.m.) returns for a seventh season.
The custom aquarium-makers on "Tanked" (Animal Planet, 10 p.m.) return for a 12th season.
S.E. Cup, David Miliband, Seth Moulton, Arwa Damon and Hanna Rosin visit a new "Real Time with Bill Maher" (HBO, 10 p.m.).
As of tonight, Washington Post reporter Robert Costa becomes the eighth permanent moderator for "Washington Week" (PBS, 8 p.m. check local listings), succeeding the late Gwen Ifill.
Turner Classic Movies' month-long Friday night focus on post-war melodrama continues with "An Affair to Remember" (8 p.m.), "Brief Encounter" (10:15 p.m.), "Humoresque" (midnight), "Autumn Leaves" (2:15 a.m.) and "Queen Bee" (4:15 a.m.).
During the day it's all about Torchy Blane with eight of the nine of the 1930s detective movies (mostly) starring Glenda Farrell, as the influential female reporter who was a model for Lois Lane:  "Smart Blonde" (6 a.m.), "Fly Away Baby" (7:15 a.m.), "The Adventurous Blonde" (8:30 a.m.), "Blondes at Work" (9:45 a.m.), "Torchy Blane in Panama" (11 a.m.), "Torchy Blane in Chinatown" (1:30 p.m.), "Torchy Runs for Mayor" (2:30 p.m.). The one missing is the final one, "Torchy Blane … Playing with Dynamite" which had Jane Wyman in the title role. Lola Lane played lead in "Torchy Blane in Panama" (and that actress name influenced the creation of Lois Lane as well).
NBA Playoff games today have Boston at Chicago (ESPN, 7 p.m.), Houston at Oklahoma City (ESPN, 9:30 p.m.) and Clippers at Utah (ESPN2, 10 p.m.).
Stanley Cup Playoffs have Toronto at Washington (NBC Sports, 7 p.m.).
Baseball includes Cubs at Cincinnati (MLB, 7 p.m.).
Daytime Talk
Kelly Ripa: Rosario Dawson, Rick Schwartz, Zara Larsson, Clean Bandit, Van Jones. The View: Cynthia Nixon. The Talk: Octavia Spencer, Chris Evans, Rocky Carroll. Harry Connick: Kurt Russell, McKenna Grace, Bobbi Brown. Ellen DeGeneres: Jessica Lange, Gina Rodriguez. Wendy Williams: Bobbi Brown. The Real: Monica Barbaro, Angela Yee.
Late Talk
Stephen Colbert: Rosario Dawson, Renee Elise Goldsberry, Moshe Kasher. Jimmy Kimmel: John Stamos, Bob Saget, Tim Robinson, Snakehips & Mo (rerun). Jimmy Fallon: Salma Hayek, W. Kamau Bell, Barry Manilow. Seth Meyers: Chris Evans, Mandy Patinkin, Michelle Branch, Jonathan Mover (rerun). James Corden: Patrick Stewart, Rupert Grint, Dan Stevens, New Kids on the Block (rerun). Carson Daly: Lamorne Morris, Jeff Rosenstock, Split Single, Jane Marie (rerun).