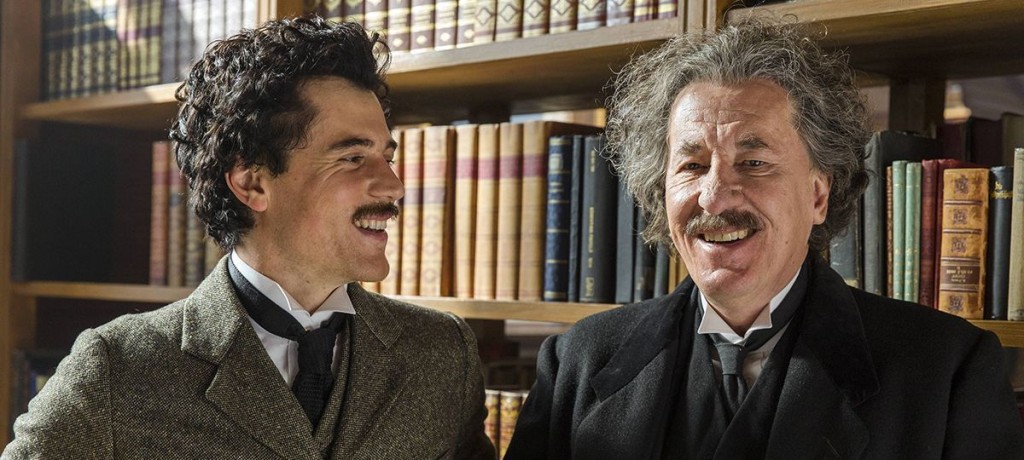 Geoffrey Rush seems just the right guy to play the elder Albert Einstein in the new 10-episode miniseries "Genius" (National Geographic, 9 p.m.); impetuous and mercurial, he looks like he'll stick his tongue out at any moment. But in telling the story, Ron Howard and Brian Grazer, who gave Nat Geo it's last big budget scripted drama, "Mars," have to flash back to young Einstein, played with similar verve by Johnny Flynn. While staying true to its biographical intent, it has glossy look of a Hollywood attempt.
On the new sitcom "Great News" (NBC, 9 and 9:30 p.m.), Briga Heelan plays a cable news producer looking for a break, but is shocked that the network has hired her own meddling, well-meaning mother as an intern. That the actress playing the mom is finally getting her sitcom co-starring role may be the bigger news – Andrea Martin of "SCTV" fame has been worthy of it for decades. It's mildly amusing enough as it begins, though you'd expect something sharper from "30 Rock" writer Tracey Winfield. Her "30 Rock" colleagues Tina Fey and Robert Carlock are executive producers, but the show has lest of their rapid-fire feel. The cast includes John Michael Higgins, Nicole Richie and Horatio Sanz.
I can tell you it's better than "Imaginary Mary" (ABC, 9:30 p.m.).
It sounds like a mash-up of popular shows, but "48 Hours: NCIS" (CBS, 9 p.m.) is a six-part investigative series about the murder of two Navy petty officers 50 years ago in Virginia Beach. It's narrated by Rock Carroll of "NCIS."
On "Frontline" (PBS, 10 p.m., check local listings), Paul Greenberg pledges to eat fish at every meal for a year.
The final four episodes of "Through the Wormhole with Morgan Freeman" (Science, 10 p.m.) starts with one with commercial opportunity: a salute to "Star Wars."
Margo Martindale returns to "The Americans" (FX, 10 p.m.).
The three finalists on "Face Off" (Syfy, 9 p.m.) are charged with creating Kung Fu animal warriors on tonight's finale and one of them is chosen as season 11 winner.
It's the finale, too, on the celebrity version of "Chopped" (Food, 10 p.m.) and "Stranded with a Million Dollars" (MTV, 10 p.m.).
Looks like the last episode ever for "Outsiders" (WGN America, 9 p.m.), which hasn't been renewed after its two seasons.
In what may be their last case as partners, Jake and Charles go after a bike thief on "Brooklyn Nine-Nine" (Fox, 8 p.m.).
Kids on "Chopped Junior" (Food, 8 p.m.) deep fry stuff.
Good to see the "Pretty Little Liars" (Freeform, 8 p.m.), in their seventh season, no longer get along with teenagers.
Barry time travels to 2024 on "The Flash" (The CW, 8 p.m.).
A results show on "The Voice" (NBC, 8 p.m.) trims the Top 12.
Sabrina considers breast implants on "The Mick" (Fox, 8:30 p.m.).
It's toxic flames and rising sea temperatures on "Deadliest Catch" (Discovery, 9 p.m.).
Instead of a series on the connections of the current administration with Russia, here's one about Lee Harvey Oswald's Russian connections, "JFK Declassified: Tracking Oswald" (History, 10 p.m.), based on a declassified CIA document.
"The Detour" (TBS, 10 and 10:30 p.m.) has its second season finale with two episodes.
Mary holds runway auditions for a London fashion show on "Little Women: L.A." (Lifetime, 9 p.m.).
It's only episode four and Michael is attempting his "Prison Break" (Fox, 9 p.m.).
The three-part reunion on "The Real Housewives of Beverly Hills" (Bravo, 9 p.m.) finally ends.
Liv turns into a gossip on "iZombie" (The CW, 9 p.m.).
Paige tries to tell her parents about her big break on "Famous in Love" (Freeform, 9 p.m.).
"Bizarre Foods: Delicious Destinations" (Travel, 9:30 p.m.) goes to Milan.
The rig breaks down on "Chicago Fire" (NBC, 10 p.m.).
Creators on "Cosplay Melee" (Syfy, 10 p.m.) are inspired by anime.
Turner Classic Movies' salute to character actors continues with Thomas Mitchell in "The Fighting Sullivans" (8 p.m.), Victor Morgan in "A Kiss in the Dark" (10:15 p.m.), Walter Brennan in "The Green Promise" (midnight) and S.Z. Sakall in "Tea for Two" (1:45 a.m.).
NBA Playoffs have Oklahoma City at Houston (TNT, 8 p.m.), Memphis at San Antonio (NBA, 9 p.m.) and Utah at Clippers (TNT, 10:30 p.m.).
Daytime Talk
Kelly Ripa: Caitlyn Jenner, Andrew Zimmern, John Leguizamo. The View: Gov. Kasich, Kelly Osbourne. The Talk: Taye Diggs, Kevin Frazier, Erika Sargent. Harry Connick: Jane Seymour, Mack Wilds. Ellen DeGeneres: Vin Diesel, Jenna Dewan Tatum, Mary J. Blige. Wendy Williams: Dule Hill, Peter Engel. The Real: Sherri Shepherd, Ta'Rhonda Jones.
Late Talk
Stephen Colbert: John Legend, Kelly Osbourne, Dr. John. Jimmy Kimmel: Chris Evans, Amanda Peet, Mastodon (rerun). Jimmy Fallon: John Oliver, Patton Oswalt, James Arthur. Seth Meyers: Caitlyn Jenner, Buzz Kissinger, Nick Frost, Lucius. James Corden: Amanda Peet, Kal Penn, Max Minghella, Kaleo. Carson Daly: Sanaa Lathan, Tennis System, Reid Scott. Trevor Noah: Charlamagne Tha God. Conan O'Brien: Hank Azaria, Vir Das.