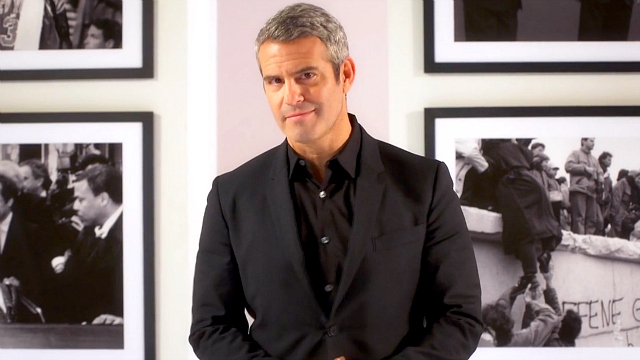 Mathematically it was 20 years ago, but 1997 doesn't seem that long ago. Still there was enough there for nostalgia and cable's ubiquitous host mines it on the season premiere "Andy Cohen's Then & Now" (Bravo, 10 p.m.). The Master of the Minor Celebrity doesn't dwell on big issues. Instead he'll bring in a raft of second tier stars and "Real Housewives" faces he wishes were second tier level to reminisce on their first crushes — mostly people he couldn't get on the show.
Man-eating plants are covered in the first of the two part "Plants Behaving Badly" (PBS, 10 p.m., check local listings).
The clocked is turned back to 1975 and then Gloria travels to Los Angeles to find info about her stepfather on a relatively snow-free "Fargo" (ABC, 10 p.m.) that includes cameos from Ray Wise and Rob McElhenney.
Direct from the White House Correspondent's Dinner, Hasan Minaj does Snoop Dogg on "The Comedy Jam" (Comedy Central, 10 p.m.), His fellow "Daily Show" correspondent Roy Wood Jr. does BTO; Mary Lynn Rajskub does Radiohead's "Creep."
"Designated Survivor" (ABC, 10 p.m.) plans for his first international summit, which is more than you can say for our actual President.
Are you watching "Nobodies?" (TVLand, 10 p.m.)? With Melissa looking iffy, the team goes after Kristen Bell to star in their movie.
An eye on a spy dolphin, spy nautilus and spy turtle on "Nature" (PBS, 8 p.m.) may bring to mind the old Mike Nichols movie "The Day of the Dolphin."
The old TV movie "The Day After" freaks out Barry on "The Goldbergs" (ABC, 8 p.m.).
Angelo's relationship with Cookie turns toxic on "Empire" (Fox, 9 p.m.).
Gender equality is the issue on "Modern Family" (ABC, 9 p.m.).
It's prom night on "Speechless" (ABC, 8:30 p.m.).
Conflicting stories muddle the district attorney's case on "Shots Fired" (Fox, 8 p.m.).
Rhonda Rousey gets to show off some fighting skills in her guest appearance on "Blindspot" (NBC, 8 p.m.).
James Waterston guest stars as a congressman under accusation on "Law & Order: Special Victims Unit" (NBC, 9 p.m.).
Trust becomes an issue on "Survivor" (CBS, 8 p.m.).
Oliver an Felicity are trapped in a bunker on "Arrow" (The CW, 8 p.m.).
"Lopez" (TV Land, 10:30 p.m.) meets somebody at a home shopping channel.
Miss Kitty won't back down on the fifth season finale of "Black Ink Crew" (VH1,8 p.m.).
Reid is afraid his mother has been abducted on "Criminal Minds" (CBS, 9 p.m.).
The twins book a gig in Miami on "Little Women: Atlanta" (Lifetime, 9 p.m.). Amanda enters her first bodybuilding competition on "Little Women: Dallas" (Lifetime, 10 p.m.).
On "The 100" (The CW, 9 p.m.), Octavia fights in a battle for her people's survival.
They're still campaigning in the last presidential election on "The Real Housewives of New York City" (Bravo, 9 p.m.).
Nicole retires the Rack Attack on "Total Divas" (E!, 9 p.m.).
Zoey goes to college orientation on "Blackish" (ABC, 9:30 p.m.).
A spate of robberies has a surprising suspect on "Chicago P.D." (NBC,10 p.m.).
"Criminal Minds: Beyond Borders" (CBS, 10 p.m.) goes to Taipei.
"Billy the Exterminator" (A&E, 10 p.m.) rounds up some ostriches.
James Whitmore is the star on Turner Classic Movies tonight in "Face of Fire" (8 p.m.), "Black Like Me" (9:30 p.m.), "Mrs. O'Malley and Mr. Malone" (11:30 p.m.), "Because You're Mine" (1 a.m.), "Shadow in the Sky" (3 a.m.) and "The Next Voice You Hear…" (4:30 a.m.).
NBA Playoffs include Toronto at Cleveland (TNT, 7 p.m.) and Houston at San Antonio (TNT, 9:30 p.m.).
Stanley Cup Playoffs include Washington at Pittsburgh (NBC Sports, 7:30 p.m.) and Anaheim at Edmonton (NBC Sports, 10 p.m.).
Baseball includes Toronto at Yankees (ESPN, 7 p.m.) and San Francisco at Dodgers (MLB, 10 p.m.).
Daytime Talk
Kelly and Ryan: Zoe Saldana, Jeff Garlin. The View: Dr. Drew Pinsky. The Talk: Barry Manilow, Big Boy. Harry Connick: Lilly Singh. Ellen DeGeneres: Alec Baldwin, Taylor Schilling. Wendy Williams: Sanaa Lattan. The Real: Dr. Mehmet Oz, Joseline Hernandez.
Late Talk
Stephen Colbert: Jim Parsons, Jeff Garlin, Paul Scheer. Jimmy Kimmel: George Lopez, Future, Anthony Anderson. Jimmy Fallon: Kaley Cuoco, Horatio Sanz, LP. Seth Meyers: Chriss Pratt, Beth Behrs, Shane Smith, Josh Dion. James Corden: Jane Fonda, Lily Tomlin, Taylor Schilling, Ryan Adams. Carson Daly: Elisabeth Moss, Tiger Army, Lauren Ash. Trevor Noah: Michael Bloomberg, Carl Pope, Sanaa Lathan. Conan O'Brien: Kurt Russell, Ron Funches, Chicano Batman.