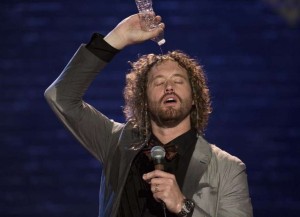 Just before his Erlich Bachman character bids farewell on "Silcon Valley," the network gives a suitable launch to the comedian with his own stand up comedy special, "T.J. Miller: Meticulously Ridiculous" (HBO, 10 p.m.), taped in Denver. From its repeated use of water stunts in the promos, a little on the Gallagher side. Here's an interview I did with him a couple of years ago for the Washington Post.
The fourth season of "Turn: Washington's Spies" (AMC, 9 p.m.) begins in a Saturday night slot with Benedict Arnold rounding up spies in New York.
"Doctor Who" (BBC America, 9 p.m.) fights literal darkness.
Rachel gives Sarah an ultimatum on "Orphan Black" (BBC America, 10 p.m.).
"The Conjuring 2" (HBO, 7:45 p.m.), with Patrick Wilson and Vera Farmiga,in makes its premium cable debut, as does "Inferno" (Starz, 8 p.m.)with Tom Hanks and Felicity Jones.
"Nanny Nightmare" (Lifetime Movie Network, 8 p.m.) sounds like any number of recent Lifetime movies lately: A mother hires a nanny who is suspicious and ultimately threatening. With Brady Smith, Erin Cahill and Jake Manley. It's part of "Daddy Issues Saturday," the network says (a Father's Day tie-in, no doubt).
The made for TV romance "The Wedding March 2: Resorting to Love" (Hallmark, 9 p.m.), which brings back Jack Wagner and Josie Bissett, is at least forthcoming about its recycled storyline.
Adam and Jamie return to duct tape on "MythBusters" (Discovery, 8 p.m.).
Two boys are buried alive in their snow fort on "20/20: In an Instant" (ABC, 9 p.m.).
"Ghost Adventures" (Travel, 9 p.m.) goes to Skinwalker Canyon.
With "Say Yes to the Dress" (TLC, 8 p.m.) now stretching to three hours, you could be concerned that they're deadlocked.
"My Cat from Hell" (Animal Planet, 8 p.m.) includes a blind cat.
All four episodes of "The Putin Interviews" (Showtime, 8 p.m.) show back to back, if you want to have that kind of Saturday night.
"Autopsy: The Last Hours of" (Reelz, 9 p.m.) looks at the death of Bernie Mac.
"Idiotsitter" (Comedy Central, 8 p.m.), which only started its second season last week, ends it this week with three consecutive episodes.
Anthony Joshua, Rachel Weisz and Shawn Mendes are on a new episode of "The Graham Norton Show" (BBC America, 11 p.m.).
"The Big Sleep" (TCM, 8 p.m.) gets another showing, but what may be more interesting than the Bogart-Bacall classic may be Alec Baldwin and David Letterman talking about it beforehand. It's part of Turner Classic Movies' "The Essentials" series and is paired with two other Raymond Chandler stories of the detective Philip Marlowe — "Marlowe" (10:15 p.m.) with James Garner and "Lady in the Lake" (midnight) with Robert Montgomery.
Then come the anarchic B-movies, "Punk Vacation" (TCM, 2 a.m.) and "Killer Party" (TCM, 3:45 a.m.).
Baseball includes White Sox at Toronto (MLB, 1 p.m.), Tampa Bay at Detroit (Fox Sports 1, 4:10 p.m.), and Cubs at Pittsburgh (Fox, 8:15 p.m.).
The College World Series begins in Omaha, with Cal State Fullerton vs. Oregon State (ESPN, 3 p.m.) and Florida State at LSU (ESPN, 8 p.m.). In golf, third round play happens in the U.S. Open (Fox, 11 a.m.).
James Bay and Rhiannon Giddens are on an "Austin City Limits" (PBS, 11 p.m., check local listings) from last year.
"Saturday Night Live" (NBC, 11:30 p.m.) is a rerun of when Scarlett Johansson hosted and Lorde was musical guest.