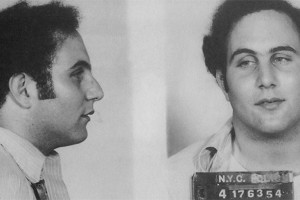 The 40th anniversary of the arrest of David Berkowitz, who killed six people and wounded seven in a1976 spree, brings another documentary, "Son of Sam: The Hunt for a Killer" (Investigation Discovery, 9 p.m.).
The New York serial killer was deceptive, Dr. Scott Bonn, who interviewed him in prison four years ago, told reporters at the TV Critics Association summer press tour recently.
"This transpired after two years of lengthy correspondence with him, and I felt I got to know him pretty well through the mail," Bonn said. "And then meeting him was it was shocking. The images that I had were this sullen young man, brooding young man who was terrorizing New York, and the David Berkowitz today looks almost like an elf, like a gnome like character with bulging red cheeks, and he came bounding in. He gave me a huge hug. He insisted that we pray together because he now calls himself Son of Hope. That's his new moniker."
Berkowitz didn't participate in the documentary, which runs two hours.
Elsewhere, the nation's capital is becoming some sort of comedy destination as well. The latest special originating there is "George Lopez: The Wall, Live from Washington, D.C." (HBO, 10 p.m.), taped at the Kennedy Center.
Jerry Jones, Morten Andersen, Terrell Davis, Kenny Easley, LaDanian Tomlinson, Jason Taylor and Kurt Warner are inducted in the Pro Football Hall of Fame Enshrinement Ceremony (ESPN, 7 p.m.).
On "Orphan Black" (BBC, 10 p.m.), word reaches Sarah that Helena has been kidnapped.
"Collateral Beauty" (HBO, 8:15 p.m.),with Will Smith, Kate Winslet, Keira Knightley and Helen Mirren,  makes its premium cable debut.
On the made for TV "Love at the Shore" (Hallmark, 9 p.m.), a single woman goes on vacation meets a surfer dude.  Amanda Righetti, Peter Porte and Steven J. Young star.
The animated "Big Hero 6" (ABC, 8 p.m.) gets a prime time broadcast slot. It plays opposite the original "Toy Story" (Disney XD, 7:18 p.m.).
On the first of two consecutive episodes of "Doubt" (CBS, 8 and 9 p.m.), Peter and Cam face the first crisis of their relationship.
A SWAT team is sent to bust the opioid dealers on "Gone: The Forgotten Women of Ohio" (Spike TV, 8:30 p.m.).
The crew on "Ghost Adventures" (Travel, 9 p.m.) visit the former Scientology lab in Los Angeles. "The Dead Files" (Travel, 10 p.m.) goes to Olympia, Wash.
George heads south to lay siege on Yorktown on "TURN: Washington's Spies" (AMC, 9 p.m.).
A second arctic hurricane hits on "Deadliest Catch" (Discovery, 9 p.m.).
"The Kitty Kelly Files" (Reelz, 10 p.m.) returns to one of her oldest subjects, Frank Sinatra.
Gene Kelly takes the spotlight all day on Turner Classic Movies with "Summer Stock" (7:30 a.m.), "The Pirate" (9:30 a.m.), "Brigadoon" (11:30 a.m.), "Take Me Out to the Ball Game" (1:30 p.m.), "The Three Musketeers" (3:15 p.m.), "Anchors Aweigh" (5:30 p.m.), "Singin' in the Rain" (8 p.m.), "Inherit the Wind" (10 p.m.), "On the Town" (12:30 a.m.), "It's Always Fair Weather" (2:15 a.m.) and "Cover Girl" (4 a.m.).
Baseball includes Washington at Cubs (MLB, 2 p.m.), Dodgers at Mets (Fox Sports 1, 4 p.m.), Yankees at Cleveland (MLB, 7 p.m.) and Arizona at San Francisco (MLB, 10 p.m.).
Golf has third round play in the Women's British Open (Golf, 7 a.m.; NBC, 11 a.m.) and the Bridgestone Invitational (CBS, 3 p.m.; Golf, 7 p.m.).
Beach Volleyball has its women's gold medal match (NBC, 2 p.m.; NBC Sports, 9 p.m.).
In cycling the Tour of Utah (Fox Sports 2, 8 p.m.) reaches stage 6.
Nick Cave & the Bad Seeds play a 2014 "Austin City Limits" (PBS, 11 p.m., check local listings).
The Emily Blunt-hosted "Saturday Night Live" (NBC, 11:30 p.m.) from last year, with Bruno Mars, is rerun.