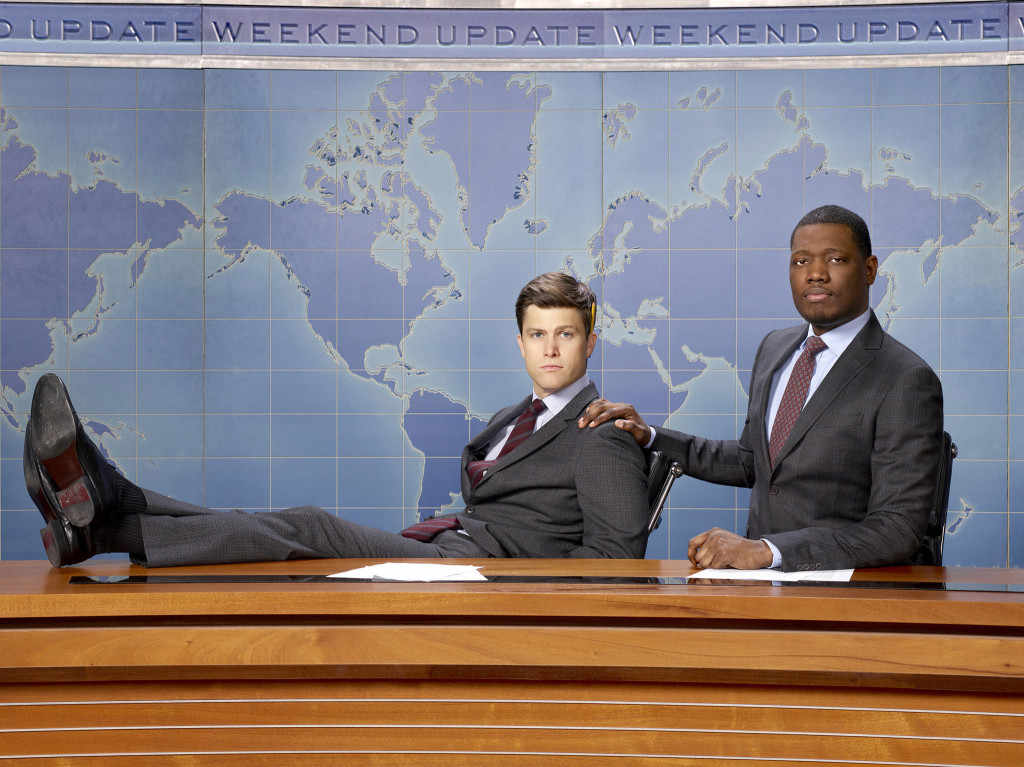 When they broke the summer hiatus of "Saturday Night Live" to do primetime Weekend Update shows last year, they had a whole Presidential election to cover. You'd almost expect them to skip it in a non-election year, except the news pace may be faster now than ever. And there's a lot for Colin Jost and Michael Che to catch up on in their "Saturday Night Live: Weekend Update Summer Edition" (NBC, 9 p.m.).
It's the first of their four half-hour prime time specials this season, but of course there's been some pretty consistent political humor on hand, from the regular late night hosts to John Oliver and Samantha Bee. And this week "The Daily Show with Trevor Noah" (Comedy Central, 11 p.m.) has been recombining their recent coverage thematically. Tonight: How the news coverage has been.
The patients are often down to their last hope, the doctors counting on brand new processes. So what happens in an otherwise unassuming building on the National Institutes of Health in Bethesda is often miraculous. A new three part documentary, narrated by Jim Parsons, tells some of its inspiring story in "First in Human: The Trials in Building 10" (Discovery, 9 p.m.), even as its federal funding remains in question.
Preseason Thursday Night Football has Denver at Chicago (NFL, 8 p.m.).
The two-part, two night "The Story of Diana" (ABC, 9 p.m.) concludes with the abrupt end of her young life 20 years ago.
"Nashville" (CMT, 9 p.m.) reaches its fifth season finale — its second on cable and its first without Connie Britton. In it, Deacon and the artists at Highway 65 take a stand.
They sing songs by female artists on "Boy Band" (ABC, 8 p.m.).
Tim Gunn introduces the 16 contestants for the 16th season of "Project Runway" (Lifetime, 8 p.m.).
After another eviction, there's a competition for head of household on "Big Brother" (CBS, 9 p.m.).
Teresa competes with James for Camila's trust on "Queen of the South" (USA, 10 p.m.).
"Date Night Live" (Lifetime, 9 p.m.) is better than the opposite. And maybe better than "Love Connection" (Fox, 9 p.m.).
Nathalie gains influence on "The Mist" (Spike TV, 10 p.m.).
A number of veterans are injured and brought to the hospital on "The Night Shift" (NBC, 10 p.m.).
Temperatures turn freezing on "Alone" (History, 10 p.m.).
Phyllis and her husband go on an awkward weekend retreat on "The Guest Book" (TBS, 10:30 p.m.).
A rescue mission is launched on "Zoo" (CBS, 10 p.m.).
Sidney Potier gets the spotlight on Turner Classic Movies all day with "Brother John" (6 a.m.), "A Warm December" (8 a.m.), "Good-Bye, My Lady" (10 a.m.), "Edge of the City" (noon), "Something of Value" (2 p.m.), "Buck and the Preacher" (4 p.m.), "A Patch of Blue" (6 p.m.), "To Sir, With Love" (8 p.m.), "The Defiant Ones" (10 p.m.), "In the Heat of the Night" (midnight), "The Bedford Incident" (2 a.m.) and "Cry, the Beloved Country" (4 a.m.).
Baseball includes Kansas City at St. Louis (MLB, 7 p.m.) and Dodgers at Arizona (MLB, 10 p.m.).
In WNBA action, it's Phoenix at Dallas (ESPN2, 8 p.m.).
Golf begins first round play of the PGA Championship (TNT, 1 p.m.).
In Little League play, it's Johnson, Iowa vs. Kearney, Neb. (ESPN, 11 a.m.) in a Midwest semifinal, Essex Junction, Vt. vs. South Portland, Maine (ESPN, 1 p.m.) in a New England semifinal and Walla Walla, Wash. vs. La Grande, Ore. (ESPN, 3 p.m.) in a Northwest semifinal, Lexington, Ky. vs. Grosse Point, Mich. (ESPN, 5:30 p.m.) in a Great Lakes semifinal, and Rancho Santa Margarita, Calif., vs. Hilo, Hawaii (ESPN, 9 p.m.) in a West semifinal.
And the IAAF World championships (NBC Sports, 2 p.m.) continue in track and field.
Daytime Talk
Kelly Ripa and Ryan Seacrest: Anthony Anderson, Bebe Rexha, Randy Jackson. The View: Kerry Washington, Newt Gingrich (rerun). The Talk: Topher Grace, Kit Hoover (rerun). Harry Connick: Danny Seo, Peter Krause, Maddie Ziegler (rerun). Ellen DeGeneres: Jennifer Lawrence, Chris Pratt (rerun). Wendy Williams: Mario Batali, Matt Lanter (rerun). The Real: Justin Cornwell, NeNe Leakes (rerun).
Late Talk
Stephen Colbert: Millie Bobby Brown, Jim Jeffries, Zeshan B. Jimmy Kimmel: John Lithgow, Jay Baruchel, Diana Krall. Jimmy Fallon: Anthony Anderson, Terry Gross, Kesha. Seth Meyers: Howie Mandel, Sen. Tammy Duckworth, Aaron Schatz, Venzella Joy. James Corden: Aubrey Plaza, Jeremy Renner, Chris O'Dowd, Russ. Carson Daly: Jessica St. Clair, Lennon Parham, Tennis System, Londale Theus Jr. (rerun). Conan O'Brien: Bryan Cranston, Sebastian Maniscalco, Aimee Mann.