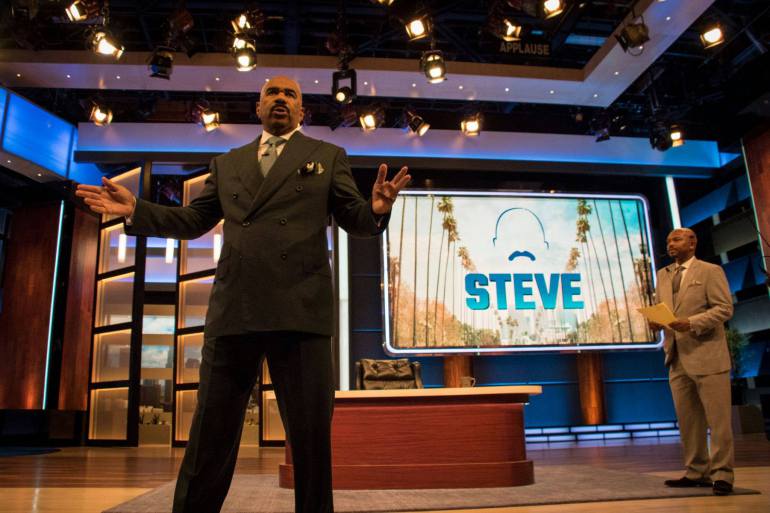 While prime time will dribble out its fall schedule over the next couple of months, many daytime shows start up immediately after Labor Day.
Such was the case last week for "The View," marking its 10th anniversary with Whoopi Goldberg, "Ellen DeGeneres," and for the debut of "Steve" (check local listings).
The Steve in this case was not Wilkos, whose crude punch-em-up show continues under the Jerry Springer and Maury mode. Instead, it's Steve Harvey, who is already seen on a handful of shows.
He's host on "Family Feud," the primetime "Little Big Shots" and its spinoff "Forever Young," the odd "Shark Tank"-like game show "Steve Harvey's Funderdome." An alumni of the Original Kings of Comedy, Harvey already had experience with a daytime talk show called "Steve Harvey" that originated in Chicago from 2012-2016 and had a lot of Harvey's brash advice to women that had been so successful in his books "Act Like a Lady" and "Think Like a Man."
The new "Steve," produced by NBC Television that debuted Tuesday has less of that kind of advice and more of the celebrity interviews and desk humor that are the staples of late night.
"I wanted to bring late night TV to daytime," he told reporters at the TV Critics Association summer press tour last month. "Nobody watches daytime for takeaway anymore… to find out how to become a coupon queen, and how to make your dresser look better with new knobs, and how to make linguine in a machine — nobody does that. They got YouTube now."
And so he came out on his set at Universal Studios Tuesday with a lot of familiar elements — a bit of a monologue, a bunch of business at the desk, some audience participation and eventually some celebrities.
He didn't seem entirely comfortable in his role — Harvey is at his best when he doesn't care at all, as in Family Feud. Nor was his material very strong.
He said calling this show "Steve" as well was a no brainer. "I always put my name on everything I do in case they fire me."
As for so many shows, he said, "Let me ask you a question. When's the last time you turned down a check?"
That was the punch line.
Frankly, he looked a little bored up there. When he looked at his watch after his first line, he wasn't so much clock-watching as admiring his jewelry.
The desk pieces weren't very inspired, though each had their own title card and theme. "Let Steve Sell It" had him creating offshoot items from what he saw as oddball products. The first was Cougar Lifestyle energy shots.
On "Harvey's Hundreds," he'd pick an audience member to play an old fashioned game of Concentration that involved pictures of Steve and his guests for the day.
Something called "Don't Try This at Home" was essentially Stupid Human Tricks. The audience chooses by applause who wins (nothing as it turns out).
His first guest was Chelsea Handler, who ironically used to tape her old talk show in the same studio. But she brought energy and some stories that Harvey did not on his first day.
His only questions to her: "Have you always been crazy?" and "Why are you single?"
It was Handler who brought up his embarrassing memo to his staff not to look him in the eye. Harvey himself brings up his other big gaffe, reading the wrong winner at the 2015 Miss Universe pageant.
Such as when he was commenting on the comically oversized furniture for his set. "I could have used a desk in that Miss Universe Pageant," he said. "I would have had something to hide behind."
Later in the week, Harvey had Jay Leno as lead guest — one who had stories, topical things even, and a gift for the host — the microphone Leno used when interviewing Barack Obama on The Tonight Show. Harvey sat dazed but made him bring a few of those Headlines to share for a bit.
Steve originates from L.A. to capitalize on the celebrity opportunities, but by Friday Harvey was already dragging out Charlie Sheen.
The celebrity pool for daytime looks like it will dry up like the jokes.