We're counting down each day's new offerings in the new broadcast TV season this week. And frankly, there doesn't seem to be too many of them on Tuesdays. But we'll do what we can. There seems there's more things planned on cable, streaming and whatever the Audience Network is (on DirecTV).
NEW SHOWS
"Law & Order True Crime: The Menendez Murders" (NBC, 10 p.m., starts tonight). Proof that cable sensibility is seeming into network plans is this true crime recreation of a lurid tabloid crime of the 80s. In, say, Ryan Murphy's hands, it may have been more frothy, with more commentary on the time period. But under Dick Wolf's dour "Law & Order" stamp, it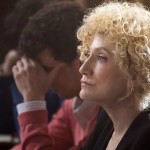 starts out quite dull, while jumping to self-defense rather abruptly. Edie Falco is so reliably good as bad-wigged defense attorney Leslie Abrasion, she seems out of place amid the bland cast. They even use the "Law & Order" ching-ching sound as if people wouldn't watch otherwise.
"Kevin (Probably) Saves the World" (ABC, 10 p.m., Oct. 3). Jason Ritter stars as a ne'er do well who is suddenly visited by some sort of celestial being (Kimberly Hebert Gregory) and told he'll be having a greater role in making the world a better place in a light drama that takes its spirituality even lighter (it's original title was "The Gospel of Kevin"). Like a lot of network flirtations with religious themes, it decides ultimately to avoid religion as much as possible. But there doesn't seem much to expect from the nebulous series from Tara Butters and Michele Fazekas ("Reaper," "Agent Carter").
RETURNING SHOWS 
"Lethal Weapon" (Fox, 8 p.m., returns today), "NCIS" (CBS, 8 p.m., today), "The Middle" (ABC, 8 p.m., Oct. 3), "Fresh Off the Boat" (ABC, 8:30 p.m., Oct. 3), "The Flash" (The CW, 8 p.m., Oct. 10) "This Is Us" (NBC, 9 p.m., today), "Bull" (CBS, 9 p.m., today), "The Mick" (Fox, 9 p.m., today), "Black-ish" (ABC, 9 p.m., Oct. 3), "DC's Legends of Tomorrow" (The CW, 9 p.m., Oct. 10), "Brooklyn Nine-Nine" (Fox, 9;30 p.m., today), "The Mayor" (ABC, 9:30 p.m., Oct. 3), "NCIS: New Orleans" (CBS, 10 p.m., today).
OF INTEREST ELSEWHERE
"American Horror Story: Cult" (FX, 10 p.m., started Sept. 5). The Trump era, the rise of killer clowns and other scary things come calling on a couple in suburban Detroit played by Sarah Paulson and Alison Pill. But it also has that insufferable kid Evan Peters.
"The Mindy Project" (Hulu, Sept. 12). The final season has her married off, but maybe not to the guy you would have expected.
"Hit the Road" (Audience, 8 p.m., Oct. 17). Jason Alexander stars in a comedy about a modern-day family band on tour, with the kind of problems that aren't always PG.
"Loudermilk" (Audience, 8:30 p.m., Oct. 17). Ron Livingston stars as a music critic who is also a recovering alcoholic in this new comedy from Peter Farrelly.
"Marvel's Runaways" (Hulu, Nov. 21). An adaptation of the comic series in which teens discover their parents are part of an evil cult, so they band together to stop them. With Virginia Gardner, Gregg Sulking and James Masters, it's from Josh Schwartz and Stephanie Savage, of "The O.C." and the upcoming "Dynasty."