You would think Hump Day would be a good time to place some interesting new shows on broadcast TV. You would be wrong. There are just two new shows planned for the evening this season, and one won't start for a couple of weeks. There is raft of shows on cable, by contrast, as we continue to count down the new season night by night. 
NEW SHOWS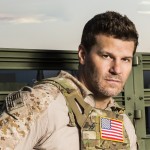 "SEAL Team" (CBS, 9 p.m., starts tonight). Another of the new dreary military dramas marching across broadcast networks stars familiar face David Boreanaz ("Bones") as the head of a SEAL team fighting a new, noisy caper each week. Adjust your sound accordingly. That Jessica Pare of "Mad Men" would be the team leader (rather than heading, say, a fashion house) would be amusing except that it's nice to have her in any series at all.
"Dynasty" (The CW, 9 p.m., Oct. 11), a reboot of the 1980s soap might be one of the fall seasons highlights, if only bequest it was developed by the sly team of Josh Schwartz and Stephanie Savage, who previously put together "The O.C." Just not caring may be the key to enjoying the posh drama that leads to all manner of hair-pulling. Elizabeth Gillies, Nathalie Kelley and Grant Show star.
RETURNING SHOWS
"The Blacklist" (NBC, 8 p.m., returning tonight), "Empire" (Fox, 8 p.m., tonight), "Survivor" (CBS, 8 p.m., tonight), "Riverdale" (The CW, 8 p.m., Oct. 11), "The Goldbergs" (ABC, 8 p.m., tonight), "Speechless" (ABC, 8:30 p.m., tonight), "Law & Order: SVU" (NBC, 9 p.m., tonight), "American Housewife" (ABC, 9:30 p.m., tonight), "Criminal Minds" (CBS, 10 p.m., tonight), "Designated Survivor" (ABC, 10 p.m., tonight), "Chicago P.D." (NBC, 10 p.m., tonight).
OF NOTE ON CABLE
"Liar" (Sundance, 10 p.m., tonight). Joanne Froggatt and Ioan Gruffudd star in a British series about a school teacher who accuses a surgeon of rape on their first date.
"50 Central" (BET, 10:30 p.m., tonight), a new late night variety show hosted by 50 Cent. First guests include Katt Williams and Lenny Grant.
"Rosehaven" (Sundance, 11 p.m., tonight), an Australian comedy written by and starring Luke McGregor and Celia Pacquola as small town friends.
"Chance" (Hulu, Oct. 11), a second season of the thriller based on Kem Nunn's novel, starring Hugh Laurie as a forensic neuropsychiatrist.
"The Story of Us with Morgan Freeman" (National Geographic, 9 p.m., Oct. 11), in which the actor pokes at the threads of life.
"Mr. Robot" (USA, 10 p.m., Oct. 11) the sci-fi drama returns for its third season.
"The Shannara Chronicles" (Spike, 10 p.m., Oct. 11)
"Freakish" (Hulu, Oct. 18), a new season of the series about high school students vs. predatory mutants.
"Stan Against Evil" (IFC, 10 p.m., Nov. 1), a second season of John C. McGinley as a sheriff fighting demons in his small town.
"MythBusters" (Science, 9 p.m., Nov. 15), the longtime show gets new hosts: Jonathan Lung and Brian Louden.
"Vikings" (History, 9 p.m., Nov. 29), the warrior saga reaches its fifth season.
"Shut Eye" (Hulu, Dec. 6), the drama about storefront psychics and scam artists starring Jeffrey Donovan, begins its second season.