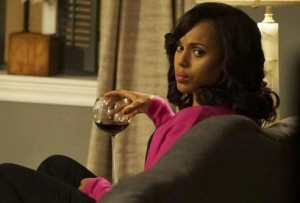 "Scandal" (ABC, 9 p.m.) returns for its seventh and last season. Preposterous when it debuted, now it has the problem of being not quite as crazy as the real thing. At any rate, action begins with Olivia trying to avoid an international incident 100 days into the Mellie administration, as Quinn Perkins & Associates tries to find its first client.
On the new "Ghost Wars" (Syfy, 10 p.m.) a medium deals with supernatural forces unleashed by an earthquake on a remote Alaskan island. With Vincent D'Onofrio and Meat Loaf.
Katie tries to be executive producer for a day on "Great News" (NBC, 9:30 p.m.).
Sam is sick on "Better Things" (FX, 10 p.m.).
The chief looks for the cause of the fire that trapped his wife on "Chicago Fire" (NBC, 10 p.m.).
Seth MacFarlane convinces Charlize Theron to play space with him on "The Orville" (Fox, 9 p.m.).
Gordon seeks help in fighting the Penguin on "Gotham" (Fox, 8 p.m.).
"Nathan for You" (Comedy Central, 10 p.m.) proposes surreptitious chili sales at sporting events.
A face from the past returns as a patient on "Grey's Anatomy" (ABC, 8 p.m.).
Someone from the past also visits Annalise on "How to Get Away with Murder" (ABC, 10 p.m.).
On "Will & Grace" (NBC, 9 p.m.), Jack and Will show their age by trying to pick up young guys.
The life of a group of New York drag queens is chronicled in the new "Shade: Queens of NYC" (Fusion, 10:30 p.m.)
Michael tries things from a new angle on "The Good Place" (NBC, 8:30 p.m.).
Jonah tries to find out about Garrett's past on "Superstore" (NBC, 8 p.m.).
A second season starts for the vampire hunters of "Van Helsing" (Syfy, 9 p.m.).
A blizzard hits the "Ice Road Truckers" (History, 10 p.m.).
Someone is accused of cheating on "Project Runway" (Lifetime, 9 p.m.).
Turner Classic Movies presents some childhood adventures tonight with "The Adventures of Huckleberry Finn" (8 p.m.), "Kim" (10 p.m.), "Stand By Me" (12:15 a.m.), "Time Bandits" (2 a.m.) and "Captains Courageous" (4 a.m.).
Thursday Night Football has New England at Tampa Bay (CBS, 8:30 p.m.).
The American League divisional series begins with Boston at Houston (MLB, 4 p.m.) and Yankees at Cleveland (Fox Sports 1, 7:30 p.m.).
Hockey's season continues to roll out with Minnesota at Detroit (NBC Sports, 7:30 p.m.) and Philadelphia at Los Angeles (NBC Sports, 10 p.m.).
Preseason basketball has Miami at Brooklyn (NBA, 7:30 p.m.) and Toronto at Portland (NBA, 10 p.m.).
College football has Alcorn State at Alabama State (ESPNU, 7:30 p.m.) and Louisville at North Carolina State (ESPN, 8 p.m.).
In soccer, it's England vs. Slovenia (Fox Sports 1, 2:30 p.m.) in a UEFA World Cup qualifier.
Daytime Talk
Kelly Ripa and Ryan Seacrest: Trevor Noah, Anna Camp. The View: Kerry Washington. The Talk: Sterling K. Brown, Duff Goldman, Roselyn Sanchez. Harry Connick: Debra Messing, Lauren Makk. Steve Harvey: Vivica A. Fox, Joy Rovaris, Dermont Mulroney. Ellen DeGeneres: Jared Leto, Thirty Seconds to Mars. Wendy Williams: Russell Brand. The Real: Erica Campbell, Tina Campbell, Teairra Mari.
Late Talk
Stephen Colbert: Morgan Freeman, Grace Gummer, Nathan Macintosh. Jimmy Kimmel: Jeff Bridges, Isla Fisher, Steve Aoki with Gucci Mane. Jimmy Fallon: Gal Gadot, Miley Cyrus. Seth Meyers: Kerry Washington, Method Man, New Politics, Gene Hoglan. James Corden: Michael Fassbender, Ana De Armas, Jack Hanna. Carson Daly: Taran Killam, the Dirty Nil, Reginald Hudlin. Trevor Noah: Kenya Barris. Jordan Klepper: Jane Mayer. Conan O'Brien: Jared Leto, Dr. Dale Stuckenbruck, Kane Brown.