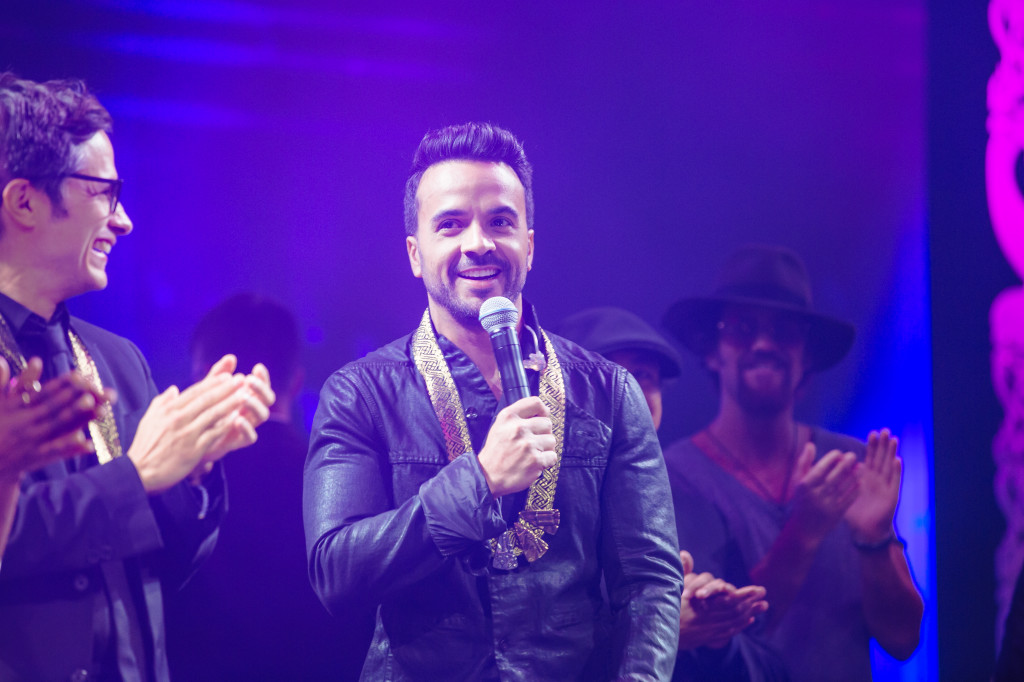 Gael Garcia Bernal of "Mozart in the Jungle" and Lusi Fonsi, singer of the hit "Despacito," are among honorees on the 30th "The Hispanic Heritage Awards" (PBS, 10 p.m., check local listings). There's also a shout out to Dreamers in the event, held last month in Washington, D.C.  It's preceded by Raul Malo of the Mavericks celebrating his Cuban heritage in a special titled "Havana Time Machine" on "Great Performances" (PBS, 9 p.m., check local listings), completely free of sonic weapons.
Something new on Netflix is a streaming Italian crime drama "Suburra: Blood on Rome" (Netflix, streaming) about an unlikely alliance of young crime figures in Rome that serves as a sequel to the 2015 film "Suburra." (Further confusion: Elsewhere this is known as "Suburra: The Series"). At any rate, it's got a few intriguing interlocking plots about the Vatican, real estate and the mob, and some interesting actors (offset by overacting ones). The English dubbing may draw in a few more viewers, but "Narcos" already proved that a subtitled drama can be just as compelling. Its splendidly-shot exteriors, and lavish interiors create a compelling canvas on which this will play out.
It joins a new online is a documentary about the death of a transgender activist, "The Death and Life of Marsha P. Johnson" (Netflix, streaming).
A second season starts for the strangely fascinating "Live P.D." (A&E 9 p.m.).
The seventh season start of "Once Upon a Time" (ABC, 8 p.m.), now on a new night, comes with a bit of a reboot, with the adult Henry being drawn into a family crisis by a long-lost young daughter. So action takes place in a new city, Hyperion Heights, and involve a different curse. The Evil Queen, Hook and Rumplestiltskin are back but there are a raft of new Cinderella type characters.
"20/20" (ABC, 10 p.m.) reports further on the Las Vegas massacre.
George Jones and Tammy Wynette are profiled on "Mike Judge Presents: Tales from the Tour Bus" (Cinemax, 10:30 p.m.).
Billy Crystal, Russell Brand, Steve Schmidt, Harold Ford Jr. and Olivia Nuzzi are scheduled to appear on "Real Time with Bill Maher" (HBO, 10 p.m.).
Jordan Sparks, Joe Mantegna, French Stewart, Keith Sweat and Kirstin Maldonado pop up on "Hell's Kitchen" (Fox, 8 p.m.).
"Marvel's Inhumans" (ABC, 9 p.m.) learn who they can trust on Earth. Definitely not critics.
Danny investigates the return of a teen who disappeared 13 years earlier on "Blue Bloods" (CBS, 10 p.m.).
They try to wrap up Cindy's exorcism on "The Exorcist" (Fox, 9 p.m.).
A dog is the only witness to a drug bust on "Hawaii Five-0" (CBS, 9 p.m.).
On "Z Nation" (Syfy, 9 p.m.), Warren and Murphy make their way back to the mainland.
"MacGyver" (CBS, 8 p.m.) has to find Riley after her botched solo mission.
A good luck charm is not so lucky on "Evil Things" (TLC, 10 p.m.).
Can't believe "Don't Be Tardy.." (Bravo, 8 p.m.) is still on, starting its sixth season.
Halloween looms at "Raven's Home" (Disney, 8 p.m.).
A snowstorm hits "Alaska: The Last Frontier" (Discovery, 10 p.m.).
The NFL's Antonio Brown orders an aquarium on "Tanked" (Animal Planet, 9 p.m.).
Courtney Stodden is already on "Million Dollar Matchmaker" (WEtv, 9 p.m.).
Anthony Perkins is the star on Fridays all month on Turner Classic Movies, leading up, of course, to "Psycho." Until then, there's "The Actress" (8 p.m.), "Friendly Persuasion" (9:45 p.m.), "The Tin Star" (12:15 a.m.) and "Tall Story" (2:15 a.m.).
A load of playoff baseball is on hand with Boston at Houston (Fox, Sports 1, 2 p.m.) and Yankees at Cleveland (MLB, 5 p.m.) in the American League and Cubs at Washington (TBS, 7:30 p.m.) and Arizona at Dodgers (TBS, 10:30 p.m.) in the National League.
Preseason basketball has Boston at Philadelphia (NBA, 7 p.m.).
College football has Memphis at Connecticut (ESPN, 7 p.m.), Morgan State at South Carolina State (ESPN, 7:30 p.m.) and Boise State at BYU (ESPN, 10:15 p.m.).
In soccer, it's Panama at U.S. (ESPN2, Univision, 7:30 p.m.) and Trinidad & Tobago at Mexico (Fox Sports 1, 9:30 p.m.) in CONCACAF World Cup qualifiers.
Daytime Talk
Kelly Ripa and Ryan Seacrest: Kate Winslet, Lana Parrilla, Adam Savage, Michael Stevens. The View: Taraji P. Henson. The Talk: Nia Long, Dustin Lynch, Roselyn Sanchez. Harry Connick: Queen Latifah, Ledisi. Steve Harvey: Eric Dane, Craig Robinson. Ellen DeGeneres: Ryan Gosling, Usher, Ricky Martin. Wendy Williams: Milly Almodovar. The Real: Idris Elba, Keyshia Cole.
Late Talk
Stephen Colbert: Kathy Bates. Jimmy Fallon: Taraji P. Henson, Miley Cyrus. Seth Meyers: Larry David, Kiefer Sutherland, Josh Earnest, Gregg Bissonette (rerun). James Corden: Gordon Ramsey, Brendan Gleeson, Maggie Rogers (Rerun). Carson Daly: Seann William Scott, Tobacco, Jon Rudnitsky (rerun).