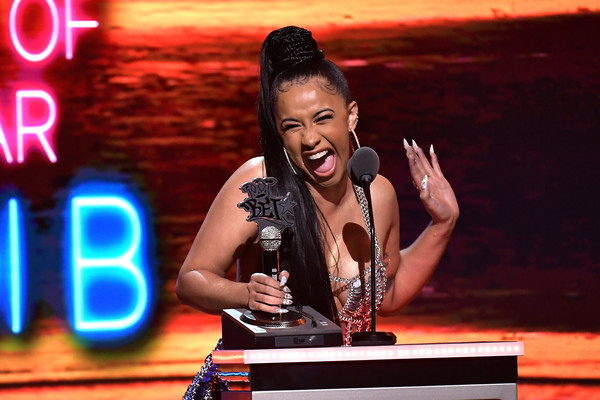 DJ Khaled hosts the BET Hip Hop Awards (BET, 8 p.m.) from the Jackie Gleason Theater in Miami Beach with performances scheduled from Migos, Cardi B, T-Pain and Rick Ross. Cardi B (pictured here), DJ Khaled are also tied for most nominations, tied with Kendrick Lamar, with nine each.
"American Horror Story: Cult" (FX, 10 p.m.) edited the mass shooting that begins tonights episode in the wake of the Las Vegas massacre.
Superheroes continue to proliferate, with the fourth season start of "The Flash" (The CW, 8 p.m.) joined by the third season premiere of "DC's Legends of Tomorrow" (The CW, 9 p.m.).
On the new "Ed Stafford: Left for Dead" (Discovery, 10 p.m.), the title character is put in a dangerous area each week and given 10 days to get out of it.
At a time when he may be more valuable reporting politics again Dan Rather is instead talking to assorted rock stars or associates on "The Big Interview" (AXS tv, 9 p.m.). First up is Sharon Osbourne, Ozzy's wife.
A new standup comedy special from Christina Pazsitzky is titled "Christina P: Mother Inferior" (Netflix, streaming).
Dizzy judges will be happy that tonight is the final night of blind auditions on "The Voice" (NBC, 8 p.m.).
"Finding Your Roots" (PBS, 8 p.m., check local listings) looks into the genealogy of Christopher Walken, Carly Simon and Fred Armisen.
Edie Falco begins to have more of a role on "Law & Order: True Crime – The Menendez Murders" (NBC, 10 p.m.).
Randall and Beth get some news on "This is Us" (NBC, 9 p.m.). And Sylvester Stallone guest stars, for some reason.
A singer's bodyguard dies mysteriously on "Lethal Weapon" (Fox, 8 p.m.).
Torres' parter mysteriously vanishes on "NCIS" (CBS, 8 p.m.).
Frankie gets a pie on "The Middle" (ABC, 8 p.m.).
"Kevin (Probably) Saves the World" (ABC, 10 p.m.), but first he tries to help out a brewer.
"Leah Remini: Scientology and the Aftermath" (A&E, 10 p.m.) looks at reports of forced labor camps of the cult.
A Soviet operative disappears on "NCIS: New Orleans" (CBS, 10 p.m.).
On "Fresh Off the Boat" (ABC, 8:30 p.m.), Eddie tries out for football.
"Bizarre Foods: Delicious Destinations" (Travel, 9 p.m.) goes to Brussels, and at 9:30 p.m., the upper peninsula of Michigan.
Bow gets postpartum depression on "Blackish" (ABC, 9 p.m.).
A hazing death gets prosecuted on "Bull" (CBS, 9 p.m.).
Mickey takes Sabrina to visit her mother in jail on "The Mick" (Fox, 9 p.m.).
Jake is back in the precinct on "Brooklyn Nine-Nine" (Fox, 9:30 p.m.).
"The Mayor" (ABC, 9:30 p.m.) tries to save the music program of his old elementary school.
Alton Brown takes over "Chopped" (Food, 10 p.m.) for a five-part tournament.
The Tuesday night horror movies this month on Turner Classic Movies turns to the work of Val Lewton with the 2007 documentary "Martin Scorsese Presents: Val Lewton, the Man in the Shadows" (11 p.m.) surrounded by his "Cat People" (8 p.m.), "The Body Snatcher" (9:30 p.m.), "I Walked with a Zombie" (12:30 a.m.), "The Seventh Victim" (2 a.m.), "Bedlam" (3:30 a.m.) and "The Leopard Man" (5 a.m.).
Baseball reaches game 4 in the remaining National League Divisional Series with Washington at Chicago (TBS, 5:30 p.m.).
Hockey has Chicago at Montreal (NBC Sports, 7:30 p.m.) and Arizona at Las Vegas (NBC Sports, 10 p.m.).
Preseason basketball has Chicago at Cleveland (ESPN, 8 p.m.) and Utah at Lakers (ESPN, 10:30 p.m.).
Soccer has Spain vs. Niger (Fox Sports 2, 7:20 a.m.) and Korea vs. Brazil (Fox Sports 2, 10:20 a.m.) in the U-17 World Cup; and Switzerland at Portugal (Fox Sports 1, 2:45 p.m.), Belarus at France (Fox Sports 2, 2:45 p.m.) and U.S. at Trinidad & Tobago (beIN Sports, Universo, 8 p.m.) in World Cup qualifiers.
Daytime Talk
Kelly Ripa and Ryan Seacrest: Tracee Ellis Ross, Jacke Chan. The Talk: Mark Consuelos, Nancy O'Dell, Lindsey Buckingham & Christine McVie, Carrie Ann Inaba. Harry Connick: Seth MacFarlane, Kate Somerville. Steve Harvey: Cedric the Entertainer, Mercedes Mason. Ellen DeGeneres: Josh Gad, Charlie Puth. Wendy Williams: Yvette Nicole Brown, Cebi Mazar, Gabriele Cocos.
Late Talk
Stephen Colbert: Tracee Ellis Ross, Luke Evans, Jade Bird. Jimmy Kimmel: Chris Hemsworth, Whitney Cummings, Vance Joy. Jimmy Fallon: Mandy Moore, Shaquille O'Neal, Noah Cyrus. Seth Meyers: James Spader, Domhnall Gleeson, Ladee Hubbard, Joe Russo. James Corden: Jennifer Connelly, Jason Alexander, Mark Consuelos, Everything Everything. Carson Daly: Margaret Cho, Filthy Friends, Bill Skarsgard (rerun). Trevor Noah: America Ferrera (rerun). Jordan Klepper: Ruth Marcus (rerun). Conan O'Brien: Steven Ho, Marc Maron, D.J. Demers (rerun).