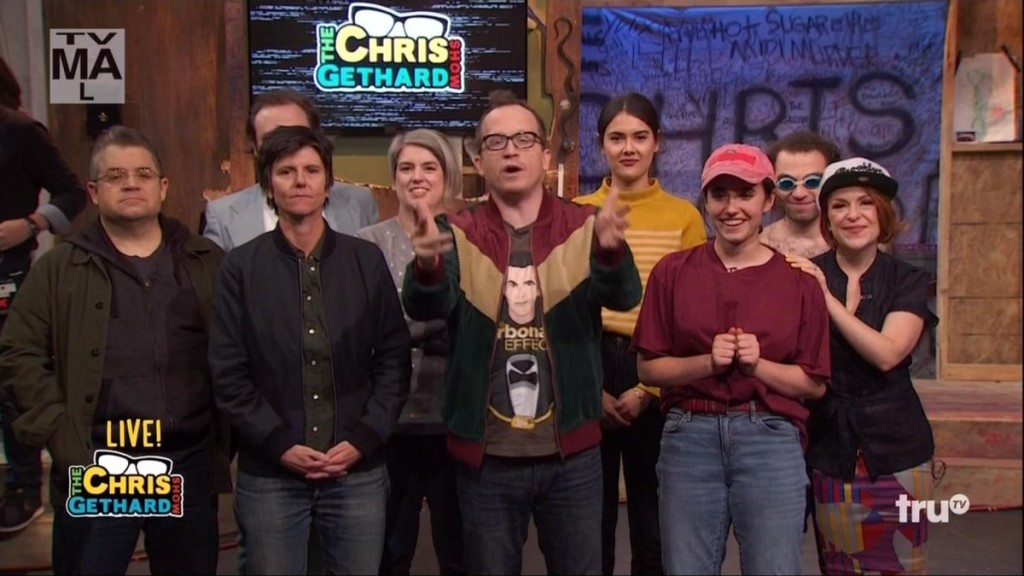 At a time when huge teams of writers script nearly every moment of late night comedy shows, with filmed bits are carefully shot in advance and even the nightly "live" shows taped hours in advance to accommodate editing, truTV's freewheeling "The Chris Gethard Show" (11 p.m. ET) adheres to the fearless, no-net thrills of live TV.
After seven years on local public access, and one season of a taped show on Fusion, the current version, with its live call-ins and Skype connections, opens the door to real time interactivity. With top comedians invited on — often just to witness what might be a train wreck in progress — the bespectacled Gethard, a familiar comedy face who has already had an acclaimed HBO standup special this year, presides over the nonsense with generally a show theme, some sincerity and a wincing look that indicates that maybe he thinks it will all come to a crashing end at any moment as well.
But all around him, from his droll co-host Shannon O'Neill to the dozens of fans sitting cross-legged all around the studio, there is an underlying belief that keeping it real pays off, and that the show is a safe space for outsiders of any stripe (mostly young) to be heard and be part of it, in a way that they are not a part of any other corner of TV.
Last week, in addition to the open phone lines and a video phone booth in Austin, to hear from people about what they always wanted to take a chance to do, they also said that the first person to meet them at a nearby Manhattan street corer and say a secret phrase would immediately be escorted inside to be a co-host.
A 19-year-old in a ball cap named Erin, who was watching the show in her boyfriend's dorm, took a cab down and did just that. And though she didn't have much to say once she got there, she was amiable enough to be voted back to the show tonight by last week's guests Tig Notaro and Patton Oswalt (who both have streaming shows and specials out, and were both about to do much higher profile network talk shows last week as well).
Things are winding down for the first season of Gethard, on a network that otherwise seems to be the bros from Impractical Jokers on a 24/7 basis (accordingly, they were forced to be the guests one week on Gethard as well, though it didn't seem like they ever fully grasped what it was all about).
While he has a strong bond with his audience, the host's connection with the network seems a little tenuous at best. It send him a box of T-shirts that he thought were for his own show but instead were for the truTV magician guy on The Carbanaro Effect. So Gethard wore his shirt ironically all night. At another point, a sign was seen in the audience, urging truTV to bring back Container Wars.
Tonight's show boasts Elle Kemper and an aim to match single fans of the show together — and have their first dates on the show before the hour is over.
But then again, things may go all wrong, like the woman who Skyped in last week to share her goal, had to show her two yapping dogs first, and eventually sang the National Anthem to show off her singing skills (produced urged her not to sing a song they would have to pay royalties on).
Having a tight-lipped fan join as a co-host didn't appear to work out either. Or did it? It was kind of funny to watch the thing go south.
Earlier in the season John Oliver was guest on a show about technology takeover, in which viewers could send messages that would be instantly printed and skitter to the ground; or take control of mechanical toys that shot objects across the stage.
It was about as good as any show in reflecting the despair of the week that began with the Las Vegas shooting, when Gethard admitted he couldn't do any work on the show for the first couple of days because he was so depressed. The week's theme then, became "Why is Everything so Terrifying?" and fans called in condolences, as guest Michael Ian Black commiserated and occasionally cracked wise.
Bands are booked to play The Chris Gethard Show, but it must be one of the worst gigs in the business, as groups like Deerhoof can barely get one verse off before credits roll (the rest of the performance can be seen on Instagram).
There is a house band, however, the LLC, who play peppy rock as the theme and during commercial breaks. There is also a cast of support players that include the leering show-bizzy announcer Murph and Bethany Hall, an "Internet Liaison" (in white lab coat), checking emails to the show. Odder characters from the Human Fish or Vacation Jason are consulted basically once during the show for their input, keeping alive the notion of the running characters like the Guy Under the Stairs on Letterman or the Masturbating Bear on Conan.
At least one audience member seemed to be doing a bit last week, though, using the camera to do her acting reel, showing off her one skill, looking startled.
There is an inherent bond between fan and show, though, a sense of a safe place, where Murph call call out, "Hello Weirdos!" without malice, and they'll call in with their issues.
Last week, an old fan of the show, Tom from Pittsburgh, Skyped in and, inspired by the night's theme of "Take a Chance," came out as gay to his family and friends, on live cable TV, a moment that doesn't happen too often.
Hardly anybody calls in to heckle, though certainly that would be possible. And judging from the line of people who blurted out their goals in Austin, it seemed like a lot of them took inspiration from the host at least in their choice of eyewear.
Gethard has the look of a guy who knows the whole thing could be canceled any minute and replaced by practical jokers or magicians, but he keeps his chin up and keeps going anyway. Which suits the times pretty well.