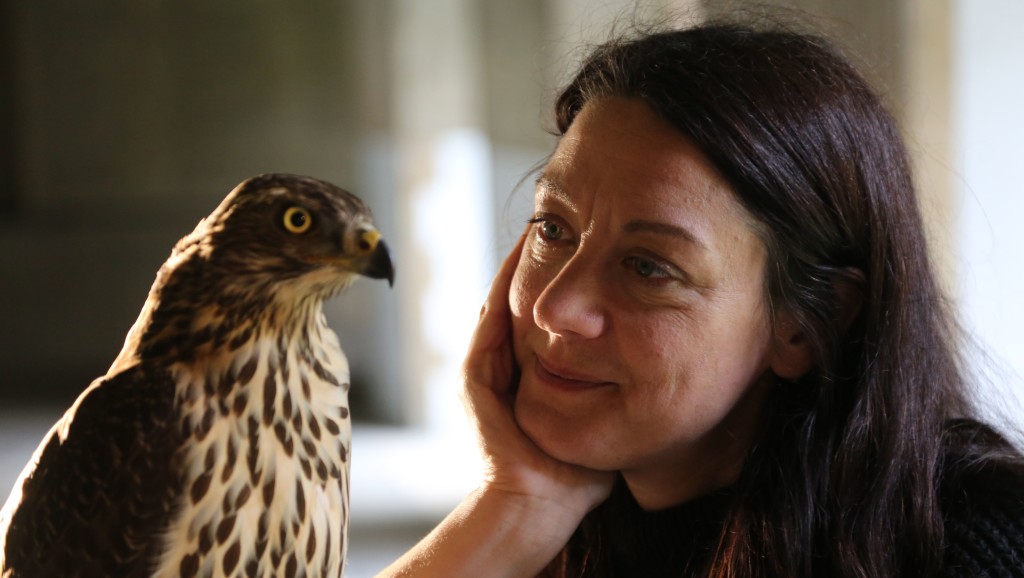 Helen Macdonald dealt with her grief over the sudden death of her father by rekindling their mutual love for wild birds and trying her hand at trying to train a particularly difficult bird of prey, a goshawk. Her experience a decade ago was turned into an international bestseller in "H for Hawk." Her efforts to train a second goshawk is the subject of tonight's "Nature" (PBS, 8 p.m., check local listings) titled "H is for Hawk: A New Chapter."
It would seem that with its mix of horror and comedy, the second season start of "Stan Against Evil" (IFC, 10 p.m.) is a day late. But the series starring John C. McGinley as a sheriff vs. paranormal forces is welcome any time.
October ball becomes November ball, as the World Series (Fox, 8 p.m.), tied up 3-3, goes for a final winner with Game 7 of Houston at Dodgers.
"Nova" (PBS, 9 p.m., check local listings) looks back at the Great Hurricane of 1780 that killed more than 20,000 in the Caribbean.
A two part "Frontline" (PBS, 10 p.m., check local listings) on Putin concludes with Russia's meddling in last year's election.
Mayor Robin Givens calls a town meeting in "Riverdale" (The CW, 8 p.m.).
On a new "Empire" (Fox, 8 p.m.), Cookie tries to lure Lucious back in the studio.
Cristal and Blake take their belated honeymoon on "Dynasty" (The CW, 9 p.m.).
Dom has a close call on "Mr. Robot" (USA, 10 p.m.).
Clare plans a 10th anniversary party for Jay and Gloria on "Modern Family" (ABC, 9 p.m.).
Somebody faints for a lack of food on "Survivor" (CBS, 8 p.m.).
Don't miss a new "Full Frontal with Samantha Bee" (TBS, 10:30 p.m.).
On "The Blacklist" (NBC, 8 p.m.), Cooper enlists Red on a new case.
On "The Goldbergs" (ABC, 8 p.m.), Adam makes a commercial to boost Murray's business.
"Total Divas" (E!, 9 p.m.) returns for its seventh season.
A national security threat breaks open on "Designated Survivor" (ABC, 10 p.m.).
Hillary Clinton appears on "The Daily Show with Trevor Noah" (Comedy Central, 11 p.m.), which is still a big deal for the show.
Dolores gets serious with her new boyfriend on "The Real Housewives of New Jersey" (Bravo, 9 p.m.).
Rollins goes undercover at a fancy rehab center on "Law and Order: Special Victims Unit" (NBC, 9 p.m.).
On "Star" (Fox, 9 p.m.), Ayana is reminded under the pressure she is under to make her family proud.
JJ is pressured to date a new student who also has cerebral palsy on "Speechless" (ABC, 8:30 p.m.).
"Black Ink Crew: Chicago" (VH1, 9 p.m.) goes to Mexico.
"SEAL Team" (CBS, 9 p.m.) plans a raid.
A teenage girl is found dead on "Law & Order: Special Victims Unit" (NBC, 9 p.m.).
The pet pig is an issue on "American Housewife" (ABC, 9:30 p.m.).
A drug dealer is sought in connection with the shooting death of a family on "Chicago P.D." (NBC, 10 p.m.).
King Ander meets the Princess of Leah on "The Shannara Chronicles" (Spike, 10 p.m.).
On "Criminal Minds" (CBS, 10 p.m.), several women go missing in Virginia.
A month-long, 57-movie Wednesday night salute to Jimmy Stewart begins with the 1987 documentary "James Stewart: A Wonderful Life" (8 p.m.), followed by "Mr. Smith Goes to Washington" (9:45 p.m.), "Destry Rides Again" (12:15 a.m.), "After the Thin Man" (2 a.m.) and "Vivacious Lady" (4 p.m.).
NBA action includes Houston at New York (ESPN, 8 p.m.) and Dallas at Clippers (ESPN, 10:30 p.m.).
Hockey includes Philadelphia at Chicago (NBC Sports, 8 p.m.) and Nashville at San Jose (NBC Sports, 10:30 p.m.).
College football has Central Michigan at Western Michigan (ESPN2, 8 p.m.).
Daytime Talk
Kelly Ripa and Ryan Seacrest: Kal Penn, Derek Hough, Peter Gros. The Talk: Iain Armitage, Lance Barber, Montana Jordan, Zoe Perry, Annie Potts, Raegan Revord, Lindsay Miller, Eve. Harry Connick: Darius Rucker. Steve Harvey: The Chrisley Family. Ellen DeGeneres: Ricky Gervais. Wendy Williams: Sheree Whitfield. The Real: Kyle Anfernee.
Late Talk
Stephen Colbert: Nicole Kidman, Jonathan Groff. Jimmy Kimmel: Ellen DeGeneres, Pink, Channing Tatum. Jimmy Fallon: Chris Hemsworth, Lindsey Vonn, Maroon 5 with SZA. Seth Meyers: Blake Shelton, Robin Thede, Anton Fig. James Corden: Mila Kunis, Jim Parsons, Sam Smith. Carson Daly: Ron Livingston, Royal Blood, Elizabeth Gillies. Trevor Noah: Hillary Clinton. Jordan Klepper: Clint Watts. Conan O'Brien: Kristen Bell, Frank Grillo, Beth Stelling.