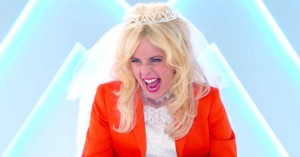 Maria Bamford's bold and experimental "Lady Dynamite" (Netflix, streaming) returns for its second season, with her character living with a new boyfriend and having a new job at a streaming service, perhaps like the one she's on.
Something different for Friday night public TV arts programming — the Foo Fighters performing a big rock show at the Acropolis in Athens in an "Landmarks Live in Concert" on "Great Performances" (PBS, 9 p.m., check local listings). Red Hot Chili Peppers drummer Chad Smith hosts.
College basketball tips off for the season with a slew of games. Among them: Texas A&M vs. West Virginia (ESPN, 6 p.m.), Memphis vs. Alabama (CBS Sports, 6:30 p.m.), Fairleigh Dickinson at Seton Hall (Fox Sports 2, 6:30 p.m.), Northern Iowa at North Carolina (ESPNU, 7 p.m.), Columbia at Villanova (Fox Sports 2, 8:30 p.m.), Pittsburgh at Navy (CBS Sports, 9 p.m.), Tennessee State at Kansas (ESPNU, 9 p.m.) and Georgia Tech at UCLA (ESPN, 11:30 p.m.).
Rebecca makes a visit home to Westchester on "Crazy Ex-Girlfriend" (The CW, 8 p.m.).
Donna Brazile, Sarah Silverman, Chris Matthews and Michael Moore are on a new "Real Time with Bill Maher" (HBO, 10 p.m.).
Adam reveals his dating past to "Jane the Virgin" (The CW, 9 p.m.).
Remaining chefs get 30 minutes to create an internationally-themed pizza on "Hell's Kitchen" (Fox, 8 p.m.).
Murphy snaps on "Z Nation" (Syfy, 9 p.m.).
Sex trafficking is the focus of a news special "Inside with Chris Cuomo" (HLN, 9 p.m.).
Jane and Weller go after hackers on "Blindspot" (NBC, 8 p.m.).
The old multi-personality gambit is exploited on "Hawaii Five-0" (CBS, 9 p.m.), following the death of two tourists.
"Marvel's Inhumans" (ABC, 9 p.m.) humanely ends its first season with a final showdown between Black Bot and Maximus.
A visit to a foster home has deadly consequences on "The Exorcist" (Fox, 9 p.m.), in an episode named after a Prince song, "Darlking Nikki."
"Andi Mack" (Disney, 8 p.m.) tries to find a new place to hang out.
May is falls through the mirror on "Superstition" (Syfy, 10 p.m.).
On "Blue Bloods" (CBS, 10 p.m.), Danny works to protect a nurse from her violent ex.
Rising floodwaters threaten on "Gold Rush" (Discovery, 9 p.m.).
Brady is identified as an enemy on "K.C. Undercover" (Disney, 8:30 p.m.).
Robert Wagner chooses the titles on Turner Classic Movies tonight, with "Cinema Paradiso" (8 p.m.), "Lonely are the Brave" (10:30 p.m.), "This Property is Condemned" (12:30 a.m.) and "The Four Feathers" (2:45 a.m.).
There is also college football tonight with Temple at Cincinnati (ESPN2, 7 p.m.), Washington at Stanford (Fox Sports 1, 10:30 p.m.) and BYU at UNLV (ESPN2, 10:30 p.m.).
Hockey includes Ottawa at Colorado (NHL, 2 p.m.).
Soccer has Japan vs. Brazil (beIN Sports, 7 a.m.) and England vs. Germany (Fox Sports 2) in men's international friendlies, as well as South Africa vs. Senegal (beIN Sports, noon), Algeria vs. Nigeria (beIN Sports, 2:30 p.m.), Sweden vs. Italy (Fox Sports 1, 2:45 p.m.) and New Zealand vs. Peru (beIN Sports, 10:15 p.m.) in World Cup qualifiers.
NASCAR has the Lucas Oil 150 (Fox Sports 1, 8:30 p.m.).
Daytime Talk
Kelly Ripa and Ryan Seacrest: John Lithgow, Jay Pharaoh, Jenna Dewan Tatum. The Talk: Matt LeBlanc, Laurie Gelman, Grant Show. Harry Connick: Jaimie Alexander. Steve Harvey: Daymond John. Ellen DeGeneres: Owen Wilson, Chris Long, St. Vincent. Wendy Williams: Mona Scott-Young.
Late Talk
Stephen Colbert: John Mulaney. Jimmy Fallon: Taraji P. Henson, Miley Cyrus (rerun). Seth Meyers: Heidi Klum, Sen. Bernie Sanders, Imagine Dragons, Anton Fig (rerun). James Corden: Don Johnson, Minnie Driver, Barns Courtney (rerun). Carson Daly: Tim Roth, Cloud Nothings, John Carroll Lynch (rerun).