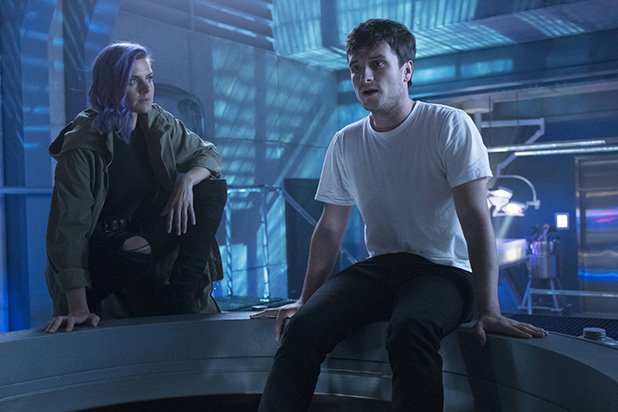 The golden age of TV also finds room for something as repellant as "Future Man" (Hulu, streaming) about a slacker who is sought by future warriors based on his modern day video game skills. "That's the exact pot of 'The Last Starfighter," says Josh Hutcherson's slacker character. But that doesn't make it less true.
Who has an appetite these days for the kind of misogyny and crude sex jokes that could only come from the creators of "Sausage Party," Seth Rogen and Evan Goldberg. The cast includes Eliza Coupe as a representative from the future; Ed Begley Jr. and Glenne Headly as his parents.
What makes it more sad is that it comes on the day that, on the same service, the generally witty "The Mindy Project" (Hulu, streaming) comes to an end after six seasons — with its first three on Fox; and the final three online.
Two limited series, "Law & Order True Crime: The Menendez Murders" (NBC, 10 p.m.) and "American Horror Story Cult" (FX, 10 p.m.) end their limited seasons.
But it's the start of a five-part series, "The Hunt for the Zodiac Killer" (History, 10 p.m.).
Lupine Wyong'o, Carmelo Anthony and Ana Navarro go "Finding Your Roots with Henry Louis Gates Jr." (PBS, 8 p.m., check local listings).
Dean Winter plays the Vulture on "Brooklyn Nine-Nine" (Fox, 9:30 p.m.).
There's a Thanksgiving episode on "Fresh Off the Boat" (ABC, 8:30 p.m.). And it's the last Thanksgiving on "The Middle" (ABC, 8 p.m.).
And of course preparations are underway on "Chopped" (Food, 10 p.m.).
But it's Christmas approaching on "The Little Couple" (TLC, 9 p.m.).
"Moonshiners" (Discovery, 9 p.m.) starts its seventh season. Looks like the revenuers aren't coming.
The comedian and actor on "Empire" has a new online standup comedy special, "DeRay Davis: How to Act Black" (Netflix, streaming).
On "This is Us" (NBC, 9 p.m.), Kevin goes back to high school to get an award.
Ken Burns' "The Vietnam War" (PBS, 9 p.m., check local listings) reaches 1970, when morale in Vietnam was plummeting.
"The Flash" (The CW, 8 p.m.) will likely now be seen in the context of its show runner Andrew Kreisberg getting suspended after a series of sexual harassment claims.
A new building show begins tonight, "Bushcraft Build-Off" (Discovery, 10 p.m.), starring "Duel Survival" co-host Matt Graham pitting primitive skills enthusiasts against one another.
Childhood friends of Riggs may be involved in a crime being investigated on "Lethal Weapon" (Fox, 8 p.m.).
A person of interest is found murdered on "NCIS" (CBS, 8 p.m.).
Wade's son is attacked at his girlfriend's house on "NCIS: New Orleans" (CBS, 10 p.m.).
Miley Cyrus reveals her comeback artist on "The Voice" (NBC, 8 p.m.).
Special guests climb on board on "Below Deck" (Bravo, 9 p.m.).
"Bizarre Foods" Delicious Destinations" (Travel, 9 p.m.) goest to Reykjavik and then at 9:30, Quito, Ecuador.
Family jail time comes up on "Blackish" (ABC, 9 p.m.).
"Bull" (CBS, 9 p.m.) sues a drug company.
The standardized testing is approaching for "Teachers" (TV Land, 10 p.m.).
Helen of Troy ends up in 1930s Hollywood on "DC's Legends of Tomorrow" (The CW, 9 p.m.).
"The Mayor" (ABC, 9:30 p.m.) prepares for a governor's visit.
Sharon's personal life threatens her career on "Major Crimes" (TNT, 9 p.m.).
A treasure chest suggests a pirate past on "The Curse of Oak Island" (History, 9 p.m.).
"The Mick" (Fox, 9 p.m.) takes the kids to great grandma's 100th birthday.
Seth and the farmers ward off a vigilante group on "Damnation" (USA, 10 p.m.).
On "Gucci Mane and Keyshia Ka'oizr: The Mane Event" (BET, 10 p.m.) Keyshia travels to Atlanta.
A second celestial being joins Yvette on "Kevin (Probably) Saves the World" (ABC, 10 p.m.).
On "Leah Remini: Scientology and the Aftermath" (A&E, 10 p.m.) there's a round table discussion in the life of Scientology founder L. Ron Hubbard.
Wiz Khalifa is a guest on "Snoop Dogg Presents the Joker's Wild" (TBS, 10 p.m.).
"Drop the Mic" (TBS, 10:30 p.m.) pits Tony Hale vs. Timothy Simons and Rascal Flatts vs. Boyz II Men.
Turner Classic Movies' look at the Hollywood Blacklist turns to actors affected: John Garfield and Norman Lloyd in "He Ran All the Way" (8 p.m.), Gale Sondergaard in "Anthony Adverse" (9:30 p.m.), Karen Morley in the 1932 "Scarface" (midnight), Marsha Hunt in "A Letter for Evie" (2 a.m.) and Kim Hunter in "A Streetcar Named Desire" (3:45 a.m.).
Hockey includes Washington at Nashville (NBC Sports, 8 p.m.).
Basketball has Toronto at Houston (NBA, 8 p.m.).
Men's college basketball includes Nicholls State at Villanova (Fox Sports 1, 6:30 p.m.), Central Connecticut at St. John's (Fox Sports 2, 6:30 p.m.), Michigan State vs. Duke (ESPN, 7 p.m.), Purdue at Marquette (Fox Sports 1, 8:30 p.m.) and Kentucky vs. Kansas (ESPN, 9:30 p.m.).
College football includes Ohio at Akron (ESPN2, 7 p.m.) and Central Michigan at Kent State (ESPNU, 7 p.m.).
Soccer includes Argentina vs. Nigeria (beIN Sports, 11:30 a.m.), Germany vs. France (ESPN2, 2:30 p.m.) and U.S. vs. Portugal (Fox Sports 1, 3:30 p.m.) in a men's international friendlies. Also: Senegal vs. South Africa (beIN Sports, 2:20 p.m.) and Ireland vs. Denmark (Fox Sports 2, 2:30 p.m.) in World Cup qualifiers.
In the curling world championships, it's U.S. vs. Japan (NBC Sports, 11:30 p.m.).
Daytime Talk
Kelly Ripa and Ryan Seacrest: Uma Thurman, Josh Hutcherson. The View: Mary J. Blige. The Talk: Kaitlin Olson, Kevin Frazier. Harry Connick: Guillermo Diaz, Billy Ray Cyrus. Steve Harvey: Katy Mixon, Sunny Anderson. Ellen DeGeneres: Colin Farrell, Dax Shepard. Wendy Williams: Jay Pharaoh, Jamie Krell. The Real: Lonnie Chavis.
Late Talk
Stephen Colbert: Tyler Perry, Anthony Atamanuik, John Avlon. Jimmy Kimmel: Owen Wilson,Sarah Gadon, Gucci Mane with Migos. Jimmy Fallon: Michael Strahan, Jenna and Barbara Bush, Tove Lo. Seth Meyers: Whoopi Goldberg, Susie Essman, Christian Soriano, Michel'le Baptiste. James Corden: Emmy Possum, January Jones, Pink. Carson Daly: Judah Friedlander, Cloud Nothings, Dee Rees. Trevor Noah: 2 Chainz. Jason Klepper: Jeff Ross. Conan O'Brien: Ice Cube, Lea DeLaria, Jim Lauderdale (rerun).