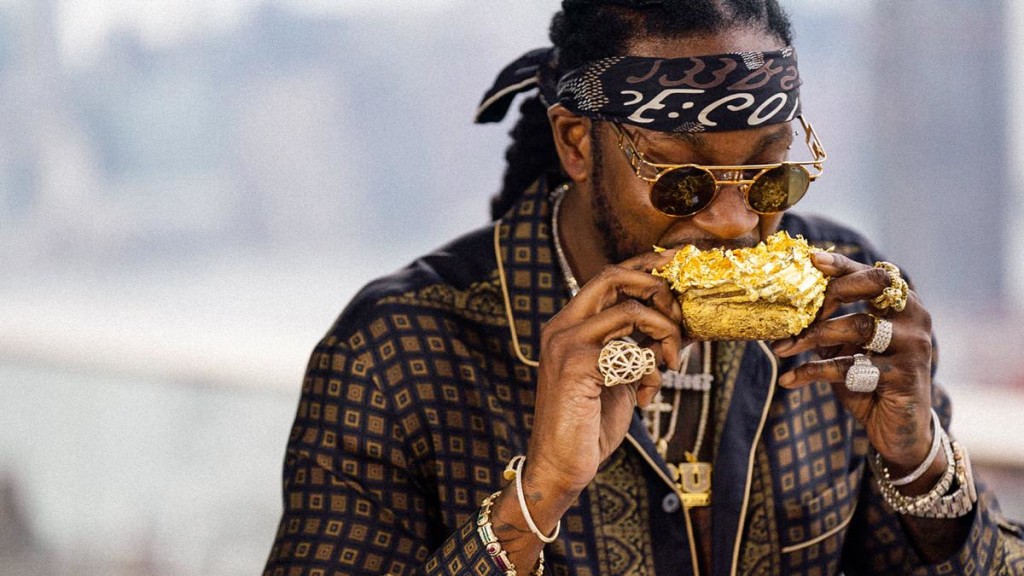 The rapper 2 Chainz is half fascinated and half appalled by the excess he'll sample in his new series "Most Expensivest" (Viceland, 10:30 p.m.). He's more entertaining than Robin Leach in trying out gold-flaked doughnuts or $10,000 steaks. He's joined by fellow rapper and Viceland host Action Bronson in trying some of these things tonight, including a $4,900 chicken wings.
Brian Louden and Jon Lung aren't quite Adam Savage and Jamie Hyneman. But they are still the new "Mythbusters" (Science, 9 p.m.) and they are starting a new season by trying to figure out whether having your feet up on the dashboard when the airbags go off can be lethal.
In a double episode of "You're the Worst" (FXX, 10 p.m.) that ends the fourth season, Jimmy and Gretchen try to figure out their relationship again (it's only been the basis of the comedy since the start.)
The second season finale of the Southern family drama "Queen Sugar" (OWN, 9 p.m.) gets 90 minutes to react to the latest twists. And then producer Oprah Winfrey (who hasn't appeared on the show in a while) returns to what she does best, hosting an after-show discussion with creator Ava DuVernay about what's coming next, at 10:30 p.m.
A beehive is attracting bears on the third season premiere of "Homestead Rescue" (Discovery, 9 p.m.).
Tom goes missing on the midseason finale of "Blacklist" (NBC, 8 p.m.).
A castaway finds a secret advantage on "Survivor" (CBS, 8 p.m.).
The custody battle between Hakeem and Anika heats up on "Empire" (Fox, 8 p.m.).
Holland Taylor plays Maya's mother, visiting for Thanksgiving on "Speechless" (ABC, 8:30 p.m.). It's also turkey time on "American Housewife" (ABC, 9:30 p.m.) "The Goldbergs" (ABC, 8 p.m.) and "Modern Family" (ABC, 9 p.m.).
Elliot battles "Mr. Robot" (USA, 10 p.m.).
I'm thinking "Full Frontal with Samantha Bee" (TBS, 10:30 p.m.) will address Tom Moore.
"Broad City" (Comedy Central, 10:30 p.m.) has their version of a grownup party.
Jughead and Archie try to stop a dangerous alliance on "Riverdale" (The CW, 8 p.m.).
Turkish protestors in the U.S. have problems, too, on "Designated Survivor" (ABC, 10 p.m.).
"SEAL Team" (CBS, 9 p.m.) rescues a captured undercover CIA operative.
On "Star" (Fox, 9 p.m.) the girls try to get a famous artist to drop some verses on their new single.
"Criminal Minds" (CBS, 10 p.m.) goes to Austin.
It's night three of the playoffs on "The Voice" (NBC, 9 p.m.).
"Chicago P.D." (NBC, 10 p.m.) try to find a kidnapped boy.
The Warlock Lord is resurrected on "The Shannara Chronicles" (Spike, 9 p.m.).
Cristal's houseguest puts Blake in an awkward position on "Dynasty" (The CW, 9 p.m.).
Turner Classic Movies' Wednesday night salute to Jimmy Stewart continues with "Vertigo" (8 p.m.), "Anatomy of a Murder" (10:30 p.m.), "The Spirit of St. Louis" (1:30 a.m.) and "No Highway in the Sky" (4 a.m.).
NBA action includes Cleveland at Charlotte (ESPN, 8 p.m.) and Philadelphia at Lakers (ESPN, 10:30 p.m.).
Hockey has Rangers at Chicago (NBC Sports, 8 p.m.).
College football has Eastern Michigan at Miami Ohio (CBS Sports, 7 p.m.), Western Michigan at Northern Illinois (ESPN2, 7 p.m.) and Toledo at Bowling Green (ESPNU, 8 p.m.).
Men's college basketball includes Indiana at Seton Hall (Fox Sports 1, 6:30 p.m.), Mount St. Mary's at Georgetown (Fox Sports 2, 7 p.m.) and Butler at Maryland (Fox Sports 1, 8:30 p.m.)
Soccer has Australia vs. Honduras (beIN Sports, 4 a.m.) and Peru vs. New Zealand (beIN Sports, 9 p.m.) in FIFA World Cup qualifiers.
And in women's college volleyball, it's Florida at Texas A&M (ESPNU, 6 p.m.).
Daytime Talk
Kelly Ripa and Ryan Seacrest: Gal Gadot, Gary Oldman. The View: Hari Kondabolu. The Talk: Saoirse Ronan. Harry Connick: Leslie Odom Jr. Steve Harvey: Charlie Weber, Sunny Anderson. Ellen DeGeneres: Kim Kardashian, Imagine Dragons. Wendy Williams: Cyndi Lauper, Michael Yo. The Real: Kyle Anfernee.
Late Talk
Stephen Colbert: Jordan Peele, Alia Shawkat, Paul Mecurio. Jimmy Kimmel: Colin Farrell, Patton Oswalt, Bishop Briggs. Jimmy Fallon: Gary Oldman, Gigi Hadid, Darryl Strawberry, Macklemore. Seth Meyers: Jeremy Irons, Rich Elsen, Jessica Ladd, Michel'le Baptiste. James Corden: Kim Kardashian, Ludacris, Amy Shark. Carson Daly: Gilbert Gottfried, Dressy Bessy, Janina Gavankar. Trevor Noah: Elaine McMillion Sheldon. Jordan Klepper: Sarah Lacy. Conan O'Brien: Kathy Bates, Seann William Scott, Jeff Caldwell (rerun).