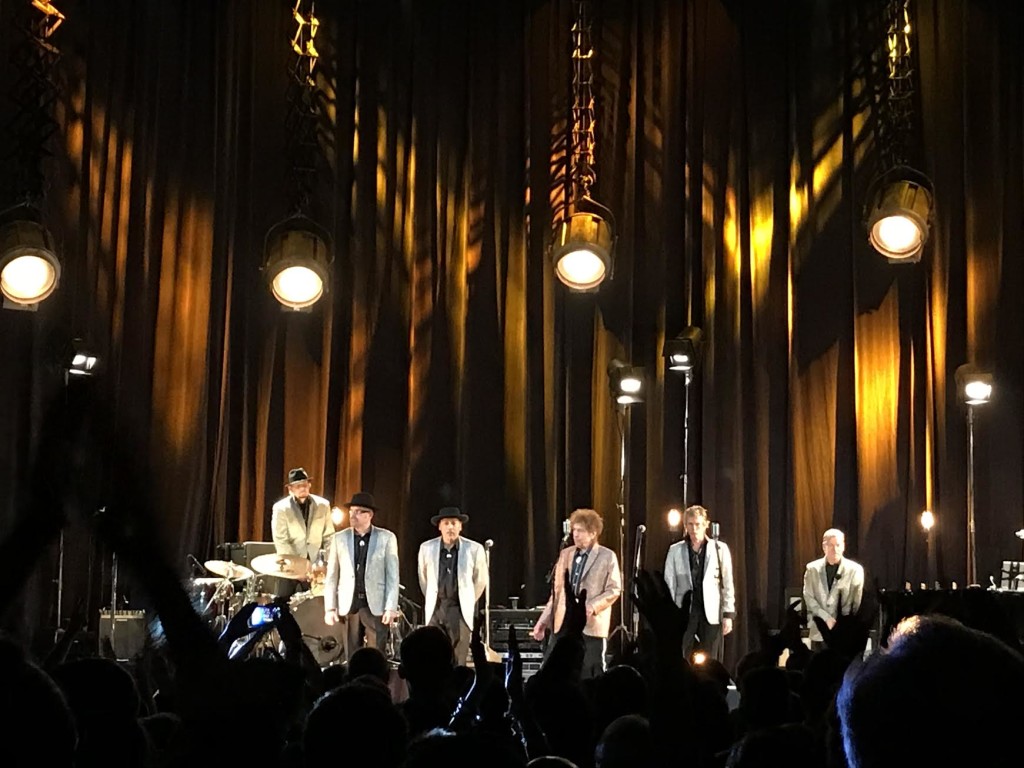 "Forever Young" is not a song Bob Dylan played in his first show at the big new rock club The Anthem in D.C. Tuesday, but it is something he embodied.
Who else has so dominated American music for half a century, requiring one to venture out to see his shows with his band year after year not necessarily to hear new music, but to see how the old ones have evolved even more, even since the last time around.
Dylan at 76 does seems younger – his hair no longer hidden beneath a hat but grown out to a brown 'fro again; his voice as clear as he wants to make it (its cragginess here and there, we see, is a choice).
Behind a baby grand piano rather than an electric keyboard — and never coming close to touching a guitar, something I'm still not quite adjusting to — he dominated early solos in a setlist that has been substantially the same for much of the last year. Charlie Sexton didn't seem to weigh in with short, stinging guitar solos until later in the show.
That made the sound of the songs are different, which will happen when your lead instruments are piano and pedal steel and tom tom.
Entering the vast Anthem stage to the sounds of guitarist Stu Kimball, improvising "O Shenandoah," the band kicked in with "Things Have Changed," the 2000 song that earned him the Oscar he appears to have on display on an amp.
The song seemed propelled on kind of a cowboy pace that seemed to fit with the matching Western suits the band wore (black hats on the left, hatless on the right).
It's an occupational hazard to pluck out lyrics of a Dylan song to clarify what's happening. In this case it was "I used to care, but things have changed." And in the second song, a further kiss-off to those who would be too fervent a fan: "I'm not the one you want babe, I'm not the one you need." Add this to the fact that he never speaks to the audience or acknowledge them in any way and you might think he doesn't like what he's doing.
The music would undo that theory, though, as he is having fun — as he has throughout his career — keeping his songs alive by changing them constantly. You can't step in the same river twice, and that applies here: The lyrics are the stones, the music the water rushing by at different paces with different effects on different days.
While he's been showcasing the solid songs on his last album of original songs, "Tempest," which is now five years old, even those selections are getting different arrangements. "
Other songs from this century changed even more: "Summer Days" was a fiddle-led country song; "Thunder on the Mountain" had a Ventures-like "Batman" meets "Wipeout" feel — with a drum solo!
"Honest with Me" had an undertow that suggested the under frame of the Beach Boys, "Dance, Dance, Dance" era.
I'm not complaining. But it is an adjustment to hear the old favorite "Tangled Up in Blue," after years as a guitar-led tune in concert, as a 50s style countrypolitan song with a peppier pace, and led now by piano and pedal steel (which, like the fiddle, and eventual mandolin and banjo in other songs, were handled by the indispensable Donnie Herron).
The latest recordings by Dylan, of course, have been his agreeable adaptations of old American standards, on 2015's "Shadows in the Night,"  last year's "Fallen Angels" and this year's three disc overkill, "Triplicate."
As odd as this still might seem to those who have latched onto earlier incarnations of Dylan, his heart is into these little gems and, removing himself from piano to take center stage with a standup mic and some swagger, he uses a voice that has more clarity and nuance than he has used all evening on things like "Why Try to Change Me Now" (another suggestion to fans), "Melancholy Mood," "Once Upon a Time" and the super-timely "Autumn Leaves" (both for the season and his time in life).
Dylan has been a serious part of American music for more than a half century, he recognizes the simple sublimity of a beautiful tune paired with a heartbreaking lyric. These were by no mean arcane throwbacks; they were show highlights.
I've been spending the week taking in yet another well curated dive into the vaults, "Trouble No More: The Bootleg Series Vol. 13 /1979-1981," covering his trilogy of Christian albums and its subsequent tour. Then, as now, he got flack for going to a whole different area, which now sounds great in retrospect. And then as now, he was enough of a showman to bring back some of the old favorites of the crowd, albeit with often different arrangements.
So the Washington show ended the way the London show does in the new collection, with a "Ballad of a Thin Man" that may or may not be addressing the audience in its refrain, "There's something happening here, but you don't know what it is, do you Mr. Jones?"
Opening the show as she did the last time Dylan was in these parts, last summer at Wolf Trap, Mavis Staples showed how wonderful her gruff gospel voice still remains in a short set that blended old Staples Singers standards with uplifting tunes from a new recording.
She also got the crowd involved to sing and clap along to her fine trio and two backup singers. By dropping "Freedom Highway" from the set Tuesday, though, there was the missed opportunity to hear two songs sung associated with the March on Washington, held a mile away and 55 years ago, their "Freedom Highway" and the first song in Dylan's encore, "Blowin' in the Wind," which was sung at the event.
Bob Dylan's setlist Tuesday was:
"Things Have Changed"
"It Ain't Me, Babe"
"Highway 61 Revisited"
"Why Try to Change Me Now"
"Summer Days"
"Melancholy Mood"
"Honest With Me"
"Tryin' to Get to Heaven"
"Once Upon a Time"
"Pay in Blood"
"Tangled Up in Blue"
"Soon After Midnight"
"Early Roman Kings"
"Scarlet Town"
"Desolation Row"
"Thunder on the Mountain"
"Autumn Leaves"
"Love Sick"
"Blowin' in the Wind"
"Ballad of a Thin Man"
Mavis Staples' setlist Tuesday was:
"If You're Ready (Come Go With Me)"
"Take Us Back"
"For What It's Worth"
"Build a Bridge"
"Can You Get to That"
"Ain't No Doubt About It"
"Love and Trust "
"I'll Take You There"