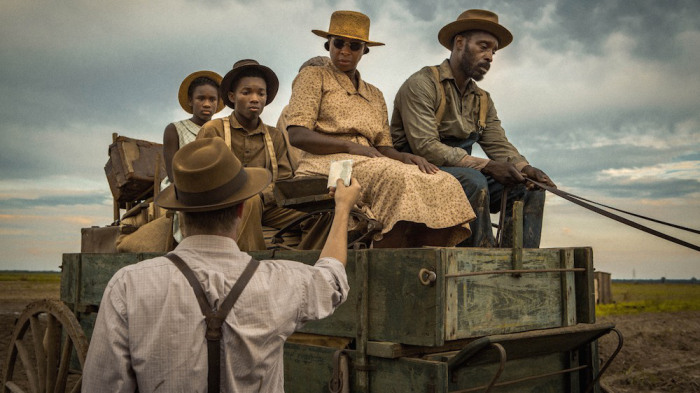 I'm all for the trend of Netflix buying big movies at film festivals and debuting them online the same day they premiere in theaters. The latest one, a likely Oscar contender, "Mudbound" (Netflix, streaming), is Dee Rees's drama about two families in rural Mississippi struggling to survive during and after World War II. The singer Mary J. Blige makes a star turn in a cast that also includes Cary Mulligan, Jonathan Banks and Garrett Hedlund.
Also online is the sixth and final season of "Longmire" (Netflix, streaming), the well-regarded modern Western starring Robert Taylor and Sackhoff. The streaming service picked up the series after its initial three ran on A&E; and put out its own three.
The depressingly timely documentary series "Active Shooter" (Showtime, 8 p.m.) wraps up after eight episodes with a look at the Columbine High School shooting in 1999. Sadly, there's already enough material for a second season, should they go that route.
Paula Vogel's play "Indecent," about the passion to create theater under difficult circumstances, is presented on "Great Performances" (PBS, 9 p.m., check local listings), starring Katrina Lenk and Adina Verson, in a production from New York's Cort Theater earlier this year.
Bill McKibben, Chelsea Handler, Max Brooks, Rebecca Traister and Carl Bernstein (but unfortunately, no Bernie Bernstein) help end the 15th season of "Real Time with Bill Maher" (HBO, 10 p.m.). It's been renewed for another three seasons.
Rebecca comes to grips with her new life on "Crazy Ex-Girlfriend" (The CW, 8 p.m.).
A bomber terrorizes Manhattan on "Blindspot" (NBC, 8 p.m.).
Hook seeks revenge with some powerful magic on "Once Upon a Time" (ABC, 8 p.m.).
A member of the force is picked up for pot on "Blue Bloods" (CBS, 10 p.m.).
Steve makes a mistake responding to a bank heist on "Hawaii Five-0" (CBS, 9 p.m.).
"MacGyver" (CBS, 8 p.m.) goes after a dealer in stolen art.
They go after a suspected grave robber on "Z Nation" (Syfy, 9 p.m.).
"The Exorcist" (Fox, 9 p.m.) begins his process at the foster home.
The mining isn't going particularly well on "Gold Rush" (Discovery, 9 p.m.).
Contestants on "Hell's Kitchen" (Fox, 8 p.m.) have 25 minutes to make six dishes.
A local mystic drops by on "Superstition" (Syfy, 10 p.m.).
"Diners, Drive-Ins and Dives" (Food, 9 p.m.) goes to college towns in Ohio and Colorado.
"Josh Gates' Destination Truth" (Travel, 9 p.m.) heads to Japan and the Philippines.
The writer and illustrator Brian Selznick, who recently adapted his novel "Wonderstruck" into a Todd Haynes film, chooses movies that influenced him on Turner Classic Movies tonight. His choices are: Lillian Gish in the silent "The Wind" (8 p.m.), Peter Sellers in "Being There" (9:45 p.m.) and Robert De Niro in "Mean Streets" (12:15 a.m.). Then comes "McCabe and Mrs. Miller" (2:30 a.m.) and "The Passion of Joan of Arc" (4:45 a.m.).
NBA action includes Oklahoma City at San Antonio (ESPN, 8 p.m.) and New Orleans at Denver (ESPN, 10:30 p.m.).
Hockey has Rangers at Columbus (NHL, 7 p.m.),
In college football, it's Middle Tennessee at Western Kentucky (CBS Sports, 8 p.m.) and UNLV at New Mexico (ESPN2, 9:30 p.m.).
In the Puerto Rico Tipoff men's basketball tournament, it's South Carolina vs. UTEP (ESPNU, 10:30 a.m.) and Appalachian State vs. Western Michigan (ESPNU, 5 p.m.) in consolation games, and Illinois State vs. Boise State (ESPN2, 1 p.m.) and Iowa State vs. Tulsa (ESPNU, 7 p.m.) in the semifinals.
Men's college basketball is dominated by a number of tournaments. In the semifinals of the Charleston Classic, it's Auburn vs. Temple (ESPN2, 11 a.m.) and Clemson vs. Hofstra (ESPNU, 9:30 p.m.), with Indiana State vs. Old Dominion (ESPNU, 1:30 p.m.) and Ohio vs. Dayton (ESPNews, 7 p.m.) in the consolation games
In the Jamaica Classic, it's Colorado State vs. Tulane (CBS Sports, 2 p.m.) and Fordham vs. Florida State (CBS Sports, 6 p.m.).
In the 2K Classic, it's Virginia Tech vs. Washington (ESPN2, 5 p.m.) in the third place game and Saint Louis vs. Providence (ESPN2, 7 p.m.) in the championship.
Other games include Virginia at VCU (CBS Sports, 4 p.m.) and Lafayette vs. Villanova (Fox Sports 2, 8 p.m.).
NASCAR has its Ford EcoBoost 200 (Fox Sports 1, 8 p.m.).
It's the men's playoff in the U.S. Curling Olympic Trials (NBC Sports, 7:30 p.m.).
And it's Tonga vs. Lebanon (Fox Sports 2, 11 p.m.) in a rugby World Cup quarterfinal.
Daytime Talk
Kelly Ripa and Ryan Seacrest: Ben Affleck. The View: Bob Saget. The Talk: J.K. Simmons, Jacob Tremblay. Harry Connick: Jacob Tremblay, Billy Ray Cyrus, Lauren Wilson. Steve Harvey: Tyler Perry, Sunny Anderson. Ellen DeGeneres: Ty Burrell, Lin-Manuel Miranda. Wendy Williams: Gary Owen. The Real: Ashanti.
Late Talk
Stephen Colbert: Norah O'Donnell, Dead & Company. Jimmy Kimmel: Chris Hemsworth, Whitney Cummings, Vance Joy (rerun). Jimmy Fallon: Jessica Chastain, TImothee Chalamet, Justin Verlander, Kate Upton, Dap-Kings. Seth Meyers: Hillary Rodham Clinton, Will Ferrell, Nathan Davilmar (rerun). James Corden: Julia Roberts, Ben Schwartz, Shania Twain (rerun). Carson Daly: Sarah Wright Olsen, Best Coast, Natalie Alyn Lind (rerun).