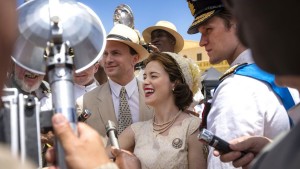 Netflix has a lot of money to spend on programming, but they simply lavish it on "The Crown" (Netflix, streaming), the opulent series about the earlier life of Queen Elizabeth II which drops the entirety of its second season today. While barely remembered crises of the late 50s and early 60s occur, the focus comes more on the relationship of the royal couple. Claire Foy is faultless as Elizabeth (except for a tad too glamorous); Matt Smith is Prince Philip. It's beautifully done history that ought to snag every former "Downton Abbey" fan.
Elizabeth forces Philip to go on a five month tour, but it's nothing like "The Grand Tour" (Amazon, streaming), the car and adventure series led by Jeremy Clarkson formerly of "Top Gear," whose James May and Richard Hammond are on board here as well.
Beyonce gives Colin Kaepernick the Muhammad Ali Legacy Award at Sports Illustrated magazine's Sportsperson of the Year Awards (NBC Sports, 8 p.m.), where top athletes are honored for their sports achievements as well as humanitarian efforts. It was taped Tuesday at Brooklyn's Barclays Center.
One of the more unusual holiday movies on TV this season is online. "El Camino Christmas" (Netflix, streaming) is about a Christmas Eve hostage situation at a Southwest liquor store. Luke Grimes, Vincent D'Onofrio, Dax Shepard, Kurtwood Smith star, with appearances from Jessica Alba and Tim Allen.
The fall seasons end for both "Crazy Ex Girlfriend" (The CW, 8 p.m.), TV's best musical comedy, and "Jane the Virgin" (The CW, 9 p.m.), the light saga where Jane embarks on a book tour.
Creatures of the sea are the focus on "Hell's Kitchen" (Fox, 8 p.m.).
"The Great British Baking Show" (PBS, 9 p.m., check local listings) begins its fifth season sharing Christmas recipes.
"Amazingness" (MTV, 10:30 p.m.) is sort of a "Ridiculousness" (MTV, 10 p.m.) with prizes.
Kristen Stewart, Laura Dern and Michelle Williams star in last year's "Certain Women" (Showtime, 8 p.m.), making a premium cable premiere.
On the made for TV "You Killed My Mother" (Lifetime, 8 p.m.) Carlene Britch stars as a mentally ill teen who goes on a rampage against those who denied her mother's health care.
On "Once Upon a Time" (ABC, 8 p.m.), Victoria strikes a deal with Weaver to get out of jail.
Daisy decides to rescue Simmons on "Marvel's Agents of S.H.I.E.L.D." (ABC, 9 p.m.).
The team on "Blindspot" (NBC, 8 p.m.) goes undercover on a movie set to stop a terrorist plot.
The team on "Hawaii Five-0" (CBS, 9 p.m.) are exposed to a bioweapon while at sea.
Baker gets a job offer on "Blue Bloods" (CBS, 10 p.m.).
"MacGyver" (CBS, 8 p.m.) tries to rescue college students stranded on an Arctic research ship.
It's Tomas vs. the demon in a battle to save Andy's soul on "The Exorcist" (Fox, 9 p.m.).
The team returns to the Mercy labs on "Z Nation" (Syfy, 9 p.m.).
A former hitman provides a new lead to "Finding Escobar's Millions" (Discovery, 10 p.m.).
Todd makes a plea for new land on "Gold Rush" (Discovery, 9 p.m.).
The Dancing Dolls prepare for battle on "Bring It!" (Lifetime, 9 p.m.).
The women on "Married to Medicine" (Bravo, 8 p.m.) continue their trip in New Orleans.
On "Stuck in the Middle" (Disney, 8 p.m.), the Diaz family has trouble connecting for the holidays.
The Christmas Classics continue on Turner Classic Movies with two versions of Dickens, "A Chrismas Carol" (8 p.m.) and "Scrooge" (9:45 p.m.), and then some Christmas crime: "Lady in the Lake" (11:15 p.m.), "Lady on a Train" (1:15 a.m.), "Fitzwilly" (3 a.m.) and "Larceny, Inc." (4:45 a.m.).
NBA action includes Golden State at Detroit (ESPN, 7 p.m.) and Boston at San Antonio (ESPN, 9:30 p.m.).
Hockey has Rangers at Washington (NHL, 7 p.m.).
In college football, it's Weber State at James Madison (ESPN2, 7 p.m.) in the football championship series quarterfinal.
Men's college basketball includes Oklahoma vs. Southern California (ESPN2, 10:30 p.m.) and TCU vs. Nevada (ESPNU, 1 a.m.).
Women's games include Connecticut at DePaul (Fox Sports 1, 7 p.m.).
Daytime Talk
Kelly Ripa and Ryan Seacrest: Madonna, Katie Brown, 98 Degrees. The View: Ginger Zee. The Talk: Morgan Freeman. Harry Connick: Adrian Grenier. Steve Harvey: Padma Lakshmi, Rachel Bloom. Ellen DeGeneres: Dana Carvey, Gwen Stefani. Wendy Williams: Jeremy Parsons. The Real: Adrienne and Israel Houghton.
Late Talk
Stephen Colbert: Mark Hamill, Bobby Flay. Jimmy Kimmel: Margot Robbie, Chris Stapleton, Chris Pratt (rerun). Jimmy Fallon: Hugh Jackman, Luke Bryan. Seth Meyers: John Oliver, Rachel Bloom, Will Dorsey Jr. (rerun). James Corden: Mila Kunis, Jim Parsons, Sam Smith (rerun). Carson Daly: Rob Huebel, Kaleo, Michael Stein and Kyle Dixon.