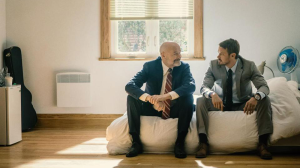 As much as I'm honored to be among the 55 TV critics participating in the 2017 Uproxx TV Critics Poll  of what's best on television and streaming, I really have my reluctance about Top 10 lists in general, never feeling they actually mattered. Some participants have gone to Top 20 because they don't have the discipline to narrow it down; some have gone beyond that.
My biggest fear is forgetting something from earlier in the year because of the sheer amount of things released (nearly 700 titles this year).
Still, the overall results and my own reflect the titles most often named for such lists, with the remarkable "The Handmaid's Tale" chief among them. I thought "Better Things" had a stellar season and "The Deuce" deserved respect for what it was able to do (mainly setting the stage for season two).
There was no denying "Mindhunter" was a new way to tackle well-used subject matter – the serial killer, but in this case the beginnings of even using the term. "Halt and Catch Fire" had a very strong final season.
"The Leftovers" had some very strong episodes in their final season, but I don't think it all held together completely and while season three was much better than wayward season two, it all went astray from the original vision (and book) used for season one, mostly because of where they decided to relocate every season.
Carrie Coons, very good in "The Leftovers" was also very good in "Fargo," which I continue to find to be one of the best TV shows. Sometimes, shows drop off Top 10 lists just because the initial excitement about their first appearance dries up. There  is always something new and shiny coming down the road.
That doesn't mean things like "Veep" and "Silicon Valley" dropped off in quality. There just wasn't room in my 10 for them.
I'm glad to have had room for the very strange return of "Twin Peaks," and maybe put "Patriot" (pictured) higher on my list than most just because I really enjoyed it — and hardly anyone else saw it. (It's on Amazon Prime, you can still see what I'm talking about).
I don't know why "Feud: Bette and Joan" hasn't gotten more attention. The lavish recreation of the changing of a Hollywood era and what it had to say about women in that town was very well excuted, with Ryan Murphy at the top of his powers.
And "Lady Dynamite" is just so crazy and unique I had to put it on there.
Luckily Uproxx also has a Best New Shows list that takes some of the pressure to put all new freshman series on the Ten Best. To the ones I had already put on the overall best (because it's only fair that they were also the best new shows), I added Noah Hawley's other inventive series "Legion," the only thing approaching superhero stories that got my attention, the female wrestling portrait "Glow," the quirky and funny "At Home with Amy Sedaris," a show that seems to fulfill old 1950s TV domestic fever dreams, the decent reboot of "Get Shorty" and the just-started "The Marvelous Mrs. Maisel" which elbowed its way in at the last minute.
Of the shows that didn't make it, "Big Little Lies" was glossy, largely entertaining and had star power, but also aspects i couldn't abide (The real estate porn, as well as the fact there was no suspect or even victim in the series-long murder mystery).
I never thought "The Good Place" really made sense, either last season, when it was a completely different show, or now. "Insecure" was good but the season seemed like a placeholder.
"Game of Thrones" was something I watched every week but it seemed increasingly determined to tie everything together in a very methodical way.
And I forgot about "Better Call Saul." I loved that season. It was won of those shows from early in the year that I was afraid I'd forget, and I did. But that's OK, because Top 10 lists don't really matter, right?
My Top 10 of 2017:
The Handmaid's Tale
Better Things
Patriot
Feud: Bette and Joan
The Deuce
Mindhunter
Lady Dynamite
Fargo
Twin Peaks: The Return
Halt and Catch Fire
 My Best New Shows 2017
The Handmaid's Tale
Patriot
Feud: Bette and Joan
The Deuce
Mindhunter
Legion
Glow
At Home with Amy Seders
The Marvelous Mrs. Maisel
Get Shorty
 Overall Uproxx Critics Top 10 2017 
The Leftovers
The Handmaid's Tale
Big Little Lies
Better Things
Twin Peaks: The Return
The Good Place
Halt and Catch Fire
Insecure
Game of Thrones
Better Call Saul
 Overall Uproxx Critics Best New Show
The Handmaid's Tale
Big Little Lies
The Deuce
Glow
Mindhunter
One Day at a Time
American Vandal
Feud: Bette and Joan
Legion
The Marvelous Mrs. Maisel