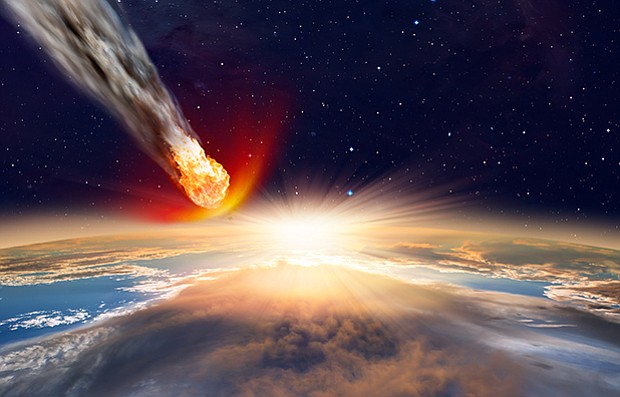 The year is ending and "Nova" (PBS, 9 p.m.) is looking at the "Day the Dinosaurs Died" and the seven-mile-wide asteroid that triggered it 66 million years ago.
A hero from the past returns on the first of two episodes of "The Librarians" (TNT, 8 and 9 p.m.).
On "Happy!" (Syfy, 10 p.m.), Sax and Happy go to Chinatown.
The summer movie "The Little Hours" (Epix, 9:45 p.m.) with Alison Brie, Aubrey Plaza and Kate Micucci as nuns, gets a premium cable debut.
Alluvia Alyn Lind returned as the pint-sized version of the country singer in last year's "Dolly Parton's Christmas of Many Colors: Circle of Love" (NBC, 9 p.m.).
"The Carol Burnett 50th Anniversary Special" (CBS, 8 p.m.) gets a replay.
A pagan helps Landry investigate his own past on "Knightfall" (History, 10 p.m.).
Lagertha is betrayed on "Vikings" (History, 9 p.m.).
Plinko lawyers ought to send a letter to "The Wall" (NBC, 8 p.m.).
Charlamagne Tha God guest stars on "Catfish: The TV Show" (MTV, 10 p.m.).
They're still celebrating on a series of specials called "Treehouse Masters: Christmas in the Canopy" (Animal Planet, 8 and 9 p.m.).
"CNN Special Report: Late Night in the Age of Trump" (CNN, 9 p.m.) gets rerun as well, on a night when all late night shows are reruns.
"Ozzy and Jack's World Detour" (A&E, 10 p.m.) travels to the Pacific Northwest.
On the season premiere of "Expedition Unknown" (Travel, 9 p.m.), Josh Gates goes to Denmark, Iceland, Canada and the U.S.
Zero Mostel is featured on Turner Classic Movies tonight with "The Producers" (8 p.m.), "The Front" (9:45 p.m.), "The Angel Levine" (11:30 p.m.), "The Great Robbery" (1:30 a.m.) and "Great Catherine" (3:30 a.m.).
Bowl games begin to proliferate with Southern Mississippi vs. Florida State (ESPN, 1:30 p.m.) in the Independence Bowl, Boston College vs. Iowa (ESPN, 5:15 p.m.) in the Pinstripe Bowl, Arizona vs. Purdue (Fox, 8:30 p.m.) in the Foster Farms Bowl, and Texas vs. Missouri (ESPN, 9 p.m.) in the Texas Bowl.
Men's college basketball includes Butler at Georgetown (Fox Sports 1, 6:30 p.m.), Eastern Michigan at Syracuse (ESPN2, 7 p.m.), Florida Gulf Coast at Rhode Island (ESPNU, 7 p.m.), Villanova at DePaul (CBS Sports, 7:30 p.m.), Xavier at Marquette (Fox Sports 1, 8:30 p.m.), UCF at SMU (ESPN2, 9 p.m.), Chicago State at Wisconsin (ESPNU, 9 p.m.) and Colorado State at Boise State (CBS Sports, 9:30 p.m.).
Pro games include Toronto at Oklahoma City (NBA, 8 p.m.) and Utah at Golden State (NBA, 10:30 p.m.).
In hockey's IIHF World Junior Hockey Championship, it's Switzerland vs. Belarus (NHL, 3 p.m.) and Slovakia vs. Canada (NHL, 7 p.m.).
What about football as a video game? Here's the EA Madden NFL 18 Challenge (The CW, 8 p.m.) getting a prime time perch.
Daytime Talk
The View: Denis Leary, Darius Rucker (rerun). The Talk: Tyler Perry, Carrie Ann Inaba, Ellen K (rerun). Harry Connick: Sutton Foster, Caleb Serrano, Quincy Brown (rerun). Steve Harvey: Jason George, Carlos Correa (rerun). Ellen DeGeneres: Kerry Washington (rerun). Wendy Williams: Antonio & Terricka Cromartie, Gesine Bullock-Prado (rerun). The Real: Skeet Ulrich, Wyclef Jean (rerun).
Late Talk
All reruns: Stephen Colbert: Hillary Rodham Clinton, Emma Stone. Jimmy Kimmel: Mary J. Blige, Amanda de Cadet, Miguel with Travis Scott, Tracee Ellis Ross. Jimmy Fallon: Chance the Rapper, Tim McGraw, Faith Hill. Seth Meyer: Taran Killam, Japandroids, Joe Russo. James Corden: Jennifer Connelly, Jason Alexander, Mark Consuls, Miley Cyrus. Carson Daly: Judah Freidlander, Cloud Nothings, Dee Rees. Conan O'Brien: Andy Samberg, Jay Oakerson, J. Roddy Walston and the Business.