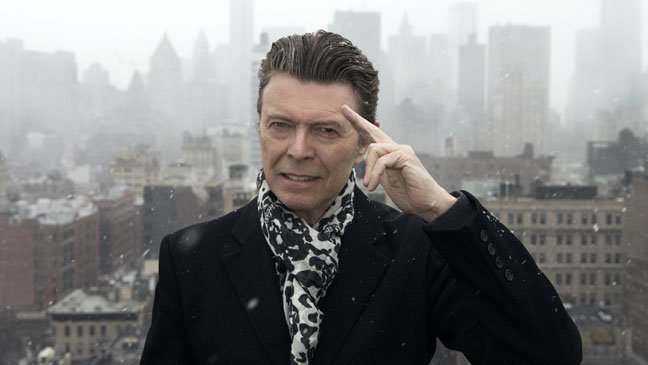 Today would have been the 71st birthday of David Bowie, but he died two years ago Wednesday. HBO chooses the birthday to celebrate as it premieres the British documentary "David Bowie: The Last Five Years" (HBO, 8 p.m.) concentrates on his final two albums, "The Next Day" and "Blackstar," and his off-Broadway musical "Lazarus," which all seemed to deal with the rock star's impending death. Filmmaker Francis Whately uses those works as a window back into his remarkable career.
In lieu of any tours or performances of hose albums, the musicians who backed him are reunited, play a bit and talk about the work they did. The producer Tony Visconti is frequently seen, playing back the work, isolating tracks, and reminiscing. It's a thoughtful look back at a formidable artist.
Already one of the top-rated shows on TV, "The Good Doctor" (ABC, 10 p.m.) resumes its first season. What makes it popular may point the way to the future at ABC, according to ABC entertainment president Channing Dungey. "It's a show that is hopeful and optimistic and positive and really engages the audience in great ways. So those are going to be things that I'm going to be looking for."
[Her comments came today at the TV Critics Association winter press tour, my coverage of which can be found here].
Chronic fatigue syndrome is examined in Jennifer Brea's documentary "Unrest," making its bow on "Independent Lens" (PBS, 10 p.m.).
"The Brave" (NBC, 10 p.m.) is also back to resume its initial season.
The guys on "Better Late Than Never" (NBC, 9 p.m.) go to Berlin.
The 22nd season of "Antiques Roadshow" (PBS, 8 p.m., check local listings) begins in Harrisburg, Penn.
Arie is already taking one of his romantic candidates to meet his family on "The Bachelor" (ABC, 8 p.m.).
On the new "Home Town" (HGTV, 9 p.m.), newlyweds get help finding their first homes.
Instead of paying $18 billion for "The Wall" (NBC, 8 p.m.), contestants of the game show look to make money.
Sur deals with cheating rumors on "Vanderpump Rules" (Bravo, 9 p.m.).
The "Kids Baking Championship" (Food, 9 p.m.) creates dessert pizzas.
Shep tries to impress Bella on a date on "Relationshep" (Bravo, 10 p.m.)
One of those series meant for Januarys: "Fit to Fat to Fit" (Lifetime, 8 p.m.).
Amber makes her first public appearance with a new boyfriend on "Teen Mom OG" (MTV, 9 p.m.).
The summer is winding down on "Floribama Shore" (MTV, 10 p.m.) and the roommates try to remember their accomplishments through the haze of hangovers.
On the Jersey Shore, meanwhile, there are some "House Hunters" (HGTV, 10 p.m.).
On the second "Love & Hip Hop: Miami" (VH1, 9 p.m.), Gunplay reconnects with an old flame.
The original "Love & Hip Hop" (VH1, 8 p.m.), meanwhile, deals with a variety of affairs.
"Ridiculous Cakes" (Food, 10 p.m.) makes a cake for the 200th episode of "Modern Family" (which is this Wednesday).
A night of true crime films on Turner Classic Movies has "In Cold Blood" (8 p.m.), "10 Rillington Place" (10:30 p.m.), "The Honeymoon Killers" (12:30 a.m.), "Dog Day Afternoon" (2:30 a.m.) and "The Phenix City Story" (4:45 a.m.).
Monday Night Football is no less than the college football playoff championship game of Alabama vs. Georgia (ESPN, 8 p.m.) in Atlanta. Its sister stations present it in different audio ways: with partisan supporters on ESPN2, a panel of ESPN commentators on ESPNU and best of all, no commentators at all in a "sounds of the game" telecast on ESPNClassic.
Basketball has Milwaukee at Indiana (NBA, 7 p.m.).
Daytime Talk
Kelly Ripa and Ryan Seacrest: Liam Neeson, Molly Shannon, Melissa Hartwig. The View: Sen. Lindsey Graham, Ana Navarro. The Talk: Colin Hanks, Kevin Frazier. Harry Connick: Jaimie Alexander, Kristen Kiss, Charlamagne Tha God. Steve Harvey: Dylan McDermott, Brooke Burke Charvet. Ellen DeGeners: Debra Messing. Wendy Williams: Bevy Smith, Drew Elliott, Lloyd Boston, Milly Almodovar. The Real: Shaun T.
Late Talk
Stephen Colbert: Liam Neeson, Michael Wolff, Andra Day, Common. Jimmy Kimmel: Meryl Streep, Jason Ritter, Blake Shelton. Jimmy Fallon: Taraji Henson, Michael Che, Sofi Tukker. Seth Meyers: Rebel Wilson, Doug Jones (rerun). James Corden: Connie Britton, Bradley Whitford, Jamie Bell, Cirque du Soleil. Carson Daly: Chris Meloni, Best Coast, Samara Weaving (rerun). Trevor Noah: Ashley Graham. Jordan Klepper: Ty Segel. Conan O'Brien: Kristen Bell, Frank Grillo, Beth Stelling (rerun).