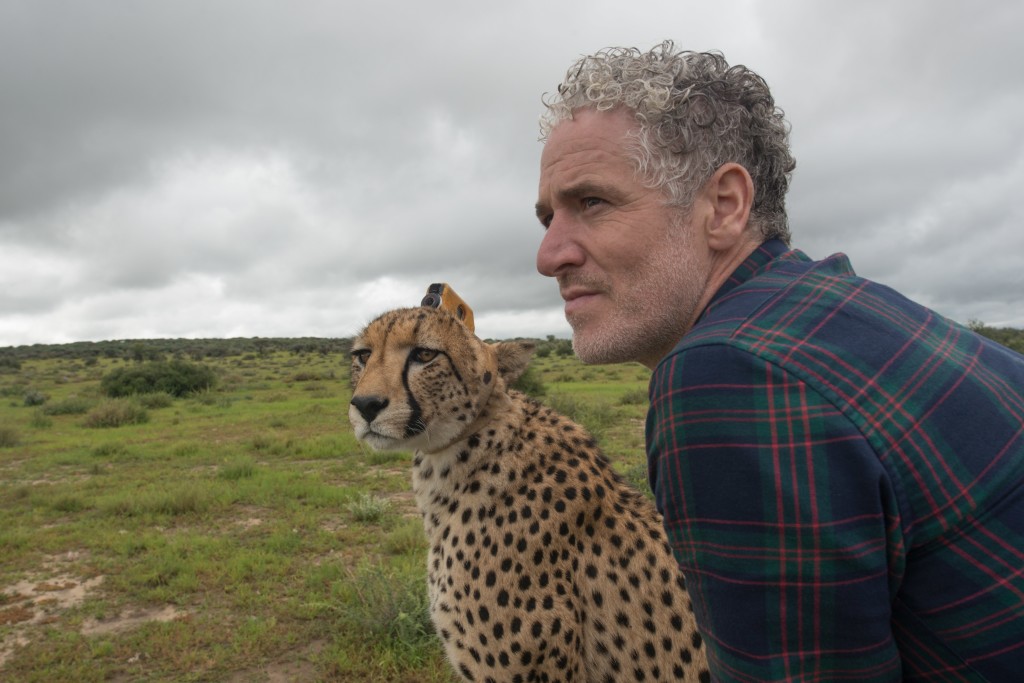 David Letterman may have been a pioneer in the field. But his MonkeyCam was mostly played for the ridiculous fun that it was. It's more serious on a multi-episode series on "Nature" (PBS, 8 p.m., check local listings) called "Animals with Cameras."
Using creatures as unwitting cinematographers, a team led by Gordon Buchanan affixes cameras to cheetahs, chimpanzees and penguins, starting tonight with that already overexposed mammal of the African plain, the meerkat. They haven't affixed these little devices with Steadicam yet and the shaky footage is never played for laughs. Nor is the spying aspect played up.
It sounds like "Saturday Night Live" skit starring Kenan Thompson. But "Big Papi Needs a Job" (Fusion, 8 p.m.) is an actual show, employing the retired Red Sox DH who will investigate various non-baseball jobs, from manicurist to zookeeper.
On "Nova" (PBS, 9 p.m.), two pilots see if they can fly around the world in a solar-powered plane.
"Happy!" (Syfy, 10 p.m.), the unlikely pairing of an alcoholic hit man and a flying blue unicorn, based on a comic book, ends its first season, chasing a malevolent Santa Claus. The show has been picked up for a second season.
Trump's speech gets analyses on "Angela Rye's State of the Union" (BET, 10 p.m.) and "Full Frontal with Samantha Bee" (TBS, 10:30 p.m.).
The second episode of the miniseries "Waco" (Paramount, 10 p.m.), an undercover ATF agent played by John Leguiazano moves next door to the Mount Carmel compound. The first episode runs again at 9. A longer piece about the series, which I wrote for Smithsonian Magazine, can be found here.
The next victim on "The Assassination of Gianni Versace: American Crime Story" (FX, 10 p.m.) is Chicago real estate tycoon Lee Miolin. No Versace in this episode, but there's a terrific performance by Judith Light as the widow.
"The Amazing Race" (CBS, 8 p.m.) goes to Prague.
A street artist is exploited on "Corporate" (Comedy, 10 p.m.).
Any gets Buck to help her look for her mother on "9-1-1" (Fox, 9 p.m.) and disaster strikes an Indian wedding.
Maryse has to tell her bosses she's pregnant on "Total Divas" (E!, 9 p.m.). The 100th episode is also its seventh season finale.
The Carringtons and Colbys feud on "Dynasty" (The CW, 9 p.m.), so what else is new?
On "The Blacklist" (NBC, 8 p.m.) one arsonist is used to find another.
Deployment date is moved up on "SEAL Team" (CBS, 9 p.m.).
A mass grave is found inside a vandalized cemetery on "Criminal Minds" (CBS, 10 p.m.).
An incident at Pickens Park has ripples on "Riverdale" (The CW, 8 p.m.).
The pregnancy test is positive on "Schitt's Creek" (Pop, 8 p.m.).
On "Grown-ish" (Freeform, 8 p.m.) Zoey gets on national television.
"The X-Files" (Fox, 8 p.m.) looks into a fight between a couple of teenage girls.
On "Alone Together" (Freeform, 8:30 p.m.), Esther and Benji stand in line for a cosmetics pop up store.
"Black Ink Crew" (VH1, 9 p.m.) goes to Korea.
An apparel company gets help on "Relative Success with Tabitha" (Bravo, 10 p.m.).
"Expedition Unknown" (Travel, 9 p.m.) goes to Ecuador.
Chris gets jealous on "Little Women: Atlanta" (Lifetime, 9 p.m.).
Elliot is hunted on "The Magicians" (Syfy, 9 p.m.).
An Easter celebration goes all wrong on "The Real Housewives of New Jersey" (Bravo, 9 p.m.).
Gangs are infiltrating the town on "Chicago P.D." (NBC, 10 p.m.).
Queen Joan plots her escape on "Knightfall" (History, 10 p.m.).
Niche goes to New York Fashion Week on "WAGS Atlanta" (E!, 10 p.m.).
"Rooster and Butch" (A&E, 10 p.m.) consider a product that helps the blind.
Chitoka tries to walk outside for the first time in years on "Family by the Ton" (TLC, 10 p.m.).
Jack McBrayer, Jane Krakowski, Ron Huebel, Ana Gasteyer, Jason Biggs and Tichina Arnold play "Match Game" (ABC, 10 p.m.).
Before it begins its 31 Days of Oscars, Turner Classic Movies donors four who win the Academy's Governor's Awards: Charles Burnett, director of "My Brother's Wedding" (8 p.m.), cinematographer Owen Roizman, represented by his "Straight Time" (10 p.m.), Donald Sutherland in "Klute" (12:15 a.m.) and director Agnes Varda, with "Cleo 5 to 7" (2:30 a.m.) and "Le Bonheur" (4:15 a.m.).
Men's college basketball includes Tulane at East Carolina (ESPNews, 6:30 p.m.), Louisville at Virginia (ESPN2, 7 p.m.), West Virginia at Iowa State (ESPNU, 7 p.m.), Pittsburgh at Miami (NBC Sports, 7 pm.), Providence at Seton Hall (Fox Sports 1, 7 p.m.), Houston at Cincinnati (CBS Sports, 7 p.m.), Memphis at South Florida (ESPNews, 8:30 p.m.), Virginia Tech at Boston College (NBC Sports, 9 p.m.), Missouri at Alabama (ESPN2, 9 p.m.), Texas at Texas Tech (ESPNU, 9 p.m.), Butler at Marquette (Fox Sports 1, 9 p.m.), Connecticut at UCF (CBS Sports, 9 p.m.) and Fresno State at Nevada (CBS Sports, 11 p.m.).
Women's games includes Fordham at Saint Louis (NBC Sports, noon).
NBA action includes New York at Boston (ESPN, 8 p.m.) and Dallas at Phoenix (ESPN, 10:30 p.m.).
Daytime Talk
Kelly Ripa and Ryan Seacrest: Chrissy Teigen. The View: Katie Lowes. The Talk: Charlie Puth, Shemar Moore, Stephanie Sigman. Harry Connick: Ben Stern, Matt Czuchry, Kevin Pereira, Brooke Van Poppelen. Steve Harvey: Brian Dietse. Ellen DeGeneres: Jamie Dornan, Drew Brees, Troye Sivan. Wendy Williams: Justina Machado.
Late Talk
Stephen Colbert: Rose McGowan, Sen. Rand Paul, Jacob Williams, Curtis Harding. Jimmy Kimmel: Jamie Dornan, Danai Gurira, Russell Dickerson. Jimmy Fallon: Tom Selleck, Rita Ora, Liam Payne. Seth Meyers: Dakota Johnson, Taylor Kitsch, Maggie Habermas, Nikki Glaspie. James Corden: Martin Short, Lisa Kudrow, Fall Out Boy. Carson Daly: Garrett Hedlund, Welles, D'Arcy Carden, Jameela Jamil. Trevor Noah: Angela Rye. Jordan Klepper: Catherine Rampell. Conan O'Brien: Wanda Sykes, Tom Papa, Mt. Joy.