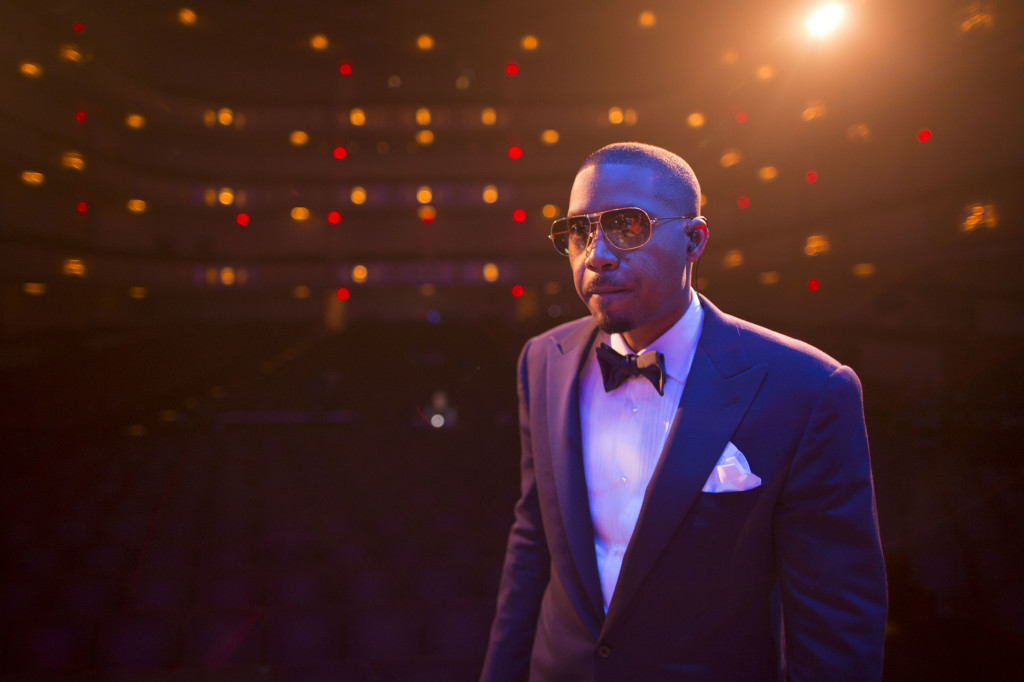 Putting an orchestral score to hip hop tracks is the kind of gimmick you'd see as a one shot thing at the Grammys — staged more for the visual impact than how it all sounded. There was something very different about Nas taking the whole of his striking debut album "Illmatic" and having it scored in its entirety for a single pair of performances with the National Symphony Orchestra at the Kennedy Center.
The remarkable performance, titled "Nas Live from the Kennedy Center: Classical Hip-Hop," recorded back in 2014 finally makes it to broadcast today with perhaps the most different episode of "Great Performances" (PBS, 9 p.m. ET, check local listings) in its 46 seasons. For hip hop fans, it's a new way to consider a stone classic; for outsiders, a chance to be invited into the verbal power of rap through the majesty of classical sound.
With Nas' own trio out front keeping a beat, the orchestra under the baton of Steven Reineke becomes a part of "Illmatic" and further bolsters the declarations and remembrances reflected in that album.
It's seen, too, in the unerring performance of the rapper, all done up in tuxedo as if creating something both classic and something brand new. Throughout the performance he can be seen reacting to the surprising sweep of the sound along with fans in the audience, often joining him in lyrics they also know by heart.
Nostalgia was already a built in part of the album, which was credited to bringing the spotlight back to New York at a time when hip hop attention had gone to the West Coast. But for the former Nasir Bin Olu Dara Jones, who began his young rap career with the name Nasty Nas, it was a chance, now that he was in his 40s, to look back at his own thoughts and look at the world two decades earlier when he was chronicling his influences in the Queensbridge Houses, the largest public housing project in North America, in the Long Island City section of New York City.
At once, the world of crime and foreshortened opportunity were at odds with the possibilities brought to him by a world of hip hop pioneers, many of whom from his own neighborhood, who found this form to build on the oral traditions of the African griot, using deft and sophisticated rhyming patterns over the found sounds of beats on old vinyl, blasted from jerryrigged sound systems plugged into playground lampposts.
"Illmatic"'s own sound was spare, with production from DJ Premier, Pete Rock, Q-Tip and Large Professor. That only allowed some variations and new coloration from the orchestra and tracks that build and build.
The Great Performances production allows for some commentary from Nas on the event.
"It's crazy," he says. " I wrote this in the projects in New York City. Here we are in the capital of America, Washington, D.C., and, you know, a bunch of white people with strings and all that, playing this album — and they feeling it."
Hip hop may be more universally felt than Nas could have seen, to a wider group of musicians than he could have imagined. Certainly more widely accepted than when "Illmatic" was first released two dozen years ago.
Perhaps that is because of the jazzier aspects of "Illmatic." Nas was influenced by his father, the jazz musician Olu Dura, who also appeared on the debut.
"Growing up, I would think that hip hop music only reached the communities of the people that made it," Nas told reporters at the TV Critics Association winter press tour last month. "I didn't really see outside of my own neighborhood to know if anybody outside my neighborhood cared. But hip hop is huge."
And even as a kid, he felt himself part of a continuum.
"I felt like I was doing something to the English language that must have been going on 100 years ago then 100 years before that, like each all of us contribute something to the language and to how we describe things, and it just gets passed on," Nas said.
And having it all on public television isn't weird to him, he said.
"I grew up watching PBS, and I certainly learned a lot watching PBS, so maybe there's something to be learned about" what he called "these two different worlds colliding together."
So I asked him what that night was like for him.
" It was kind of surreal because it made me feel like, wow, this is another level," Nas said. "It's like we dream about it, like I can see myself with an orchestra in a nice place performing, like, Sinatra or something like that. But it doesn't really happen in most careers in hip hop. So I was excited the whole time through, and it was definitely cool.
"Great Performances: Nas Live from the Kennedy Center: Classical Hip-Hop" premieres on PBS tonight at 9 ET, after which it will be available for streaming on the PBS website.